*This is a review post. We were sent a DVD to review*
If you are looking for a feel-good movie to watch, then Blinded By the Light might be just up your street. A story of a boy trying to balance the cultural differences he faces with his family and his strict father's expectations versus the life he lives in a British town that makes him want to discover new things in his life.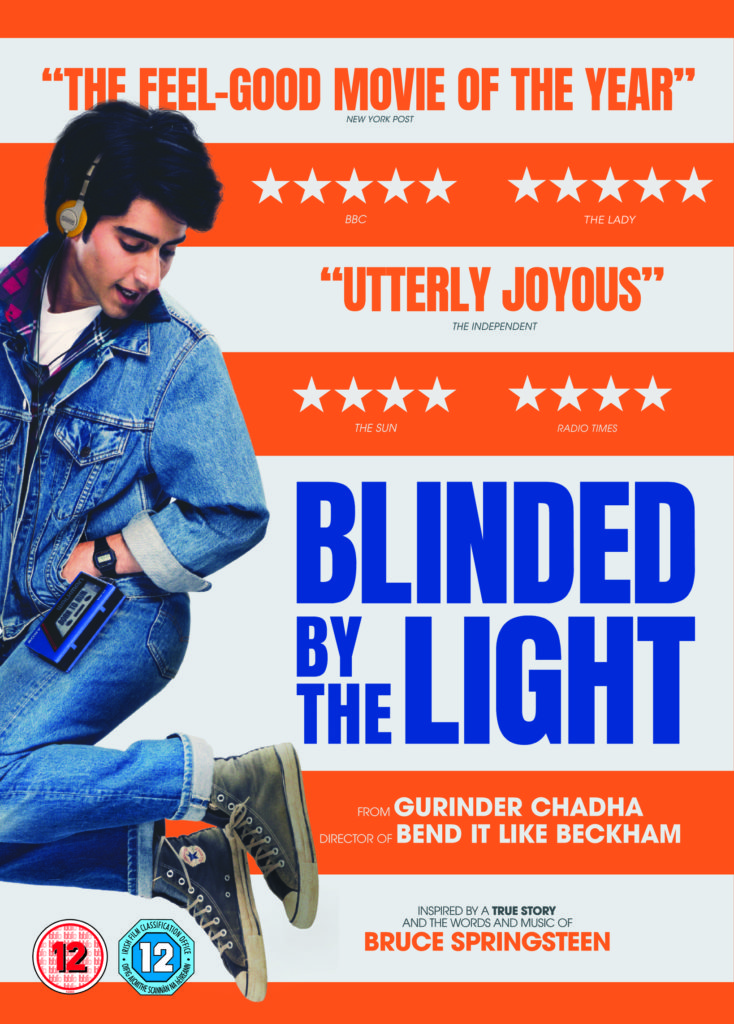 This joyful story of courage, love and the unique ability to lift the human spirit through music comes from writer, director, and producer Gurinder Chadha (Bend It Like Beckham).
Based on Manzoor's memoir 'Greetings from Bury Park: Race, Religion and Rock N' Roll,' Blinded by the Light follows the inspirational story of 16-year-old British Pakistani boy, Javed (Viveik Kalra) growing up in the boring, industrial city of Luton in 1987. Javed wants what all teenagers want: a girlfriend, the freedom to go to parties, but most of all, he wants to be a writer. Unfortunately, his family has other ideas of how Pakistani boys should behave. A chance run-in with a boy at his new school leaves Javed with a Bruce Springsteen cassette tape. When he first hears Springsteen's music, everything in his life changes. The lyrics encourage him to find his own writing voice, talk to the girl he's always fancied and challenge his Dad's strict rule over the house. He's soon forced to discover for himself how to balance all the things that are most important in his life: his writing, his family, his friends, and his dreams. 
The film stars the fresh faces of Viveik Kalra (Beecham House) as Javedand Nell Williams ("Game of Thrones") as his love interest Eliza, as well as Kulvinder Ghir (Bend It Like Beckham) as Javed's father Malik, Dean-Charles Chapman ("Game of Thrones"), Meera Ganatra (PREMature), Aaron Phagura (Informer) and award-winning British comedic actor Rob Brydon (Gavin and Stacy).
Blinded By the Light is AVAILABLE ON DIGITAL, 2ND DECEMBER  2019 and BLU-RAY™ AND DVD, 9TH DECEMBER 2019 FROM UNIVERSAL PICTURES HOME ENTERTAINMENT
This really is a lovely movie, with some heart touching moments. The actors and characters are well played and the addition of Bruce Springsteen's words and music makes it extra special, and works so well. So if you are looking for something a bit different then this is a movie well worth getting your hands on to watch.
We also have a giveaway of a copy of the DVD for one winner to enjoy. All you need to do is comment on this blog post telling us if you have a favourite Bruce Springsteen song and then click on the link below to complete your entry.
Blinded By the Light DVD
Terms & Conditions:
One winner will be chosen by Gleam on 17th February 2020
All entry requirements must be completed. Spam and incomplete entries will be disqualified.
UK over 18 entrants only.
Winner has 28 days to respond to contact then another winner will be chosen.
Please see our privacy and GDPR info for details on how information is stored and used.