*This is a review post. I was kindly sent an item to share. All opinions are my own*
I was delighted to receive a new gadget for my kitchen for Valentine's Day this year from Von Shef. I am a very practical person. I am also not a person who is offended if I am gifted household items for special occasions, in fact, I encourage it.
I love to cook, bake, and feed people. Being in the kitchen makes me very happy and it's a hobby and a pleasure. I like technology and things that work to help me and make me efficient.
My very old standing mixer, that I had had since before the husband and I got married decided to finally die recently, and I was very upset as I used it a lot, for baking and cooking.
So the arrival of this beauty from Von Shef just in time for Valentine's Day made me very very happy.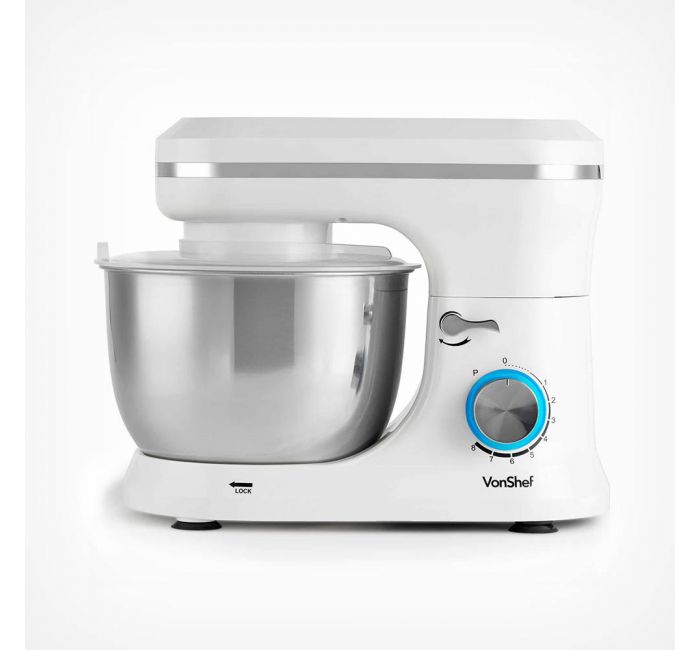 Choose from 8-speed settings & a pulse function, whatever best suits your recipe. With a stainless steel dough hook, beater and balloon whisk, this is essential for baking bread, cakes or making desserts.
Large 3.5L stainless steel bowl. Use the bowl cover/splashguard to minimise the mess when using the attachments
Tilt-head design allows you to easily add ingredients, check progress and add or remove the bowl
It's incredibly easy to use, and works well for when I want to bake, mix up ingredients, and it has a bread hook which means if I am feeling lazy I can pop my bread dough in there and let the mixer do the work for me.
It's easy to clean and sleek enough that it can sit on a kitchen counter, and look nice when not in use or be stored in a cupboard if you don't have space. The speed settings work well and it comes with an excellent splash guard to help with mess and splatter.
We have used it a few times and I am delighted with it. My husband thinks I am so weird because other women want diamonds, flowers and expensive perfume for Valentine's Day, but for me, a new kitchen gadget is a win.
The only problem I have is that someone else in the house also likes being in the kitchen and cooking and thinks that he knows how to use it better than me. Apparently he is going to make me some cookies next week. I won't complain too much….