*This is a review post. We were sent some items to share about*
Bathtime is supposed to be fun and relaxing for kids. Or at least that's what the parenting books say. Unfortunately for us, it's not always the best time of the day. Fortunately, Funatic Foam has saved the day and makes it easier for me to persuade my reluctant bather that bathtime isn't so bad.
Sensory processing issues mean that water and being in the water isn't always a favourite thing and sometimes it can be hard to persuade him into the bath when he really needs one. So I am always on the lookout for tools and tricks to make that a bit less stressful for me and him and to make bathtime enjoyable.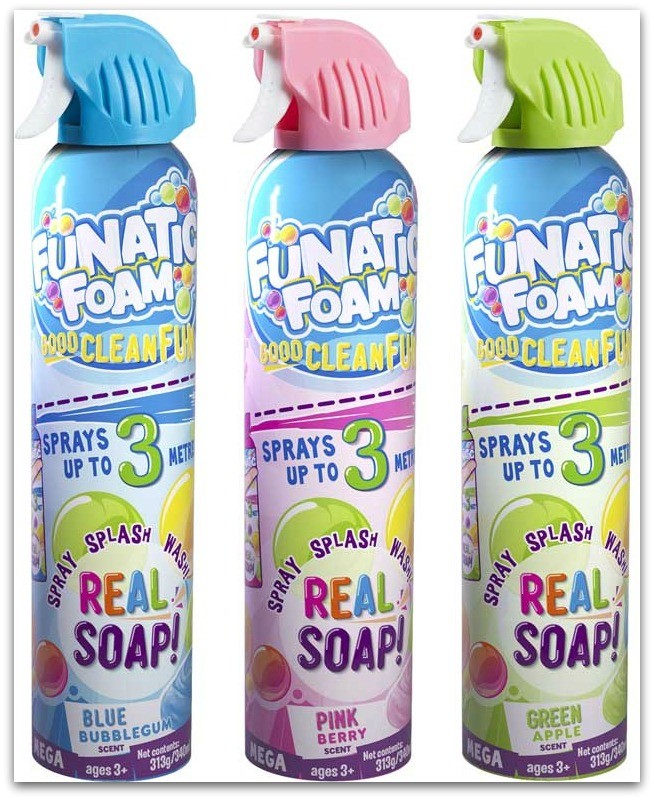 Funtatic Foam is super helpful because it gives him something to play with in the bath but it's also soap so he has fun, enjoys his bath and also comes out clean. Win all round.
Get ready for instant foam fun with Funatic Foam! The all new way to clean whilst you play with super soap that sprays up to 3 metres! Available in 3 scent-sational scents – Blue Bubblegum, Green Apple and Pink Berry playtime has never been so celan and smelt so good! Funatic Foam has an easy to use trigger nozzle making it easy for little hands to spray and control. Why not practise writing letters and numbers or drawing patterns in the bath?! With the no stain formula its mess free for the home and also safe for little eyes. Also suitable for outdoor use.
The spray cans are quite big and you get a lot of foam for your money, and they are great for bathtime, for sensory play, for using outdoors and having good, clean fun.
The spray cans are recyclable too which is good to know as we prefer products that we can recycle if we can. They smell nice and are kind to sensitive skin, and there is lots of scope to get messy and creative but then wash it all way. No-fuss, no mess.
You can pick them up in Tescos for £5.99 which is just as well really. They make a fun gift idea or party bag alternative as well.
The only problem now is he doesn't want to get out of the bath and his big sister and his dad want some cans of Funatic Foam too. I best stock up, hadn't I?