This  bunny bread is perfect for baking with kids and a great baking idea for Easter, and actually very easy and fun to make, and apparently tasty too. We chose to make a savoury version, but at the end of the recipe I will leave some ideas for if you wanted to make it as a sweetened version.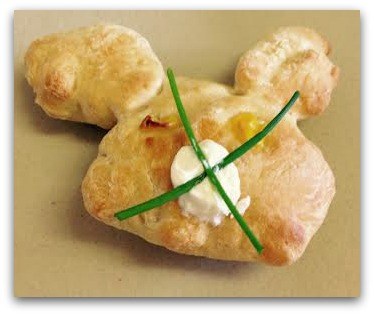 You can use the same basic dough recipe we, for our pretzels. If you want to make the bread sweet you add 3 table spoons of runny honeyy to the mix, before you combine and knead it.
You also need:
A roll of soft goats cheese (you can use normal cream cheese, but we used goats because of cows milk intolerances)
Some fresh chives
A tin of sweetcorn, drained
1 egg, beaten and a pastry brush
What to do:
Take a ball of the dough, that has been sitting resting and rising, and kneed it for a few minutes. Break of a small piece, for ears, and one slightly bigger for the head. Roll the bigger piece into a ball, then flatten to make a circle. Take the smaller piece, and roll into a sausage shape, and split into two pieces, then make them as ear shaped as you can, and stick them to the head piece.
Place on a baking tray, and repeat until you have lots of little bunny heads. This recipe makes about 15 bunnies.
Give each bunny a brush with beaten egg, then stick two pieces of sweetcorn in for eyes.
Bake for 8 minutes at 180 degrees.
Allow to cool on a rack.
When they are cooled, take a small blob of cream cheese and put it where you think the bunny's nose should be (this bit is open to much interpretation, when small children are involved in the process) and then add two little snippets of chive, for whiskers.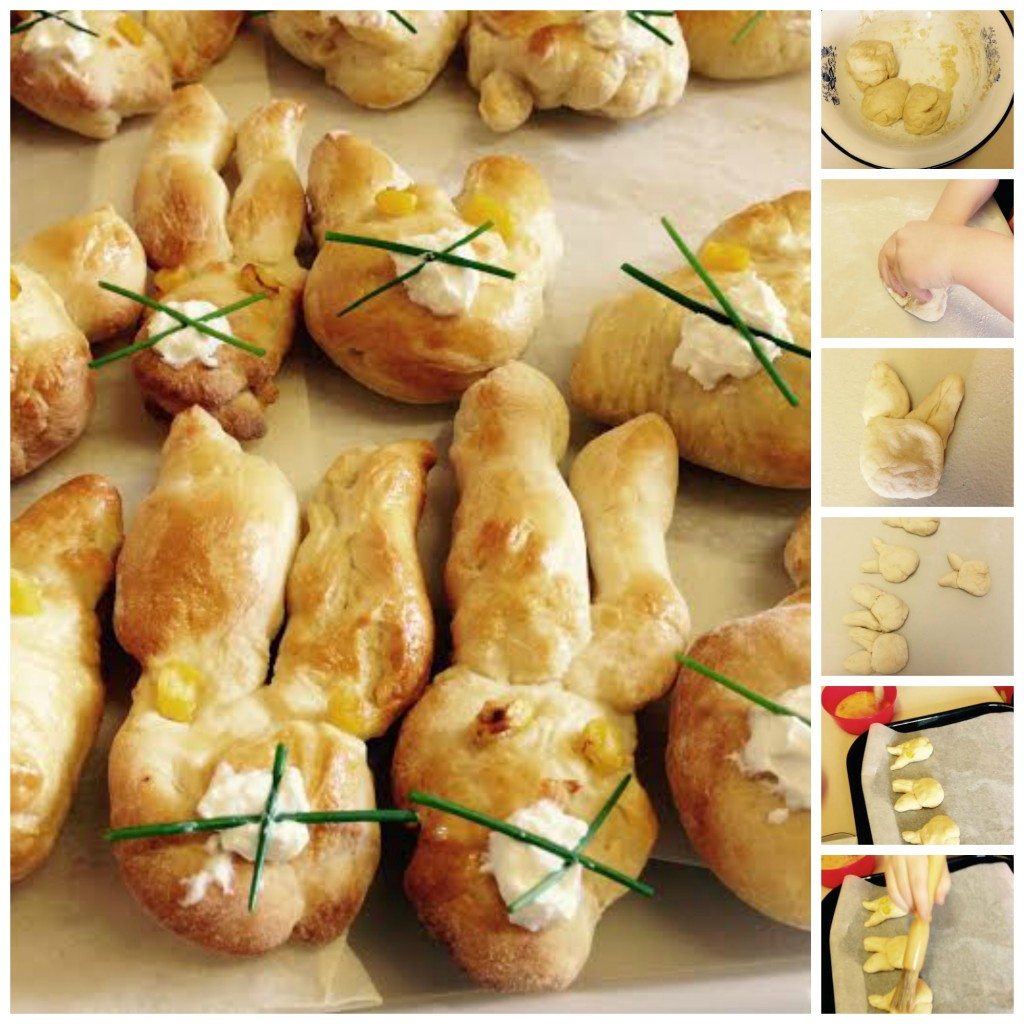 Then eat them all up. They didn't last long, round here…
(if you would like to sweeten the recipe, you add honey to the basic dough, then you could use smarties or small round sweets for the eyes – put those on after baking with some icing sugar paste, and you could use icing for the nose or the decorating icing tubes you can find in the supermarkets/baking shops to make the nose and whiskers)