*This is a review post, we were kindly sent a game to try*
We've been looking for a fun activity game to play for the whole family for Easter and during isolation. Today, we're enjoying playing our own version of the game Ultra Dash. It's a super fun activity game that you can play both indoors and outside. Move fast when the colours flash! Set out the targets to design your course, press the button on your tagger to choose your game and then race to match the colour of the flashes with the targets! There are 3 Game modes: Beat the Clock, Target Tally and Relay Race – it's a different game each time you play!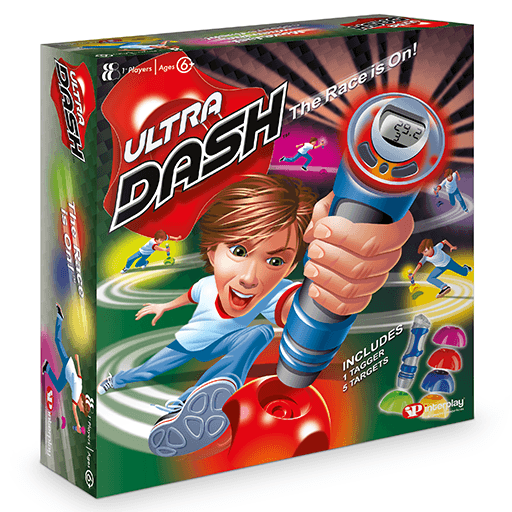 Ultra Dash is easy to set up and anyone can play. It's a fun game for just running around, or you could turn it into a treasure hunt, and hide Easter treats, or other surprises in the targets to make it fun. It's small enough that you could take it out and about for when you want a game at a picnic or party or even on holiday, and you can also use it indoors too, so it would be great for a birthday party game or for an activity to keep kids (and adults) busy but right now it's also perfect for getting outside in the garden and some competitive or individual goal setting fun.

As you can see, it's easy to use in a garden and we have had fun playing together and having some fierce family competitiveness as to who is the fastest person to dash to each colour in a set time. You can play a beat the clock game, a rely, or set times to race to targets. Little ones can play with help and adults can very much join in too.
To set it up for a treasure or Easter egg hunt is easy, hide the eggs or treats and make the coloured targets as hard or as easy to find as you want, then ready, set go, and dash and find your targets as fast as you can.
This would make a fun gift for someone and is a great game that can be used again and again, and only requires 3AA batteries and the desire to be faster than everyone else. We would definitely recommend it as a fun game for the whole family to enjoy.