*This is a review post, we were kindly sent some items to try*
Sometimes it can be hard to think up a gift idea for someone but personal gift ideas are always a good way to tell someone you are thinkung about them, and make them feel like you have put thought and effort into their gifts. It could be for a special birthday, a congratulations present or it could be just to make someone smile. There are plenty of websites and apps that you can use to personalise everything from coffee mugs to photos for the wall so we thought we would share a few of our favourites here.
If you are looking for a monthly gift to share photographs and updates, with family then Neveo is a very clever app that lets you compile up to 50 photos into a newsletter style magazine that can be sent to whoever you want. This is a great way for grandparents to keep in touch and to recieve something they can look at and keep, or you could use it for yourself to keep a monthly update on your family and life happenings. The app works in a way that you can add someone to your account so they can also add photos whihc is a great way to share memories and treasured moments. The magazine is sent once a month and works out very reasonably cost wise.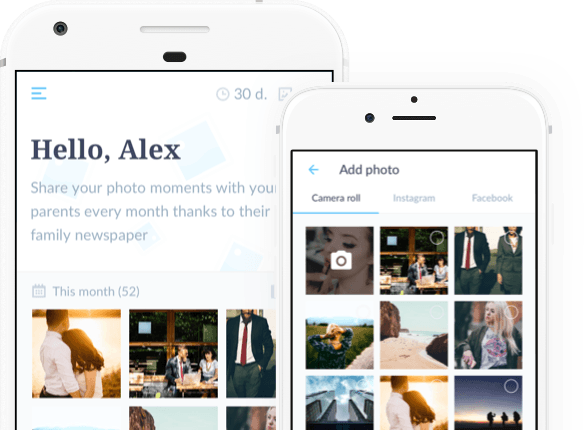 If you want something really fun and quirky then Printsfield can personalise you a pair of socks with any image you want on them to send to someone to cheer them up or as a unique gift. You can take your image and have it placed on a pair of socks, you choose the colour and voila, funky socks that no one else owns. A great gift that can be for a birthday, for Christmas, Father's Day or just as something fun and different. You could even put your pet's face on a pair of socks. A perfect gift for a pet lover. They can also personalise other items like laptop cases too.
And if you have someone with a sweet tooth, then why not send them some persoalised chocoloate from Yumbles as a real treat. Not only is it a personal gift, but they know that no one else can eat it and pretend they didn't know who it belonged to (always a problem in our house to be honest!) and it's a way of telling someone you love and appreicate them, through the gift of chocolate too.
Sending a gift to someone doesn't have to be hard and personal gift ideas are a really easy but lovely way to make that gift extra special? What would you send to someone to let them know you are thinking of them?