My kids love cinnamon rolls. I love cinnamon rolls. Sticky, sweet, loaded with cinnamon, and one, frankly is never enough. There are recipes out there but this is how I make ours and what works for me as an easy and not too much faff way to make them, so they rise overnight and are ready to go in the oven in the morning for breakfast. Of course, you don't have to eat them for breakfast only but they do make a great treat and change from toast or cereal. They do require a bit of work but are worth it, I promise.
This recipe makes about 10-15 rolls depending on how big you like them. You can make them dairy-free using a non-dairy spread if you need to avoid dairy or are vegan. We find this alternative by Naturli works well if you want a butter-like texture and taste but no dairy but Pure spread or Vitalite also work well.
You will need:
You will need a large baking dish, greased with butter or the spread of your choice.
600g of plain flour
two teaspoons of baking yeast
Two tablespoons of ground cinnamon
150g of caster sugar or light brown soft sugar (which has a stronger taste so use what you prefer)
300mls of warm (to skin touch) water
50g of butter in two portions (you can use dairy free spread if you prefer)
To make:
Take your yeast and add it and 1 teaspoon of your sugar to your warm water and whisk it so it's frothy. Leave it to stand for 15 minutes. This is old fashioned but how I like to activate the yeast.
When the yeast has sat for 15 minutes add it to your flour in a large mixing bowl and using your hands blend the flour and water together until it forms a firm dough. Cover with a cloth and leave in a warm place for 4-6 hours until the dough has doubled in size.
Take the dough, flour your hands, and punch it down and kneed it for a few minutes, until it's firm and stretchy. Then put it back in the bowl and leave it for another 2-3 hours and it will rise again.
Take it out of the bowl and dump it on a clean, floured surface. Flour your rolling pin well.
Roll it out in as round a shape as you can manage (doesn't have to be perfect) until it's about half an inch thick all over.
Melt your butter and using a pastry brush, lightly brush all over the surface of the dough.
Take your sugar and cinnamon and mix them together well in a bowl then evenly sprinkle the sugar all over the dough in a layer.
Now comes the fun part. Start at one end of the dough and carefully roll it, swiss roll style until you have a sauage of dough with layers of cinnamon sugar. Don't worry if it's not perfect or there are a few cracks.
Slice the dough sausage into sections about 2 inches thick.
Grease your baking tray with some of the melted butter and then place your slices in next to each other so you can see the swirls of cinnamon. You can squeeze them togehter and they will all fit.
Then cover, and let them rest for 8-12 hours (this is why they work overnight) They will rise again in size.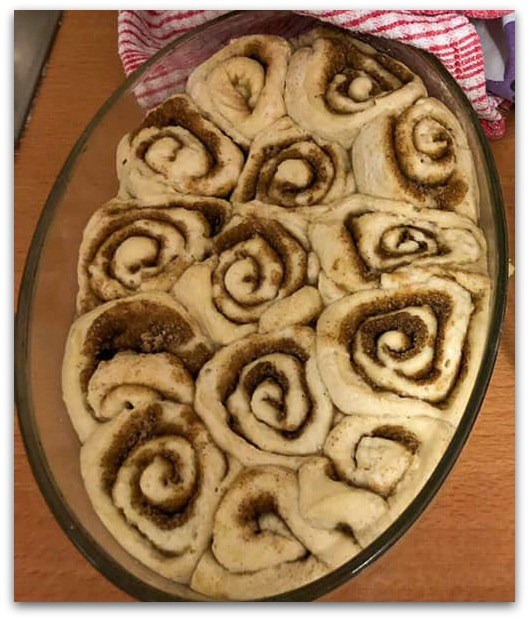 To bake them:
Heat your oven to 180 degrees.
Uncover your dough and brush it with melted butter and then bake in the oven for 40-45 minutes until they are golden and cooked.
How you top your cinnamon rolls is entirely up to you. Cream cheese frosting is the traditional US way of eating them, but for us with our dairy allergies, we use icing sugar made into a runny paste with a teaspoon of cinnamon poured over whilst they are still warm and in their baking tray.
Best eaten warm and straigth from the oven, and they rarely last long enough to be leftover. You can also make these and freeze the dough and then allow them to defrost and warm up to room temperature overnight and bake them.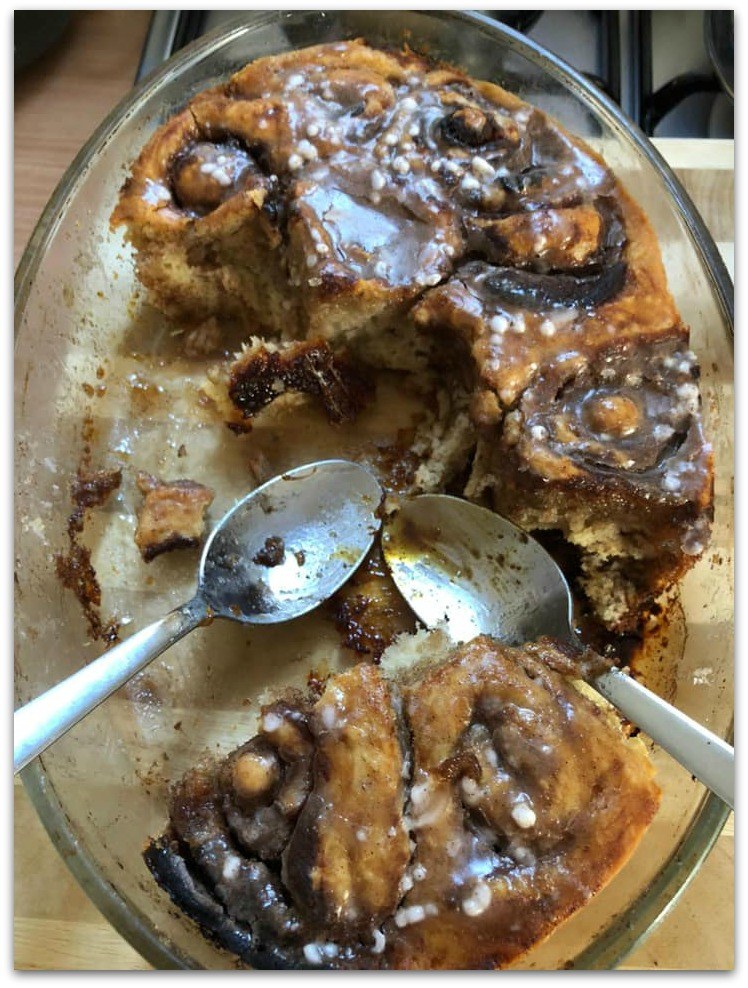 We also like making bread and nothing beats sourdough bread toasted. This is our easy recipe here for that too, if you would like to try it.