*This is a collaborative post with Yorkshire Wildlife Trust*
We are big fans of Top Trumps here and always have been. A simple concept, playing against other people. Each person has a pile of cards and they can cover any topic from dinosaurs to famous sports people, each card has facts and figures and you compare your cards and choose a topic and the person with the higher fact or figure wins a round. It's a great way to learn and to also play with other people taking turns and practicing strategy skills. Top Trumps can be taken anywhere because they are portable and are great for taking away on holiday, for playing in the car, on the plane or train, or at home, or when you need to pull something out to do, easily. Adults and kids can play and in our house the kids usually win.
Yorkshire Wildlife Trust, a charity that is close to our heart has worked with Top Trumps to create their own set of cards.

The charity is dedicated to conserving, protecting and restoring wildlife and wild places in Yorkshire.
"Our vision is for a Yorkshire that is abundant in wildlife, with more people having a genuine and meaningful connection with nature."
They are working hard to connect people with nature and they have a fabulous set of Top Trumps cards available for families to be able to enjoy and learn about nature at the same time. Raising aearenoes of issues that are beign faced by the animals and wildlife where they work.
The Wildlife Trusts have produced their very own version of the well-loved Top Trumps game. Top Trumps is the world's most popular card game with its irresistible combination of discovery, competition and fun! The Wildlife Trusts' version of the game features 30 of the most popular species of British wildlife. Each card contains fun, fast, easily digestible facts which help children to learn about the animals they have seen.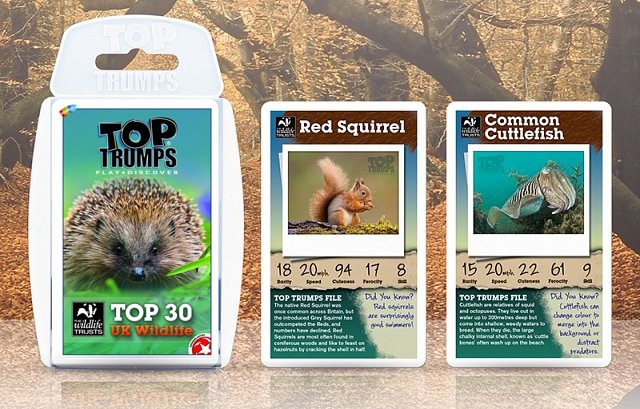 The cards are beautifully illustrated and full of facts for a fun but an informative game so you learn and think as you play. We are always keen to utilize games and activities that help us to be more aware of the world around us and issues we can have an impact on.
These would make a great gift and you are supporting a charity that is trying to raise awareness, and help people make changes as well as preserve important parts of the UK.
We are delighted to say that we have a set of Yorkshire Wildlife Trust Top Trumps to giveaway. Enter our giveaway and you will win a special set of these cards, and some fun items to enjoy some game time with your family or friends.
The winner will receive a set of cards, a notebook and pen, and some popcorn from Popcorn Shed and some chocolate from Hotel Chocolate to keep everyone happy.
In order to enter you simply need to visit their site, and choose one animal from this section that you would pick as a favourite and say why in the comment section of this blog. Then click on the link below to complete your entry.
Yorkshire Wildlife Trust Top Trumps and treats giveaway
So get thinking and go and enter. Giveaway ends on 2/08/20
What animal will you choose?
Terms & Conditions:
One winner will be chosen via Gleam on 02/08/20 contacted via email and has 28 days to respond or a second winner will be chosen.
No cash or alternative prize offered and items will be sent via signed for postal service.
UK entrants only
Spam entries and incomplete entries will be removed and disqualified.