*This is a review post. Hi Life kindly sent Jasper and Layla some cat treats to try*
If you know us, you know we have two cats. One of them is older and grumpy and rules the house and the other, the younger one, who is the reason our blog exists (that's a tail for another day, see what I did there?) is often in trouble and needs frequent visits to the vet because he likes to get in fights with other cats, or likes to push his 9 lives too far and gets into things he shouldn't. 
Thankfully we have good pet insurance, and our vet knows us well.
But sometimes, he is a sorry sad cat because he has hurt or injured himself and needs medicine.
If you have cats, or even other pets, you might know that sometimes getting medicine into them isn't the easiest thing.
We have mastered the knack of swaddling Jasper like a baby, and between two adults, gently but firmly getting tablets or liquids into him before he can wriggle away and escape.
Afterward, he generally feels very sorry for himself and let's us know, so we try to make a fuss and make it up to him, with some cat treats. 
Jasper is not a picky eater, and is known for his ability to eat everything and anything (hence some of his visits to the vet) but I AM picky about what the cats eat and even want to make sure their treats are from a brand I trust and feel happy to give to the cats.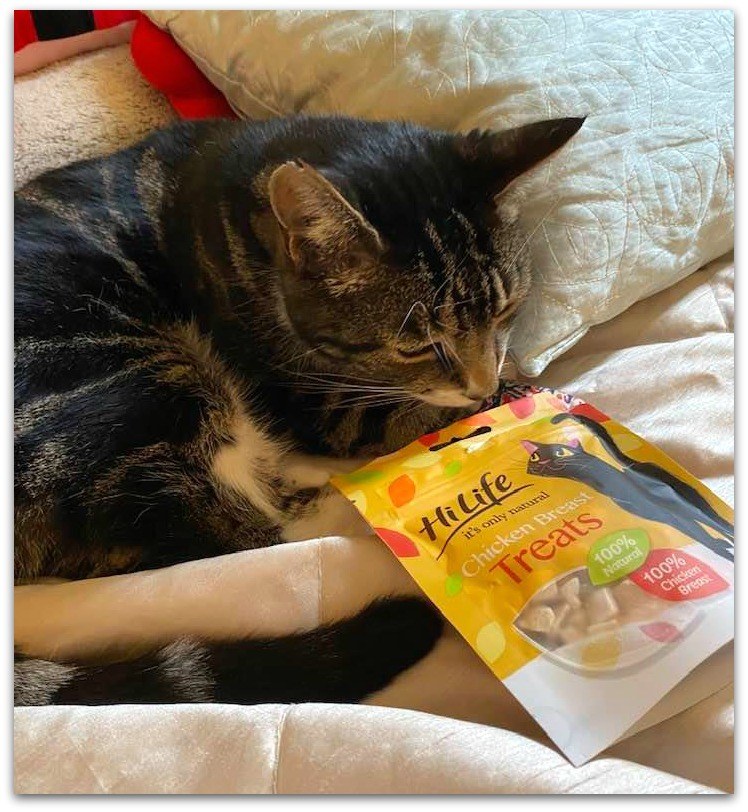 HiLife make treats that even perk up the saddest of cats who have had yet another vet visit….
HiLife has been making great-tasting cat food for over 30 years and our cats love their cat treats.
It's only natural is our range of 100% natural products. This freeze-dried treat is made using just 100% chicken breast, carefully diced to the perfect size for small mouths to enjoy. 
It has absolutely no artificial colours, flavours, or preservatives and completely grain-free. You can rest assured that your cat will love our popular bite-sized treats. Contains enough treats for approximately 50 treating occasions.
Lovingly called the hand-biters by our customers, these delicious cat treats are available to buy in single 10g bags or as a 12 bag multipack. 
HiLife it's only natural is a complementary pet food for adult cats.
Jasper was sad, because he had just had to have some rather nasty tasting antibitocs, but I always have a packet of cat treats to hand, and he likes their chicken flavour. Layla prefers the duck. She isn't as naughty as he is and doesn't need quite as many trips to the vet, but she does like cat treats after we have cut her claws and a few HiLife cat treats usually make her forget how much she hates that.
So if like me, you are picky about what you feed your cats then HiLife cat treats might be worth keeping a stash of. Happy cats = happy humans. We all know that!