These citrus shortbread cookies are easy to make, simple, and delicious. My kids enjoy helping me bake AND eat them. I use citrus oil for flavour rather than extracts or essences and find it works better. A little goes a long way and you get great depth of flavour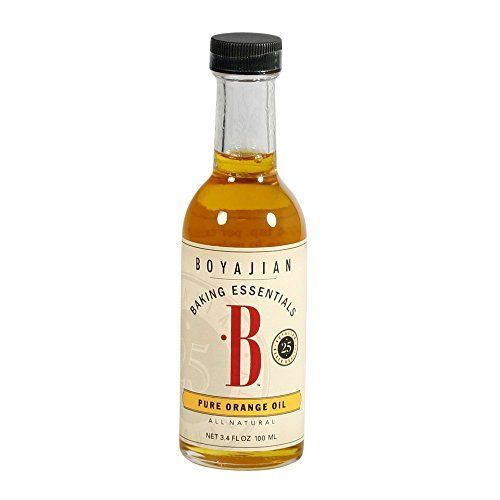 This oil smell amazing. You do have to be careful with citrus oil when adding them to foods or for flavours and taste test as you go, to make sure you aren't adding too much, or you will end up with an over powering and bitter taste. A drop at a time and see what works. Different citrus oils will be stronger or weaker depending on brands and concentration. 
This recipe is pretty simple. 
You will need:
225g unsalted butter, cold but not straight from the fridge
225g caster sugar
Orange or lemon oil
1 egg
2 tsp baking powder
330g plain flour
3 tablespoons of orange juice from an orange (not the carton stuff)
200g of icing sugar
2 tbsp of orange or lemon zest
This recipe makes approximately 30 cookies if you cut them to the thickness used in this recipe!
Baking trays lined with baking paper, and oven preheated to 180 degrees (for a fan oven you may need slightly lower depending on your oven)
Cream the butter, sugar together and add your citrus oil, you will need to taste test this, and make sure it has enough flavour, but isn't too much or too bitter, I found three drops worked. Then slowly add the flour, which you have already added the baking powder to.  I find using a hand beater works best for this, but you can use a mixer or just do it by hand.
Once your dough is mixed, it will seem crumbly. This is ok.
I find the easiest way to then get your dough together to roll it out, is to dump the mix onto a surface with a piece of cling film stretched out, underneath and then use the clingfilm to catch all the dough and crumbs and bring it together into a firm ball. You can then put the dough into the fridge for half an hour, to firm up. You can skip this and just use your hands to make the dough into a cohesive ball but I find it's a bit messy and the dough can get a bit warm and stick, and frankly I am lazy and hate clearing up mess.
Once your dough is ready and in a ball, you can start to roll it out.
Lightly flour your surface. Cut your ball in half, and roll out half the dough to about an 1/4 of an inch thick. Use any cutter shape you like, to cut the cookies you want. We used round shapes for our cookies.
Place your cookies on your lined baking tray, making sure you leave some space between each cookie and pop them in the oven for 8 minutes until they are slightly golden and not quite crisp. They will firm up when they are cooled down. Leave them to cool.
Meanwhile, mix the orange juice with the icing sugar until you have a runny paste.
Use this to drizzle over the cooled cookies, as much or as little as you want. My kids helped me make these and were generous with the drizzle.
Then sprinkle a little grated zest on each cookie and leave the icing to set.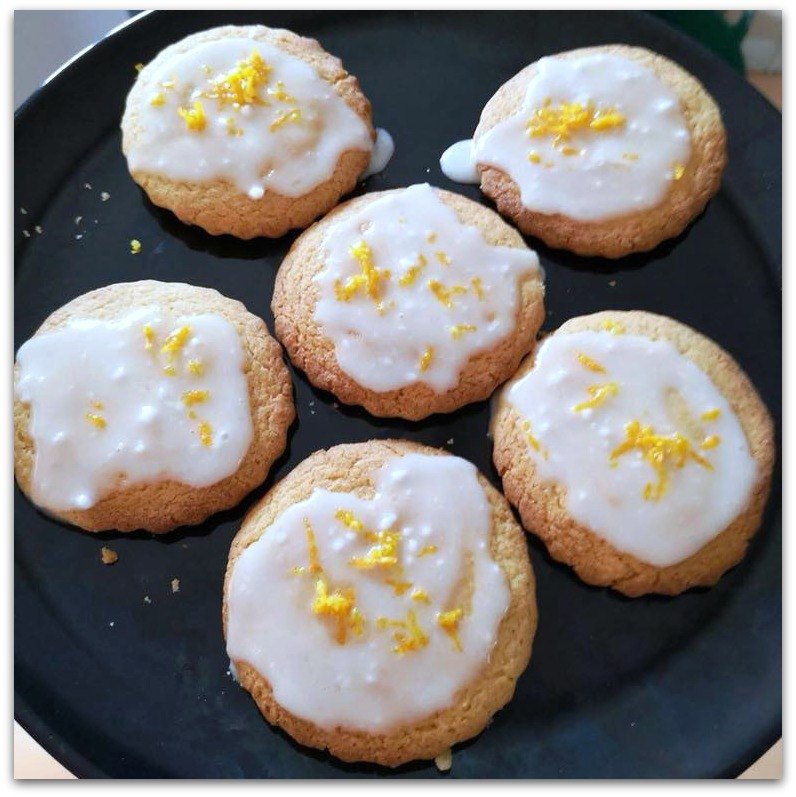 My kids say these taste like sunshine. I think I have to agree with them.
*You could make these with gluten-free flour and dairy-free spread, but you need a firm spread that works in baking. We use Pure spread for baking when we want to make our baking dairy free/vegan* 
You could also try our very chocolatey and allergy-friendly chocolate chunk cookies too…