I find recipes for chocolate chip cookies can be a bit tricky, I don't know why. Sometimes they don't just quite for me, and because I'm fussy and like my cookies to be the perfect combination of soft and chewy but chocolately, it's hard to find a recipe that works. Add the need for them to be gluten and dairy-free and it's not an easy task to find something that works!
Last week, however, Matthew and I cracked the task and we made the MOST amazing cookies. When I say we, I really mean him because he did all the work, I just took them in and out of the oven for him, so really these are his cookies…
I've taken a couple of recipes and tweaked them using gluten-free flour and dairy-free spreads. Gluten-free flour can be a bit tricky if it contains rice as it does absorb more liquid, so sometimes you need a little less than a traditional recipe calls for. If you prefer a gluten-free flour that doesn't contain rice we heartily recommend The Free From Fairy flour. She has experimented, tried, and tested and her flour really does work for all sorts of baking.
This recipe makes 10 large cookies or approx 20 smaller ones, depending on what size you like them.
Onto the recipe…
Ingredients:
100g brown sugar
125g dairy-free spread. We use Pure, but if butter isn't an issue you can use it.
1 egg
1 tsp vanilla exract
1/2 tsp salt
225g gluten-free Self Raising Flour
200g non dairy dark chocolate – a block of plain cooking chocolate works fine
Method:
Heat your oven to 180C (fan ovens may need to be lower)
Prep a baking tray by covering it in baking paper. If you like your cookies large you will need to account for that and these do spread a little as they cook so think about that when you place them on the tray.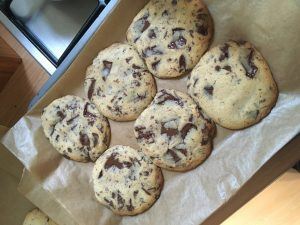 Chop your chocolate into rough small chunks. They don't have to all be uniform in size, and the joy of these cookies is the random spread of chunks of chocolate not just precise little chips.
Beat the sugar and spread together until fluffy and light. I don't normally say you NEED to use electric beaters but for this I would say if you have them, to use them.
Add the egg, and vanilla extract, and beat again until smooth.
Slowly add the flour, and mix it in, your mixture should be firm but still a bit sticky.
Last if all, add your chunks of chocolate and use a spoon to mix this in, to the cookie batter.
Pop the mix in the fridge for 15 minutes or so to firm up a bit.
To form the cookies, take a slightly smaller than a golf ball size and make it roughly ball-shaped. Place it on the lined baking tray and press it down to flatten it slightly. (Remember they do spread, so not too flat) you can make them smaller if you want more.
Bake for 8-10 minutes. They should be golden but still slightly soft when they come out of the oven. Leave them to cool for half an hour (I know, that's a long time to wait, they smell amazing, you will be hanging around wanting to try them)
Then try not to eat them all in one go… (hide them from your children!!)
They should keep in a sealed container for a couple of days (we don't have much self-restraint in this house, chocolate chip cookies don't last that long!?)
This is a great recipe for kids learning to bake, measure ingredients, and enjoy the results. You could also try our easy chocolate crunchie recipe too…