Oh deer.
Taken in Richmond Park. We needed headspace. We took an early morning walk in Richmond Park. Even in times like this, with all the challenges and strange things we face, I am grateful for spaces like this so close to us. One day we won't live in the UK, which each day I look forward to more, but we do appreciate what we have for now and we are trying to embrace "the grass is greener where we are than thinking it's greener elsewhere and making ourselves miserable" and that keeps us going. We are facing a few very interesting months, I suspect in the UK, with winter coming and more changes as we process and deal with the chaos COVID is causing (and don't get me started on the chaos and poor management our government is causing, you can follow me on Facebook for that.
I haven't posted a Sunday Photo for a few weeks. Partly through lack of inspiration and photos and partly because I haven't had the mental oomph to come up with anything clever or blog worth.
This was taken in Richmond Park. Young deer. I was not as close as it looks here, thanks to lens power. Whilst the deer are beautiful and these guys were very calm and happy, getting to close to them is dangerous and I do get wound up when I see people getting close to the deer. They are after all wild animals, no matter how social media worthy photos of them are.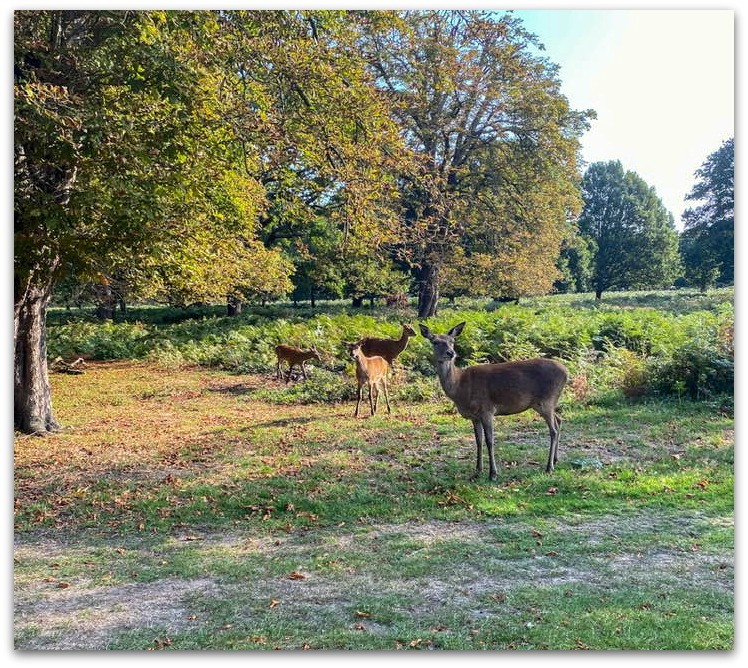 I also did a little Tiktok video of our walk. I know it's a bit of a controversial site, but I am enjoying using it. If you are on there, give me a follow, I use it very differently from the rest of my social media sites.
Life certainly is interesting, isn't it? Sometimes "Oh deer" just about sums it up…