Blueberry Muffins are a firm favourite in our house we eat a lot of blueberries either fresh or frozen or in sauce form.
We have a guest post recipe from Sarah who blogs at The Cosy HomeBird today sharing her blueberry muffins that are easy to make and great for a treat, for tea, in lunchboxes, or just because you can.
I have to say, blueberries are definitely underrated as a fruit! I didn't eat them until a year or two ago, simply because I just decided that they looked like they wouldn't taste very nice. This is one of the only times in my life that I am willing to hold my hands up and say that I was wrong! Obviously it's nice to eat fruit, but I think we can all agree that it tastes better with cake, am I right?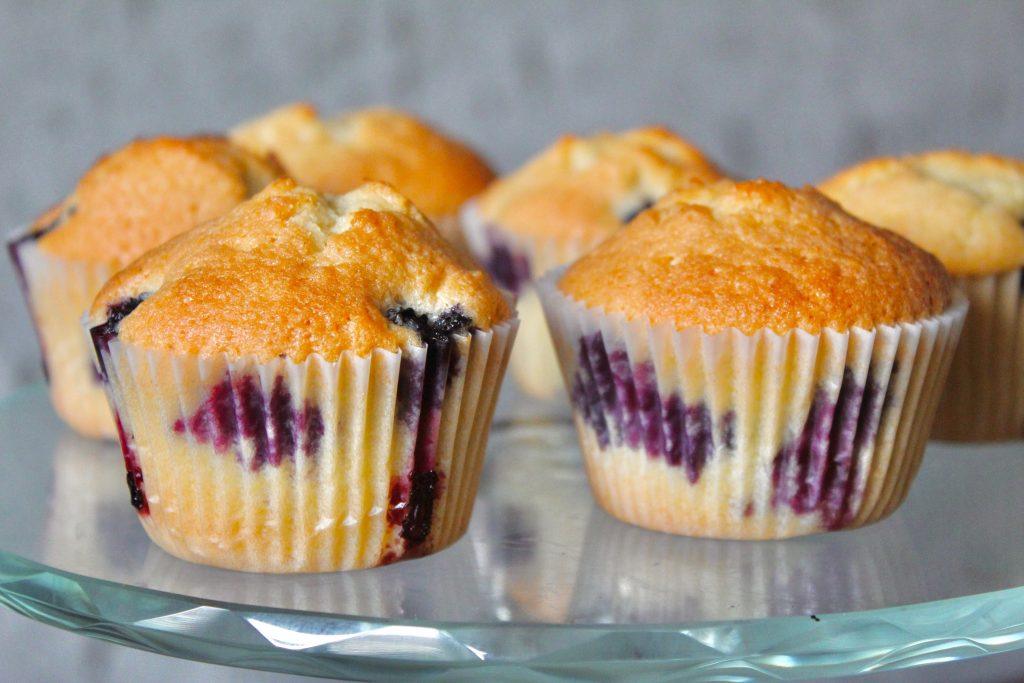 These blueberry muffins are deliciously sweet and super tasty, and what's even better, is that you can add other flavours too! Lemon and blueberry, white chocolate and blueberry… even mixed berries. There's so much you can do with this easy recipe to get just the flavour you want. 
Believe it or not, despite spending a large percentage of my life these days decorating cakes, I'm not the biggest fan of icing, so that's another thing I love about making muffins – no decorating! No decorating means less washing up, less time to make them, you could literally have a batch made within half hour. What's not to like?
On the other hand, if you are a fan of icing, you could simply mix together some icing sugar with water, and drizzle the icing over the top of the blueberry muffins for that extra sweetness. The choice is yours!
Blueberry Muffins – Recipe notes
This recipe make a batch of 12 muffins.
You can use fresh or frozen blueberries. If you use frozen ones, don't thaw them, just pop them in the cases in exactly the same way as you would fresh ones. However be mindful that you'll probably have to bake for a bit longer. 
You don't have to use vanilla extract if you don't have any. 
If you choose to add icing, wait until the muffins have completely cooled before adding it.
These muffins are suitable for freezing. To freeze, pop them in airtight containers, and avoid them touching by spacing them out or so that they don't stick together.
Here's how I made these blueberry muffins
Ingredients
8oz caster sugar
8 oz butter/margarine
4 eggs
8 oz self raising flour
1tsp Vanilla extract (optional)
1 pack blueberries
What you'll need to make these blueberry muffins
Scales
Electric whisk & mixing bowl or stand mixer
Bun tin
12 muffin cases
Spoon for filling the cases with the mixture
Wire cooling rack
Method
Preheat the oven to 180 degrees and place 12 muffin cases in a bun tin and leave on the side ready to be filled with the mixture.
  Firstly, place the butter/margarine and sugar in a mixing bowl and beat with an electric whisk or mix together in a stand mixer until light and fluffy.
Secondly, add the eggs and continue to mix until combined.
Add the flour and continue to mix until combined, if you're using vanilla extract, you can also add that at this stage with the flour. 
Divide the mixture evenly between the 12 cases, making sure to fill them to just below the top. 
Take your blueberries , and press 4-5 randomly in each case.
Bake on the middle shelf for around 20 minutes or until golden brown, risen and springy to the touch.
Finally, remove from the oven and immediately take them muffins out of the tin and place them on a wire cooling rack to cool down.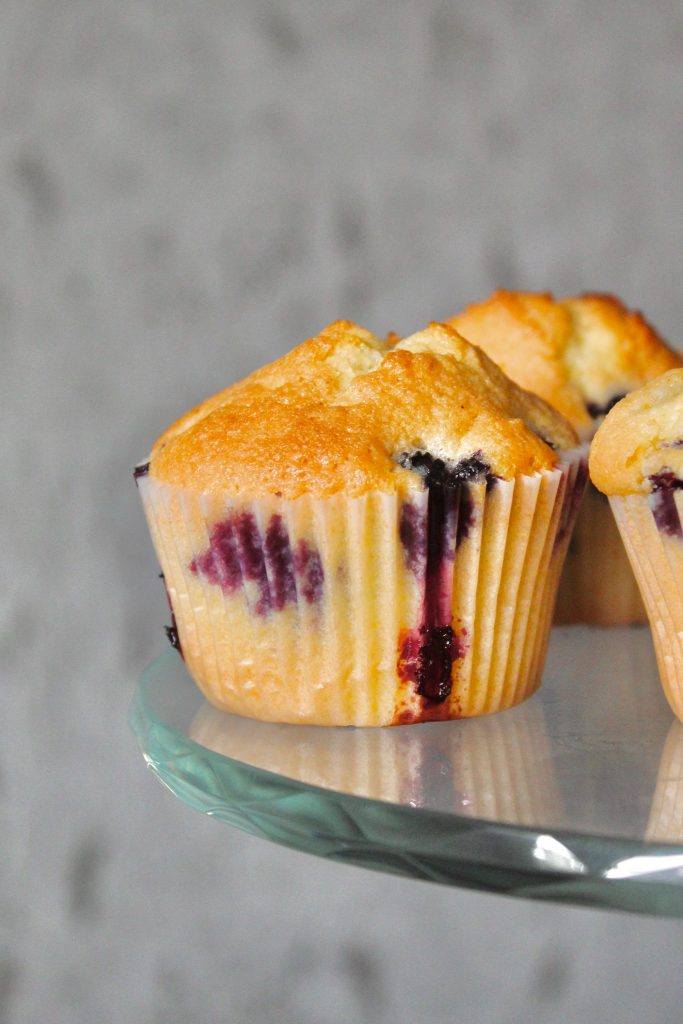 Tip – avoid opening the oven door until they are ready to take out. Check through the glass window In the oven. 
These look like something we will be making often.
You can also find Sarah on Twitter , Facebook, Instagram and Pinterest too sharing recipes, baking and all sorts of lovely seasonal creative ideas. Why not go give her a follow?