*this is a review post, we were asked to create a recipe with some products from Ciao Gusto*
When life gives you delicious fruit juice, you can enjoy it cold from the fridge, or you can make it a little bit more interesting and make a fruity gin cocktail or two.
This recipe calls for really good quality fruit juice, and not the ordinary stuff I let my kids drink for breakfast. Ciao Gusto have some delicious and smooth fruit juices that are great for ordinary drinking but can also be used to make something a little more grown up too.
For this recipe I used a peach juice, but you can use any of the range, although you do need a sweeter juice for this to work. Apricot or pear would work too.
You need:
Your fruit juice. For each person you need 200mls
Gin and a shot measure
Glace cherries
Suitable cocktail glasses (I love an excuse to pull out our martini glasses)
tonic water, enough to top up glasses.
You need to freeze your fruit juice. You don't want it frozen solid, but you want it so it's icy cold and slightly iced, almost like slush. This takes about 4-6 hours in the freezer.
Get your glasses and when the fruit juice has been in the freezer until it's ready, pour in approximately 200mls into each of your glasses. Then add a measure of gin.

Next pour in enough tonic water to top up the glass and garnish.
It is as simple as that.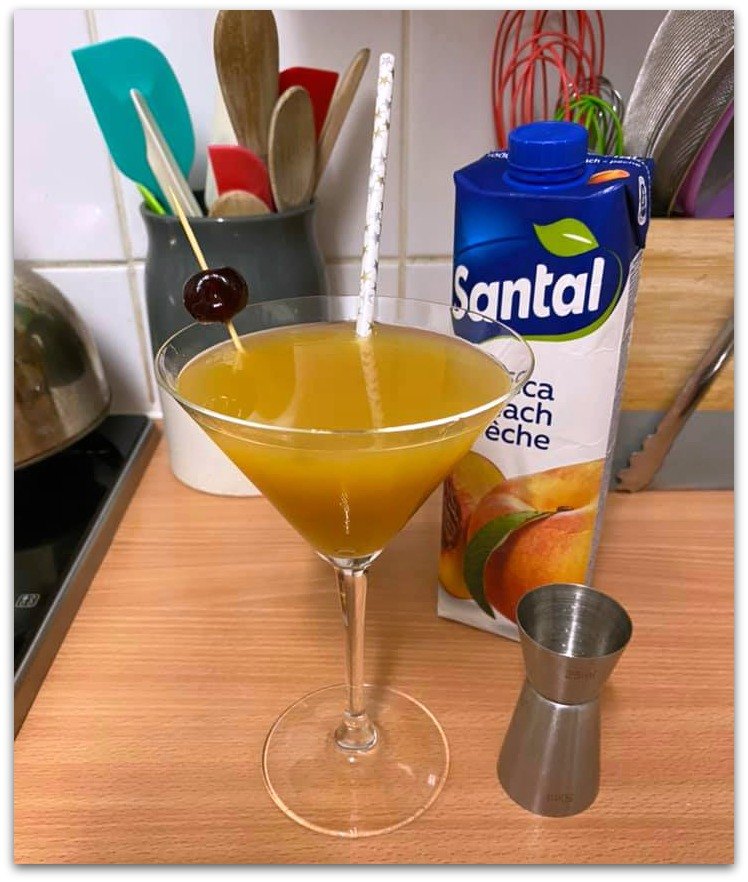 You could use also use vodka, if you prefer.
If you don't want to make this alcohol based, then you can skip that bit and use a little more tonic water.
The almost frozen fruit juice works really well, and you get the sweet juice taste, the gin in the background and a hint of fizz.
You might want another. Who said fruit juice was boring, this fruity gin cocktail certainly isn't…
You can explore so many recipe and food ideas from the Ciao Gusto Ocado tab – picking up all your favourite authentic Italian food and drink has become even easier with the arrival of Ciao Gusto at Ocado. For the first time, a simple tab brings together over 30 of Italy's most popular brands, so you can find exactly what you're looking for – and discover new and exciting ingredients – in just one click.
By selecting the Ciao Gusto shop when ordering your groceries, you'll be able to search recipes and add ingredients straight to your basket. Browse the delicious recipes according to ingredient, preparation time, course or occasion, and explore the joys of Italian cuisine through tips, advice and information about each product.Brands include familiar names such as Valsoia, Ponti, Barilla, Cirio, Lavazza, ,Santa Rosa and Riso Gallo as well as lots of exciting products new to the UK.
You can keep up with Ciao Gusto on social media too…
https://www.facebook.com/CiaoGustoItaly
https://twitter.com/CiaoGustoItaly
https://www.instagram.com/ciaogustoitaly/