We are big fans of Real Good Ketchup and they have kindly shared a delicious recipe we thought would be great to use with their ketchup, from Nourishing Amy.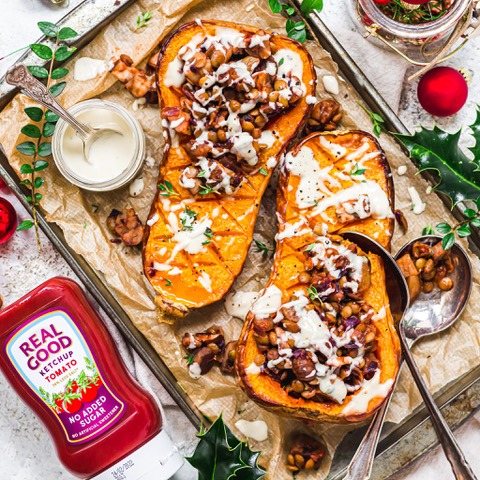 With chestnuts and thyme and garlicky tahini
Serves: 4
Time: 60 minutes
Ingredients:
2 medium butternut squash, halved
1 red onion, small dice
2 garlic cloves, crushed
200g mushrooms, chopped small
200g roasted chestnuts, chopped small
A few springs of fresh thyme (or 1 tsp dried thyme)
1 tin green lentils (drained weight 240g)
100g Real Good Ketchup
Salt and pepper
Olive oil

Garlicky Tahini
5 tbsp tahini
2 lemon juice
3-4 tbsp water
1 small garlic clove, crushed
Serving suggestions: roasted potatoes, roast vegetables, extra fresh thyme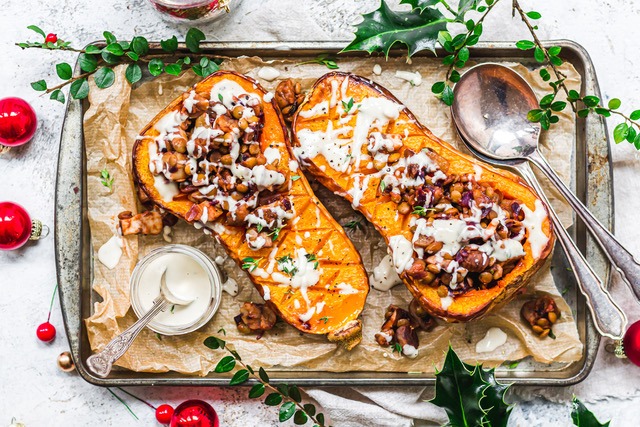 Method:
1. Preheat the oven to 170Fan/190*C and place the butternut squash halves on a baking tray, cut side up. Score the topside with a criss-cross pattern and rub all over with some olive oil and salt. Roast for 40-60 minutes until really tender and starting to crisp. Once out of the oven, scoop out the seeds and discard.
2. Meanwhile, heat some olive oil in a large frying pan and add the red onion, garlic and mushrooms. Cook over a medium-high heat for 10 minutes until soft. Now pick off the fresh thyme leaves and add to the pan with some salt and pepper.
3. Stir in the chopped chestnuts, drained lentils and the Real Good Ketchup. Allow to warm through for 10 minutes over a gentle heat. Add a splash of water if needed.
4. As it cooks, make the garlicky tahini by stirring together all the ingredients until smooth, adding more water as needed for a pourable consistency. Season with salt and pepper.
5. To serve, stuff the butternut squash cavities with the lentil mixture and top with the garlicky tahini.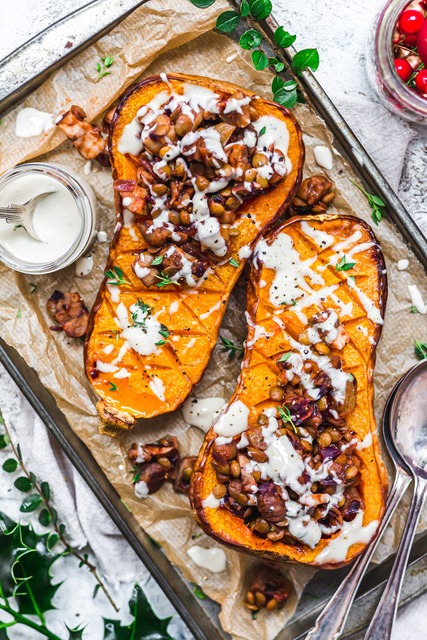 Why not pick up a bottle of Real Good Ketchup and give it a try? It's great with chips, burgers and whatever you put ketchup on, and also works well in recipes too…
*Images and recipe from Nourishing Amy and used with consent*