*We were kindly sent some play snow to review from Buzz Retail. All opinions are our own*
We love snow, in our house, or at least the idea of it. It looks pretty and scenic and playing in it is fun, too.
But we live in the UK, in London, and we don't get much of it, and when it does arrive it tends to cause chaos, rather than being a pretty winter scene to enjoy.
But snow can still be fun and as part of my job and for my kids I make fake snow, for sensory and messy play.
However not everyone is keen on making their own so Buzz Retail can save the day with their Play snow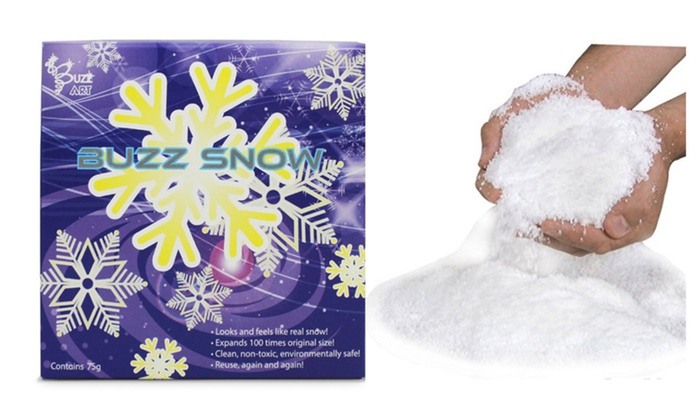 This is a polymer powder that when hydrated it looks and feels just like Snow, except it never melts! Its eco-friendly, non-toxic and safe for children and animals. It looks like sugar before it is hydrated and looks and feels like Snow after you have added water. It expands up to 100 times than its original size. After two and a half weeks the snow will start to dehydrate and return back to its powder form, ready to be activated again. Use it in your Christmas table displays, shop window displays, around your X-mas tree, or to highlight a display out in the garden or fill the bath just for fun!
This stuff is brilliant for easy sensory play, there is no fiddling about trying to make your own when you don't have time or capacity to do that, and it's useful if you want to use it for a craft, Christmas display or for creative sensory play with your kids. It isn't suitable for under 4's (because let's face it, they like to eat things, and this is not edible) but it works well for all the activities indoors you would want snow for and because it dries out and can be used, it's great value for money.
So if the weather wont play ball, you at least have an alternative that hopefully doesn't cause as much chaos as the real thing does when it falls where we live…