*We were kindly asked to review Fantastic Services for a house clean. All opinions are our own*
As a working mum, I often struggle to keep on top of the full cleaning of the house, and we have in the past had a cleaning lady who came to help us every week, doing some of the cleaning jobs I couldn't keep up with. Sadly, she had stop cleaning due to ill health, and we have been managing, or not, for a while without help.

I recently realized we needed help again. We have all been on top of each other for a long period of time, due to working at home thanks to Covid, and trying to clean and keep things clean is even more of a challenge.
Thankfully Fantastic Services came to my rescue and sent their team round to sort us out.
They say:
The Fantastic Services Family started its journey back in 2009. It all began with a meeting of two like-minded individuals, company founders Rune Sovndahl and Anton Skarlatov. Rune needed a cleaner and Anton ran a cleaning business. Very quickly they both realised that they shared a vision and could deliver home services in a much better way by working together.
With two laptops, a sofa to sit on, and a shared mobile phone a small operation, known only as the One Stop Shop, was born. The aim was to build something simple, yet something that can deliver the best possible service for all clients and cleaning crews involved. We call that philosophy the 360 degrees of happiness.
I say – this sounds FANTASTIC, please come sort me out.
Our house needed a one-off clean, with a view to then having someone come round to help me more regularly.
Their system is easy to use, and you can either create an account online or use their handy app, to book their services and work out what you need. I am all about apps and being able to sort stuff from my phone so this is a very efficient way of managing your cleaning bookings, and other services they offer.
I have to say, I was very impressed with their whole process. Everything booked easily and their customer service is very easy to access if you have an issue.
They send cleaners with all the equipment needed and you let them get on with the job in hand. If you have particular needs or areas like carpet or ovens that need work you can organise for that, and they do a brilliant job.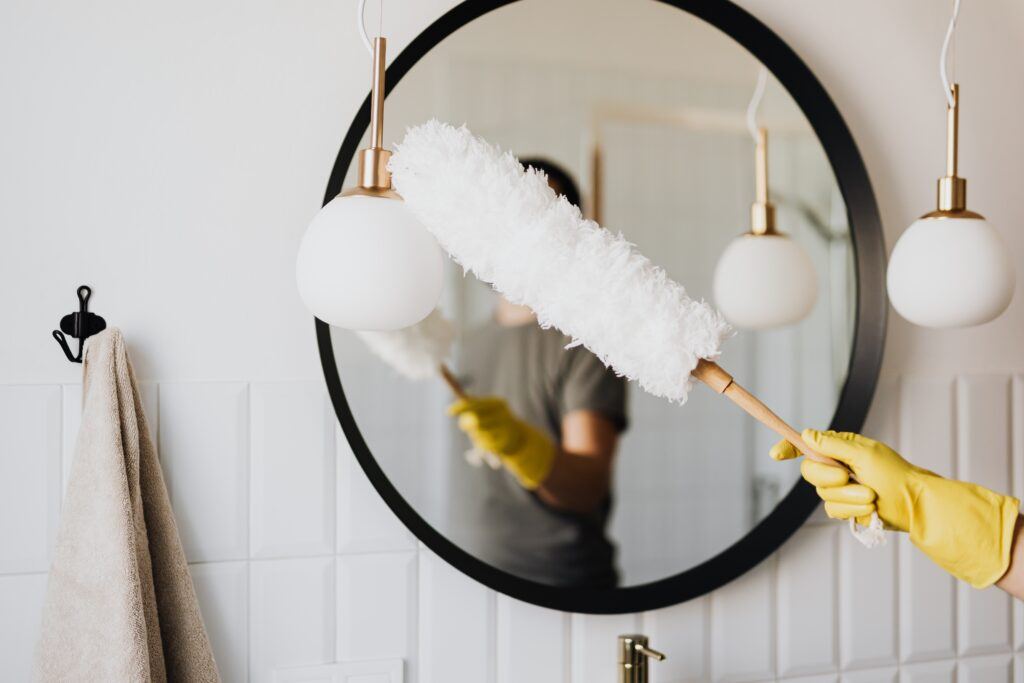 Using a cleaning company takes a lot of the stress out of having someone come to clean for you. Things like references and skills are checked so you don't have to worry about that and complexities around taxes and cash in hand are dealt with to make it professional and easy to deal with.
They were very efficient and thorough and did an amazing job on spaces like our bathroom, and kitchen and they were also very helpful and open about what they could do, in the space, we live in (removing all clutter and clearing services is a very helpful thing if you want maximum cleaning ability carried out) and they worked fast. It feels very professional and I was confident they would do a good job and I wasn't disappointed. They gave my oven what I would describe as a makeover, and even though I do clean it myself, I was blown away by what a good job they did and I almost didn't want to use it for a few days, because it was so shiny and new looking after they had worked on it.
It makes such a difference to have a clean home, and it's so helpful to be able to know you can rely on a cleaning service to come and do a good job, in a professional manner and that you can trust the company and the team to look after your home and make it sparkle.
It's good value for money, because all the cleaning materials are included and you are paying for what you expect and get.
I would highly recommend them if you need a one-off deep clean, regular cleaning, an end if tenancy clean, or house moving clean, or help with domestic cleaning that you just can't manage. You can find them on social media and if you click on this link to sign up and get a £10 credit towards their service too.
Instagram: https://www.instagram.com/fantasticservices/
Facebook: https://www.facebook.com/FantasticServicesUK
What can I say. They made my home feel clean and fantastic. I will be using them again. Finding a company that helps me manage life, is always a huge win.