*this is a review post, we were kindly sent some Got It Learning cards to review and share about*
As a homeschooling parent, I am always on the lookout for fun activities to help with learning and these fun card games from Got It Learning are a great addition to your learning resources and are very handy for children who might find reading a little bit less fun and more of a struggle.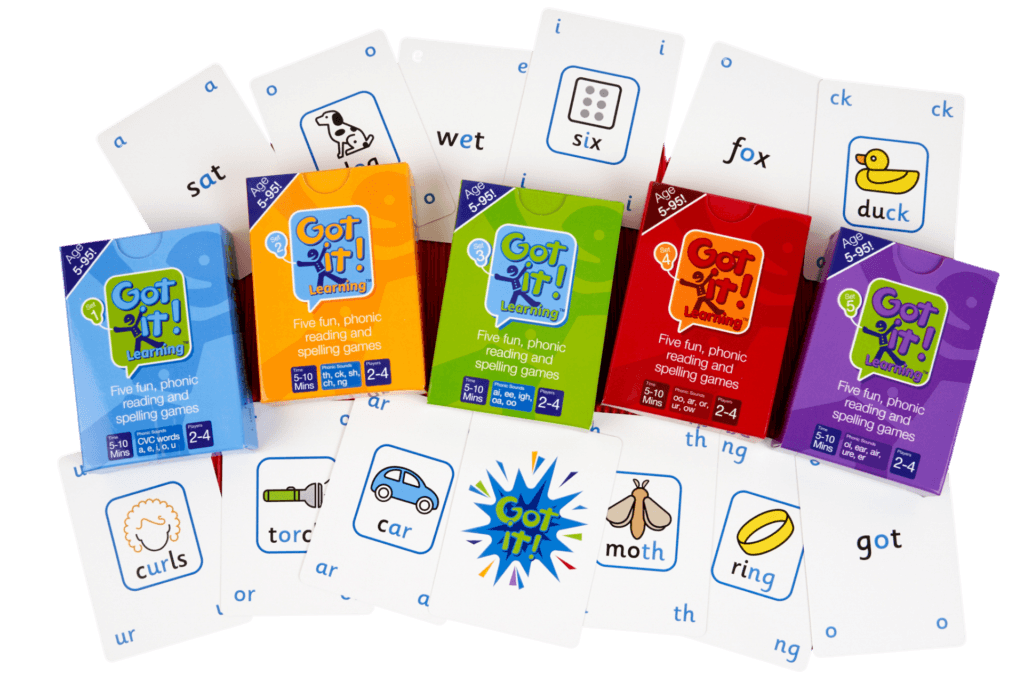 Got it Learning has launched a new range of fun, fast-paced card games for two to four players to help children learn to read and spell. Got it games support and reinforce teaching in the classroom, as well as giving parents and carers a chance to enjoy playing with their children at home, while boosting their reading and spelling. The games also develop concentration and social skills, keeping children engaged and giving them the confidence to take on new words – all without the use of a screen.
In each pack of Got it cards, there are five, quick to learn 10-minute games: Word Race, Word Pairs, Word Switch, Word Sets and Word Match. In line with the National Curriculum and suitable for children aged five and over, the games cover important, frequently used words. Developed by an experienced teacher, the games are multisensory and dyslexia friendly, with the focus sounds shown in blue. Picture prompt cards give children the confidence to read independently.
There is a simple online reading sheet to find the correct starting point from the five available packs. In each pack there are 40 word cards, which cover five different sounds, printed in a simple font. The eight, special Got it! cards give all players a chance to win, keeping up the excitement right until the end of the game.
Our son is not a natural lover of reading and it took him a while to learn to enjoy reading and that books and literacy are not a chore. I sometimes find the National Curriculum for children in terms of reading and writing rather dry so tend to prefer to do our own thing for some of how I teach and help him with reading and tools like this are a brilliant idea, because they are not expensive, and can be played by a group so you take the intensity out of "learning to read".
I like the concept behind the cards and that they have been created by an experienced teacher with the understanding of both how reading is taught but also how kids minds work. Because they are card game size they are portable and easy and it's all about learning whilst having fun.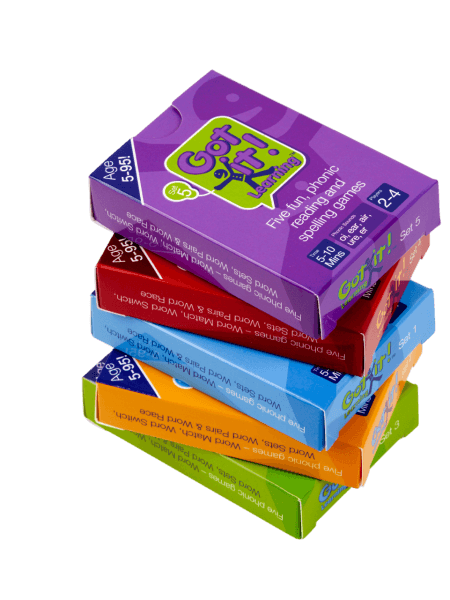 They are also designed taking the needs of children with sensory needs and dyslexia which is helpful because sometimes learning resources don't always take this into account and it can be frustrating for children who struggle in those areas. This means everyone can play the games and enjoy them and they are not just for children. We have actually had fun playing as a family.
If you are looking for a simple but effective reading resource to help supplement reading activities or gently encourage when someone is struggling with their reading then we think giving these card games from Got It Learning are well worth getting your hands on.