*We were kindly asked to review some Surcare products and their Surcare Capsules for laundry. All opinions are our own*
We have been using Surcare products for a long time because we like how well they deal with our laundry challenges but also are kind and gentle to sensitive skin and skin with issues like eczema and psoriasis and their new Surcare capsules make things even more convenient.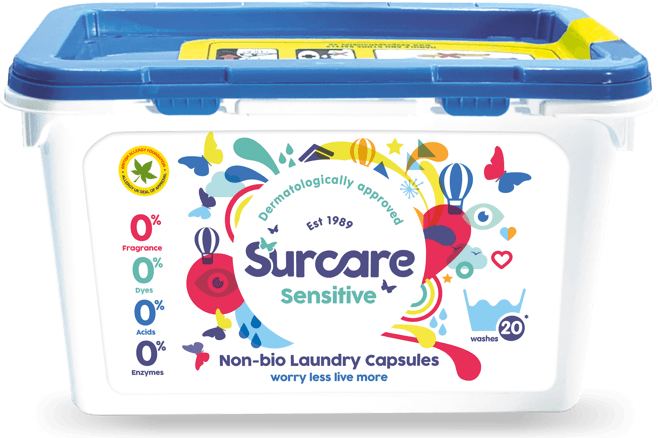 • Surcare is a homecare brand, created for those with skin sensitivities & allergies
• Our unique formula is kind to even the most delicate skin, so you can count on us every day
• You won't find any unnecessary nasties in our products – that means 0% fragrances, enzymes,
acids, and dyes
• We've recently undergone a makeover to our brand and packaging. But inside we're still the
same sensitive, caring formula – nothing has changed!
• People often think they're compromising when they use 'sensitive' products. Our range has great
cleaning power even on cool and quick washes
• Our complete range has received the Allergy UK Seal of Approval – awarded to
products with significantly reduced allergen content that have been independently
clinically or dermatologically tested and proven suitable for sensitive skin
• With eczema cases rising more than 40% in just four years*, we knew we had a responsibility to
spread the word about the good Surcare can do for those with sensitivities
• Although we talk a lot about skin conditions – our products are great for anyone looking for
simple, honest cleaning solutions
• Our full range is available in Sainsbury's, and parts of the range available in Tesco, Morrisons,
Waitrose & Co-op.
Because my children are now older and actively involved in chores around the house and do their own laundry (with a little help) the capsules are super handy because they don't need to measure or fuss about what amount they need, and they can just pop them into the machine and press go, and we have clean laundry that's also looking after the skin. It's also helpful because we don't use to much or too little laundry liquid so it's easier for me to plan and budget. Knowing they work with Allergy UK helps me to feel that they are working to help families with skin issues, and that is also reassuring.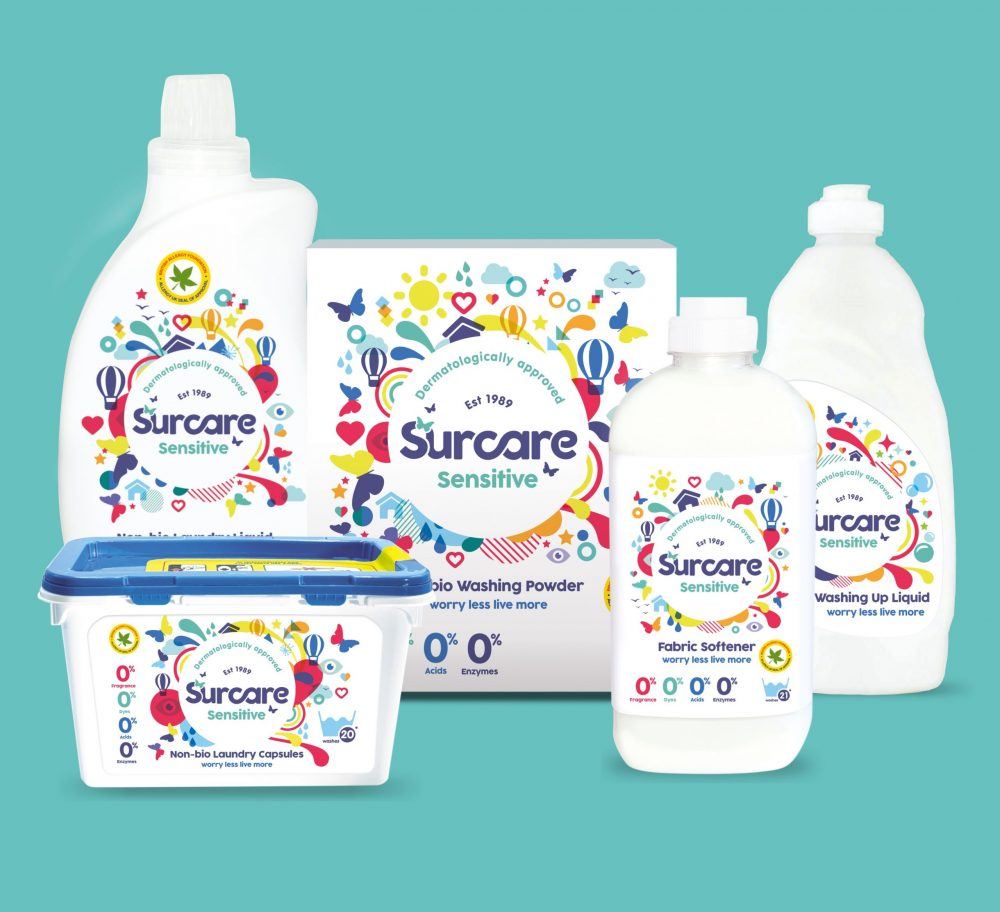 Their whole range of laundry products, including fabric softener, laundry liquid, powder and washing up liquid is designed with sensitive skin and skin issues in mind, and it's reassuring to know they have put all the work into their products. Their containers are fully recyclable which is helpful. We tend to use most plastic containers for other things and try to make them have a long and useful life before we recycle them. Their Surcare Capsule tubs are actually incredibly handy for holding craft items, pencils, and even for seed planting and they are working on becoming more eco-friendly, which is always good to know.
We highly recommend them, and their brand is one we trust on our skin and to deal with our laundry. Now if my kids would learn to iron and put it away, I would be totally winning at life.
You can find more info on Surcare on their social media