Welcome to Meal Plan Monday and after a bit of a break from sharing our weekly meals, we are back with some school holiday meal planning.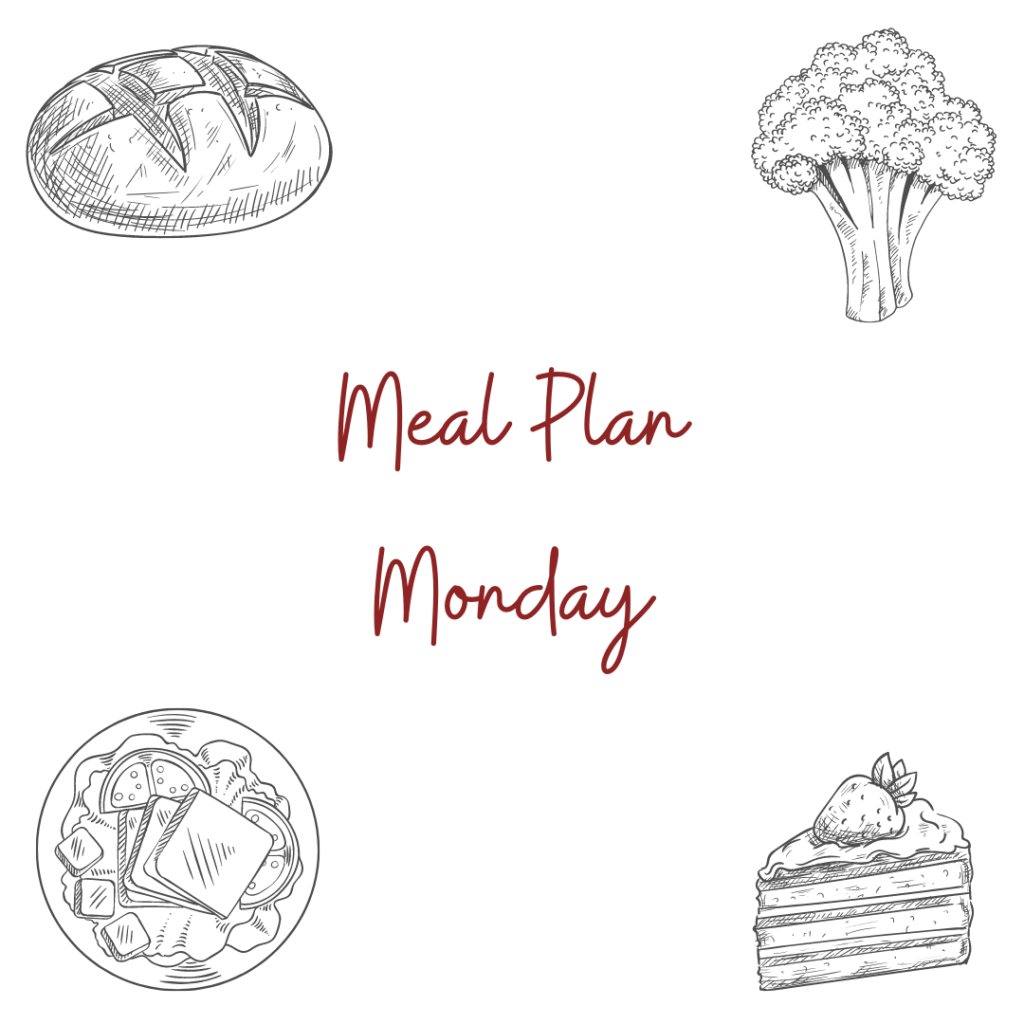 I find my kids tend to ask for food out of boredom in the holidays, particulalry as we faced lockdown and being stuck at home and not able to get out and about as much as normal. I try to balance this and be reasobable but they are learning that we are not a 24/7 cafe and that being bored doesn't alwasy mean raiding the fridge.
The teen is at home for lunch every day, which I have to factor in too.
What helps I find is setting rules around snacks and free for all eating.
I have a basket for each child. I put things I know they like and will eat for snacks with a balance of mostly healthy but the odd treat – so for example at the moment we are STILL working our way through Easter holiday chocolate (how, I do not know??) so I will let them have that as their treat. But I put dried fruit, nuts, fresh fruit, breadsticks, rice cakes, protein snacks (they both love biltong, being half South African I get ours from here) and that is their day's worth of snacks. At 11 and 14 they don't need me to stand over them when they want to grab something to eat but when the supply for the day is gone, it's gone and they are learning to pace themselves and realise that if they ate breakfast at 8am, eating all their snacks at 9am is a bit silly.
The rest of the week meals are easy. I try to make enough dinner for leftovers for lunch the next day or if that won't work, we have snacky lunches, both children are becoming very adept in the kitchen and can make scrambled eggs, sandwiches, toasted sandwiches, and simple pasta dishes so I will get them to help with lunch.
Our meals this week look like this:
Monday – Katsu curry and rice
Tuesday – we have our childcare bubble day so it's homemade pizza all around because that's easy for me to make
Wednesday – lentil soup and home made rolls
Thursday – shepherds pie (vegetarian version)
Friday – veggie sausages and jacket potatoes
Saturday – it's movie night and the kids have asked for nachos which is easy
Sunday – we are back to the crazy of ballet for the boy, but I will pull a roast lunch together for in between so we get a big meal in the day to keep us going.
Then it's back to school and homeschool and a normal routine commences and I won't be sad, I like routine at the moment as life isn't entirely back to normal. School holiday meal planning for the summer holidays is far enough away that I don't have to think about it, phew.
So that's what we are eating this week? How about you?