*This is a review post in collaboration with Yo-Yo Desk, all opinions are our own*
Working from home can have many advantages and for working parents, it can be a much more flexible option when juggling families and childcare. However, if you are working from home regularly, you know that there are things you have to do to make it work so that it's as easy and as comfortable as possible. You want to be productive and but also set up so you are working safely and looking after your body.
We don't have a specific office space, and the husband and I juggle working from home together and finding what works for both of us. He prefers a set desk space and to stay in one place. I like to be more mobile and able to work not just in one place, but I also deal with some hip and back issues so the traditional sitting at a desk or table doesn't always work for me.
But Yo-Yo Desk have lots of solutions and their Yo-Yo Desk 90 stand or sit desk which can be used either whilst standing or sitting is an ideal desk arrangement for me and helps me to get set up to work where I want to, but also comfortably.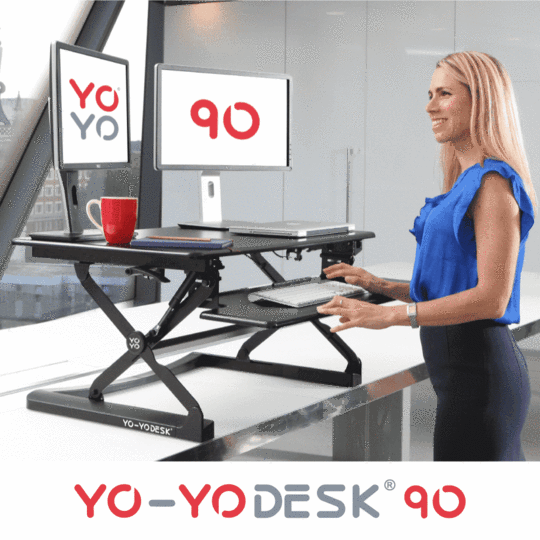 Yo-Yo DESK® 90 is the medium size model from our best-selling CLASSIC sit-stand range. Designed by experts to incorporate our unique Smooth-ActionTM gas spring for smoother up/down movement to 15 adjustable heights.
The Yo-Yo DESK® 90 standing desk has been demonstrated to improve workplace health as it effortlessly transitions between sitting & standing positions.
Yo-Yo DESK® 90 is 89cm wide and fits perfectly with workstations using double monitors or when placed on a standard sized desk.
Split level worktop 89cm wide (Black & White)
Height extension: 15 – 50cm (Worktop), 0 – 35cm (Keyboard)
Incorporates a unique Smooth-ActionTM gas spring
15 adjustable heights. Switch from sitting to standing in just 1 second using easy-press levers on each side
Available in both Black and White
Supports Single and Dual computer monitors and monitor arms
Unique ergonomic design adjusts to any user's height, with gas-strut assisted lift
Wider and Deeper Keyboard Tray for optimum ergonomic usage in seated and standing position
Easy install (5 minutes)
Gas Spring Sit-Stand Workstations – aircraft grade aluminium gas spring for smooth movement and reduced risk of clamping injury
Sitting at a desk all day, every day isn't actually that good for your body, and therefore your working mental health either, even if you have the comfiest office chair to use and the best coffee machine around to keep you caffeinated.
Many adults in the UK now spend more than 7 hours a day sitting and this typically increases to 10 hours or more as we get older. This is hardly surprising when you consider our daily routines, such as being sat at our desks and being sat in the car. The main issue with this, is that our bodies are not engineered to be sat in a static position all day. Long periods of sitting have a major impact on our health and wellbeing. This can include strain on our necks, herniated discs, muscle degeneration and weakened bones, these are just some of the problems involved around the issue of sitting for too long. By implementing a standing desk into your workstation, this will help combat these symptoms as well as giving your body a chance to experience all the health benefits that go alongside it. Having the ability to switch between standing and sitting postures can help reduce the physical stress which your body has to endure. It keeps you active at work, and improves your productivity throughout the day. Sit-stand desks are recommended by the London Spine Clinic, as they have been designed in a way which makes working comfortable whether you're stood up of sat down. It gives you the ability to vary your posture and combat the health risks which are associated with sitting too much. (source)
For me, a standing set up desk where I can stand, move around a little bit, and take pressure off my knee (I have had multiple injuries and surgeries on my knee, it's a little cranky and needs a lot of tlc these days) makes a huge difference from trying to work sitting at a desk or a table all the time.
The Yo-Yo Desk is easy to set up and adjust and moves very smoothly. It's ergonomically designed and you can position it so it sits where you want it to be, height wise, and although it looks big it fits on most standard desks or tables, and it can be stored relatively easily as well. Paired with an anti fatigue mat to stand on, to help relieve pressure on my legs and improve circulation, it's actually incredibly comfortable and I find I concentrate better when I am standing and working.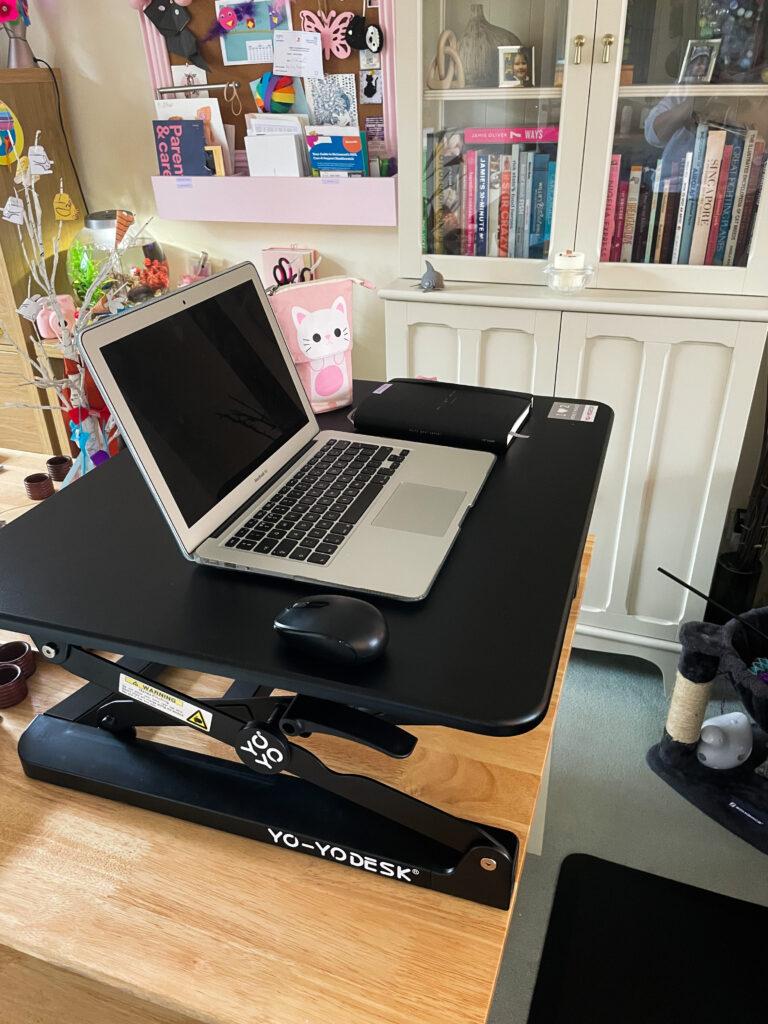 We have also found it very useful for homeschool, too. My son sometimes struggles to concentrate and doesn't particularly like sitting at a desk, but does find he can work better and focus more when he is standing and working so it's a great tool not just for adults working at home too.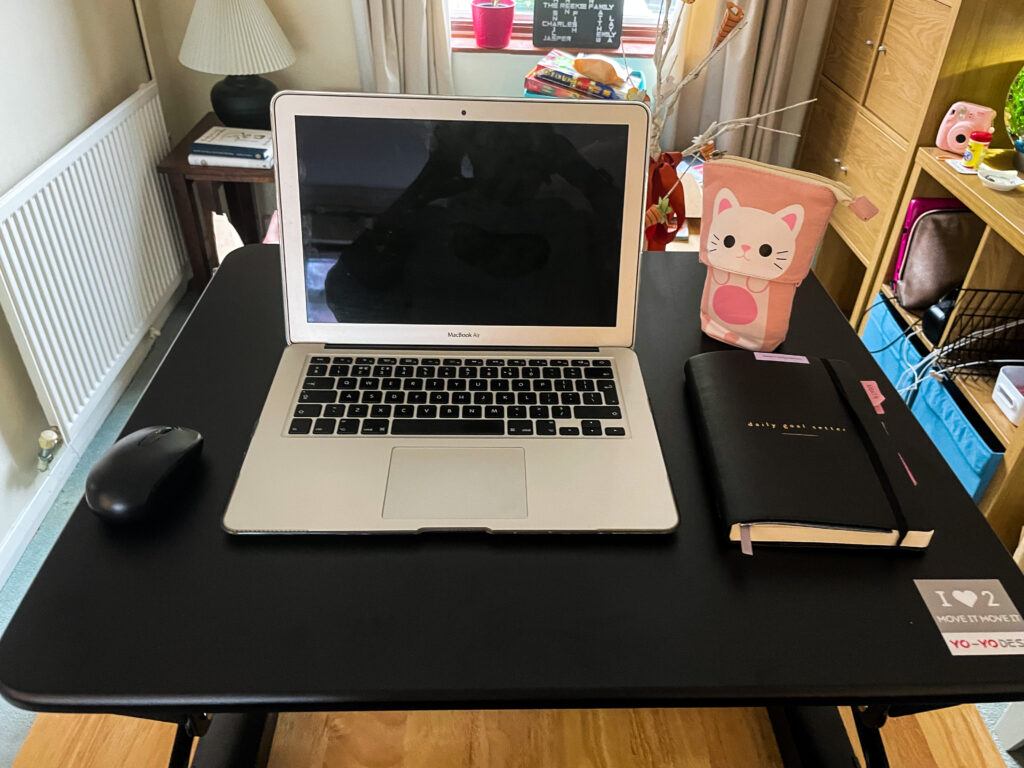 So if like us, you work from home but want to improve your desk space and set up so you feel more comfortable, and are therefore more productive, we would highly recommend a standing desk. They are well worth investing in, and you may find they make a huge difference to your working day. You could also discuss using one with your employer too, if you are office based, it's worth asking if you are finding sitting at a desk isn't working for you.
Have you tried a standing desk? How do you like them?