This recipe for gluten-free orange blossom polenta cake is easy, delicious and very moreish. It's perfect for summer picnics or an alternative to other cakes and you can serve it alone or with ice cream (we use dairy free ice cream)
Polenta is often used in savoury dishes but it works well in cake for texture and absorbs flavour really well and is usually easy to get hold of.
Orange blossom water as an ingredient might sound pretentious but it isn't actually too expensive and really does have the concentrated orange flavour you want. However you can use orange oil extract (please, please don't use orange essence or fake orange flavouring, I will come round to your house and shout at you! Just kidding!)
This recipe cuts into 8-10 slices and stores for 2-3 days in an airtight tin, although in this house, no cake ever lasts that long.
You will need:
250g dairy free spread or you can use butter if dairy isn't an issue
250g golden caster sugar
4 large eggs
140g polenta
200g gluten free plain flower
2 tsp baking powder
1 tbsp of orange blossom water
zest and juice 2 oranges (less 100ml juice for the glaze)
To make:
Heat oven to 160C/140C fan/gas 3. Line the base and sides of a round 23cm cake tin with baking parchment. Cream the dairy free spread or butter and sugar together until light and fluffy.
Add the eggs one at a time and mix thoroughly.
Once the mixture is combined, add all the dry ingredients and the zest and then transfer the mixture to the tin, spread evenly, then cook for about 45 mins or until a skewer inserted into the centre of the cake comes out clean.
Remove from the oven and turn out onto a wire rack to cool.
For the glaze
To make the glaze, put the juice and sugar in a medium saucepan and bring to the boil.
Let it simmer for 5 mins, then remove from the heat and allow to cool.
Use a cake skewer and gently poke six to eight holes evenly around the cake then drizzle the orange glaze over the top of the cake
Serve with dairy free ice cream, or ice cream of your choice, or clotted cream. Hide the leftovers from your family…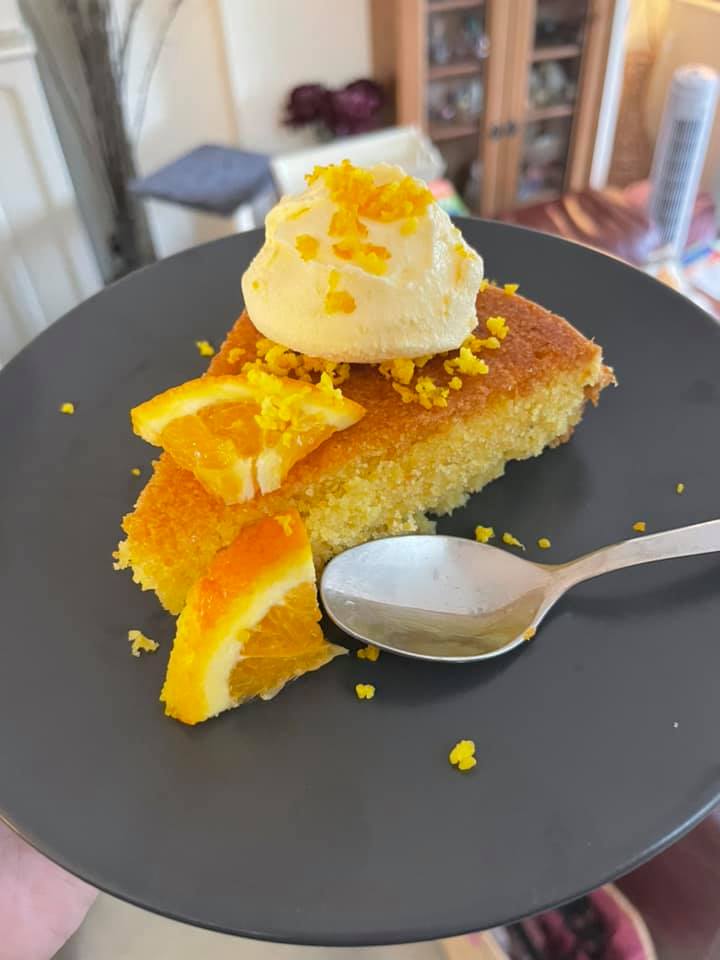 If you loved this gluten-free orange blossom polenta cake then you may also like our recipe for gluten-free and dairy-free chocolate brownies too.