The title of this post says it all – school is out for the summer. We have reached the end of the term. What a year it has been.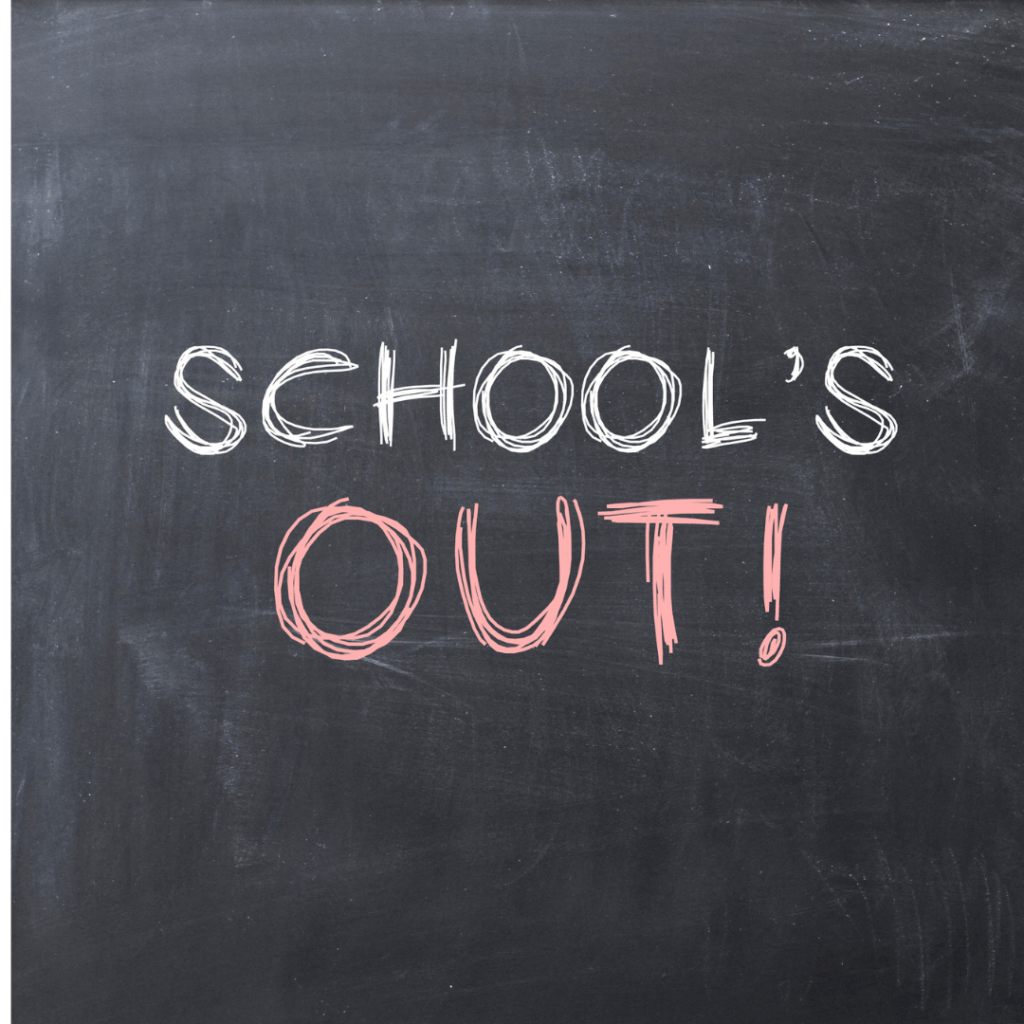 We have one child in school, secondary school, and one child who is landing year 6 studies at home with me, and carrying on at home with me into year 7 (more on that soon).
It's been a very long school year. I am incredibly proud of both of my children.
Our daughter has dealt with spending most of a school year at home/online last year, then transitioning back to school life, thanks to Covid19. She went into year 9, and has flown through and made us proud.
She definitely doesn't get her studious and academic ability from her mother and is her father's child for that. I know the teen years can be very challenging but she really doesn't give us much cause for worry, and I don't think I have ever had to nag her once to get homework done or to remind her to revise for exams. She has her moments like all teens do, but when I think about the challenge I was at her age, I am grateful for how kind, sensible and hard-working she is, and if my biggest issue this year has been her pinching my clothes and expensive skincare and using up all the data on her monthly phone bill, then I really don't have any worries at all. She has faced some very challenging health issues and is becoming stronger at advocating for her own needs and looking after her health, and I am learning how to parent her through that.
She's ended her year well, as Form Captain, and having had a glowing academic and personal report from her school. She has worked hard. She faced school being closed again from January to April this year and online learning, again and then many, many Covid tests and Covid rules, to be able to stay at school. She's also started Duke of Edinburgh, triathlon training, and volunteer work locally. She's learning to cook, and will soon be better than me at that.
Her reward when asked what she felt like for her stellar year? Another set of ear piercings. Now THAT she does get from her mother…
Our son has had a very challenging year. As a homeschooler, his whole world shut down last March 2020 and he had to adapt to all of the activities he loves being closed or online and it took a long time for that to come back to any kind of normal. We went back into some normal in Setpemerb only to face it all being shut down again in January. He's bounced back but it's been very hard on him, as it has on most children. He has, however, proved how amazing he is, by excelling at his dance, his gymnastics, swimming, and language, and art classes and although year 6 has not been without its challenges he has done well with his work too. He enjoys some of his subjects and others not so much but is doing well and we face the challenges of the next year head-on.
I am incredibly proud of both of my children. The academic year they have faced, with so many other children, has been so different, and has had some very hard hurdles to jump. They have done their best, learned, grown, and stepped out into becoming more independent and grown-up.
I am so grateful to the teachers and school and also to the people and groups that have supported my children. Their ballet schools, their swimming coaches, the adults around them who have adapted to help them still be able to access life whilst dealing with what no one could ever have imagined would ever happen. I have cried a few times when I have realized how lucky we are to have so many people who care.
And so, school is out for the summer, now we look forward to some fun and adventures.