Welcome to Meal Plan Monday, here we are again and this week I am sharing about how eating gluten free isn't as hard as you think. It may seem a bit of a rant but hopefully it isn't and is helpful.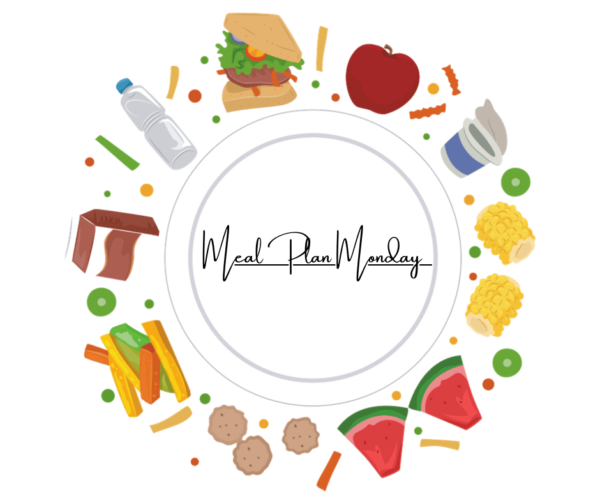 When the husband and I first got together (my children like to remind me it was so long ago it was probably just after the dinosaurs died out) his food allergies were trickier to manage. He is non Ceoliac gluten intolerant and he is allergic to cows milk. Back then he ate a lot of rice cakes, rice, jacket potatoes and used apple juice on his cornflakes because non dairy milk alternatives were hard to get, expensive and tasted pretty grim.
When we got married I was determined to feed us well and make sure he enjoyed food so I began try things to see what worked and what didn't. This was the first recipe I ever tried as a sweet treat for him, and it worked so well that almost 21 years later it's still featured and my kids love it when I make it. Gluten free chocolate brownies that are gooey, delicious and safe to eat because they are also dairy free and can be made without the nuts too. I haven't tried making it egg free but I have used Oggs Aquafaba for other baking so may try it to see if it works.
For us, pasta, bread and anything cracker or biscuit was where we have to adapt to to eat gluten free. Now that the teen is dealing with also being gluten free and we have to watch cross contamination and make sure she is safe in what she eats, I have to manage things more tightly. We do buy bread, crackers, and pasta from various gluten free brands but we also eat a lot of rice, noodles and potatoes as well so we don't struggle too much.
I know people think that being gluten free is hard and it can be a bit of a challenge to adapt to it if you are used to eating gluten then have to stop or change for someone else but it can be done and you don't have to be miserable to eat safely.
The main thing is to watch for gluten that is added, ie in sauces, and also as a bulker for foods, like in sausages or meat products. It's all about reading labels and checking.
A week of meals for us looks like this:
Monday – The teen is cooking for us via her cooking course and it's Phad Thai, which uses rice noodles. I make sure all our sauces and condiments are gluten free (much easier these days)
Tuesday – meatballs and gnocchi. I usually make our meatballs or use gluten free meat free ones, but Aldi and Asda do a range of meatballs that are gluten free which is handy. We make our own gnocchi or buy it gluten free.
Wednesday – Pesto pasta because we are all at dance classes or out and it's easy and filling. Gluten free pasta is a bit of a bugbear of mine, because we love pasta and the teen misses really good pasta now she can't eat gluten. I am working on finding really good pasta to keep her happy. I have never tried to make it gluten free, I may have to experiment.
Thursday – egg fried rice. Again, easy, cheap to make, filling and you can add your own veggies. The kids think this is a huge treat so I go with that.
Friday – Twice baked potatoes and fillings to use up things in the fridge.
Saturday – family movie and pizza to celebrate half term and making it there in one piece. I am afraid I cheat and buy these gluten free pizza bases. I used to make our own but now we are more careful about gluten free it's just easier to buy ready made and let everyone top their pizza with what they want.
Sunday – the kids have asked for pancakes so I will make us brunch and then we are out for a late lunch with friends so I get a break from cooking. I love feeding my family but don't mind when someone else takes over. When we go to someone's house to eat, I always am very proactive and I am not shy about asking what they are planning to feed us, offering to bring anything that might be needed to save them hassle and I also usually offer to cook or make something. I know that catering for someone with food allergies can be stressful if you are not used to it so I always want to make it easy when we are guests.
And that, is our week. I am always happy to chat about how we eat and how it isn't boring or as hard as you might think.
What are you eating this week?