This is a collaborative post with Wicked Uncle and Mini Hornit.
My children are avid cyclists and frequent users of their scooters and are pretty fast on all sets of wheels. As a parent, them having fun, but being safe, and keeping other people around them safe, is a big priority. We insist on helmet wearing for both scooters and when cycling on their bikes, and we also like to have good lights.
We like things that keep us safe on our bikes and scooters and the Mini Hornit from available from Wicked Uncle is a great accessory. This is a light/sound horn for bikes and scooters, perfect for children.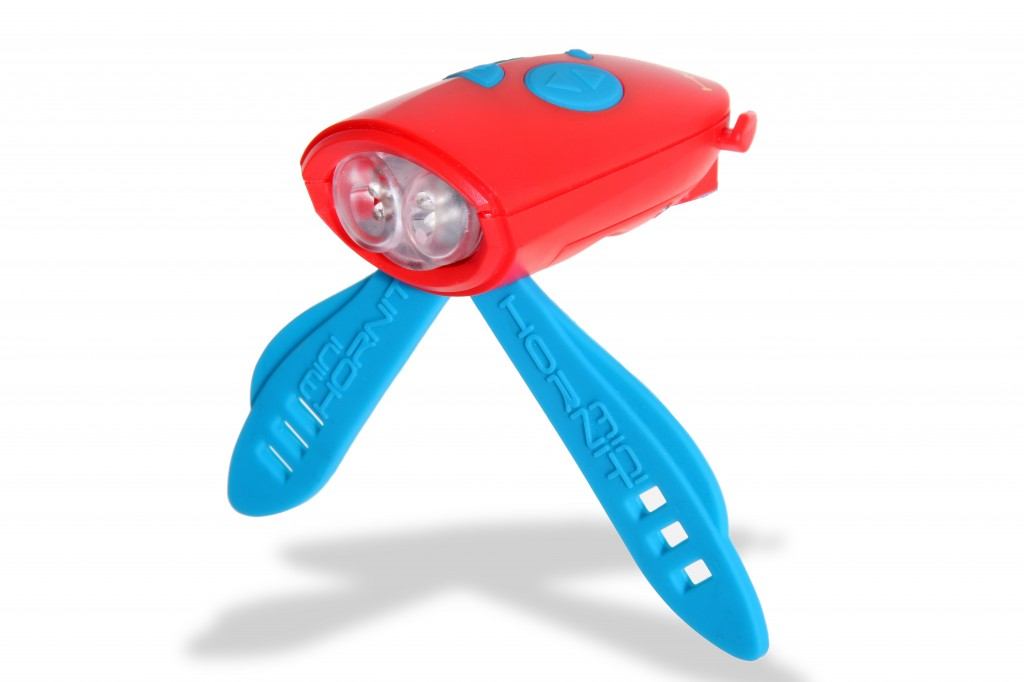 The ultimate light and sound effects accessory for kids (and big kids!). It has a 12 lumen bike light and produces 25 fun sound effects kids love, from bells and horns to vehicles and animals. 12 lumen white light
12 lumen green light
25 fun sounds
remote trigger
wings clip on to fit any bike or scooter
IP33 (shower proof)
The Mini Hornit fits very easily onto a bike handlebars or the bars on scooters. As you can see in this little demo video, it slips on easily and is very easy to use.
The children LOVE the different noises that the Mini Hornit can make, ranging from animal sounds to musical. Little Man likes the lion noise and the race car noise, Big Girl likes the Mexican music tones, and the loud horn noise, and I personally like the elephant sound. They are loud, and you can certainly hear us coming, when we are out on our bikes and scooters. I think having a horn on a scooter, and also a bike, for children riding on the pavement, is vital. I am not one of those parents who lets their children scoot like mad racing car drivers, but sometimes it's a good thing that they are able to let people in front of them know they are coming, for everyone's safety. So far, no one has grumbled at us, when we have hooted or tooted, using the Mini Hornet, in fact quite a few people have been amused, or said what a good idea they are, and asked where to get them.
The light on the Mini Hornit is ideal, for the ride home from school or to after school classes or home from playdates or out of school activities. Bikes on the road need to have lights to be seen clearly, children on bikes or scooters on the pavement should be visible and well lit, not just for their own safety and ability to see, but so other people can see them coming too. They are also useful for riding in our local woods, and down some of the copses and alleyways we occasionally venture down when out and about. It helps the children to be safer, when riding their bike or scooters, and encourages them to warn other people they are coming, and think about other people around them, on the pavements.
They are light, easy to fit, and pretty durable, and easy to use where small fingers are concerned. Ours has an attachment so it can be used on both sides of the handlebars, with either hand. They are easy to use and simple to attach to a bike or scooter.
So, if you are looking for a bike horn and light, for a child's bike, or scooter, we would say that the Mini Hornit is a good option. They are sturdy, and good value for money, as well as being fun and practical. You can certainly hear and see us coming, and I like it that way…
We also have a Mini Hornit to give to one blog reader here. All you need to do is comment on this post sharing your top bike or scooter tip with us, and then click on the link below to enter. A winner will be chosen on the 28th August.
Win A Mini Hornit with Wicked Uncle
Good luck. You know you need to make some noise on your bike or scooter…