With Valentine's Day on the horizon, we are delighted to be reviewing a fun game that is definitely not for playing with the kids, called Monogamy. We hope our review convinces you that it's worth getting your hands on a set.
I am not really a game player, but the husband is, and for Valentine's Day, I thought it might be nice to actually make an effort, this year. We don't usually do much for Valentine's Day, but change and new is good. We usually don't even get each other a card and we might make it out for a meal together if our busy family diary and schedules allow, but usually it passes us by. Having been together for nearly 24 years and married for 22 years, sometimes it does feel like we don't make enough effort and are too used to each other, so I think making some more effort to be romantic and remind each other why we are together is not a bad thing.
Monogamy is a fun game that might just spice up your romantic life but will certainly give you and your partner something to talk about.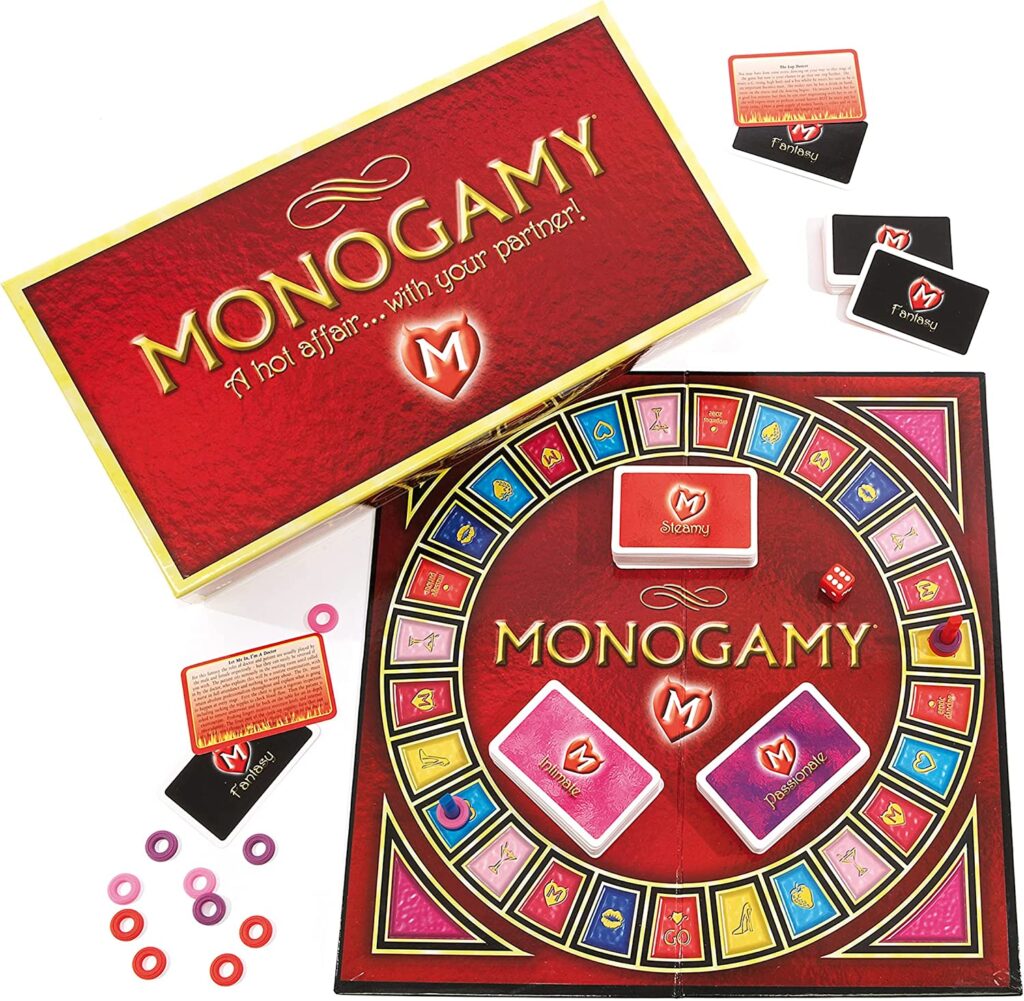 "Monogamy allows you to explore one another's fantasies and desires without fear or judgement, drop your inhibitions and lose yourself. It creates a place where you can surrender to your pleasure and be whoever you want to be. In Monogamy you will learn new things about your partner and new things about yourself."
Sounds like a great game to play if you are setting up a romantic date for Valentine's Day?
Set up a nice meal, light some candles, make sure the kids are in bed, or even better, with a babysitter, turn off your phones, and take the game seriously.
A perfect way to learn some new things about your partner or spouse. Whilst I don't often share about our relationship that way on this blog, I can say that it's not a bad thing to find new things, refresh your memory and your desires and give your love life a bit of a wakeup call and refresh and this is a fun way to do that.
To start the game, stare lovingly into each other's eyes and the last person to blink starts the game. Then just as with any board game roll the dice, move your piece and let the square you land on decide your action. There are several different square types to get you in the mood, we recommend you read the simple instructions as you land on each type.
Picking up the Monogamy cards is where it starts to get really interesting. When you land on the Monogamy square, you take a card from whatever level you are playing and there will be 'His' and 'Hers' questions or tasks on the card. On the 'Intimate' level, it's usually questions that help you learn more about each other, or softer, romantic tasks designed to help you relax and reconnect.
As you move up to the 'Passionate' level, the questions and tasks get a little more involved and become naughtier to help build up anticipation.
It's a great gift to give someone for an anniversary and perfect for a romantic weekend away to add some fun to your one-to-one time with the one you love. You can get your hands on a copy here and then see if it helps you get your hands on each other….
We think it's a fabulous concept and a great marriage or relationship booster and we would love to give a set of the game away here to our readers on our blog. To enter to win you need to do the following:
Comment here on our blog with a tip that you think helps to keep romance in a relationship alive, then click on the link below and complete your entry.
Win a Monogamy game RRP£29.95
A winner will be chosen on the 28th February and contacted via email.
Please see the full terms and conditions via Gleam and the link and our privacy & GDPR policy here
Who would you play the game of Monogamy with?