this homemade focaccia bread recipe is easy to follow and pretty fool proof and I pull it out when I want to make bread for meals with guests or when I'm feeding a lot of people. Because we now deal with coeliac disease in our house, I don't make bread that is gluten based as often as I used to but occasionally I cook for people and this recipe and bread always goes down well.
It's super easy and whilst you do need to knead it and leave it to prove, it's quicker than more traditional bread recipes to make.
Focaccia bread is an Italian flat leavened bread made with herbs and olive oil. It's ideal as a side dish with meals, or can be used as a sandwich bread, or with soups. It's generally moister than traditional breads and I find it keeps for 48 hours or so if you store it in an air tight container. There are many recipes and regional variations of focaccia bread, and this is my own recipe that I have just tweaked to how I like it.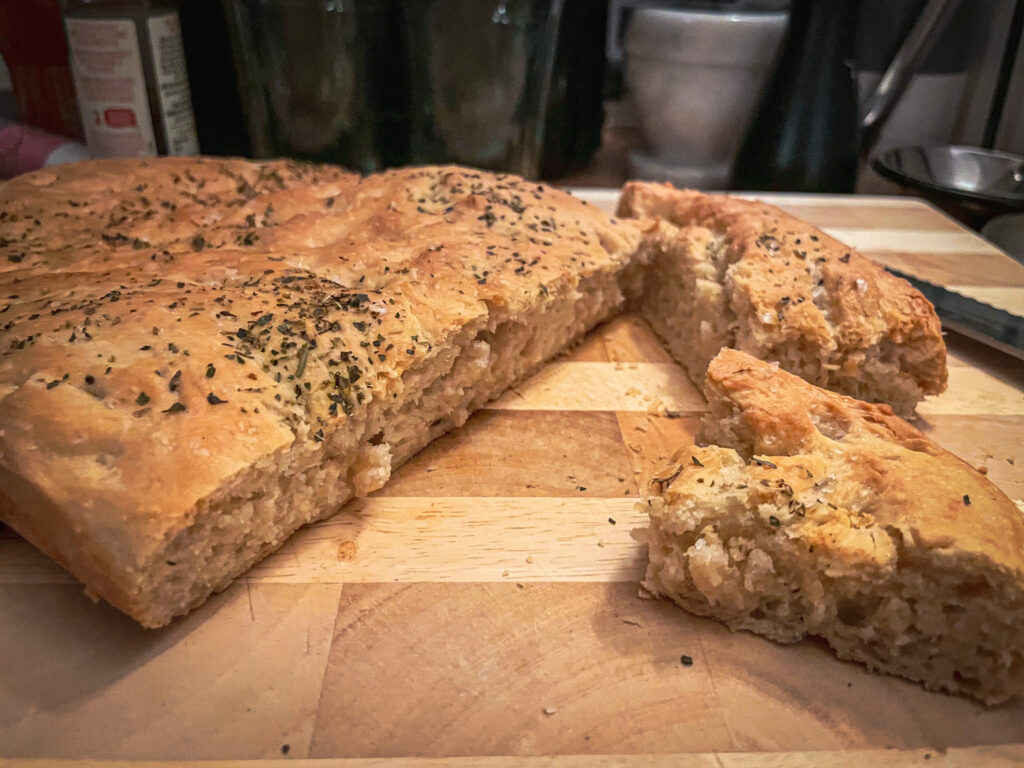 This recipe serves about 12, if each person has one piece, but I double or triple it if I am feeding more people.
You will need:
400g of strong white bread flour (you can use normal flour, but bread flour has more gluten "oomph" and works a little better)
250ml of warm to the touch water
1tsp of fast acting yeast
1 tsp of salt for within the bread and then coarse sea salt for sprinkling on the bread before it bakes (if you don't have this, you can just use normal table salt, the coarse salt just looks pleasing)
1 tsp of honey (or sugar if you prefer to make this vegan)
2 tbsp of good olive oil (extra virgin with flavour)
Extra oil for proving and cooking
Any herbs you like
If you want to add chopped olives I find I need about 300g of either black or green olives
Garlic cloves, peeled and chopped if you want to decorate the bread with those when you bake it
A large baking pan about 3.5 inches deep and 15 inches in length. You can basically use any wide deep baking pan or dish, as long as your dough can fit and be "spread" to shape the pan to be baked.
How to make your focaccia bread:
add the yeast to the warm water, in a jug with the sugar or honey, whisk it, and leave it to sit for about 15 minutes. It should have a frothy head on it, which shows the yeast is alive and ready to do it's job
Add your flour, olive oil, salt and yeast and water to a bowl and use your hands to mix it all in together. The dough should not be too dry, and should come together to form a ball. If you need to add a little water to make it less dry you can. Once it has come togehter, cover it with a cloth, in the bowl and leave it for about 15 minutes again
After 15 minutes, dump the ball of dough on a lightly floured surface and knead it fro about 5-10 minutes til the dough feels springy and elastic.
The hard work is done now. Take your baking dish and plop the dough into the dish.
Use your fingers to spread the dough into the dish so it reaches all the corners.
Then leave to rest for another 15 minutes or so. The bread will relax a bit.
Come back to your dough, and re spread it a bit, then take about 2 tbsp of the olive oil you put aside and drizzle it across the breadand using your fingers again, pokee dips into the bread at regular intervals making little wells across the bread.
You can then sprinkle your herbs, poke cloves of garlic into the bread if you want to, and then last of all, you sprinkle some of your salt across the bread.
Bake in a preheated oven at 190 for 35-40 minutes, depending on your oven. The bread should have a firm crust but will be soft and moist inside. You don't want the crust too firm, but just enough of a satisfying crunch.
I find this homemade focaccia bread is best served warm from the oven, but as I said above, you can keep this in an airtight container for 24/48 hours and it is pretty delicious with some hummus or cheese or just some extra olive oil and good balsamic vinegar to dip in.
I also pull out these easy bread rolls when I want homemade bread rolls for soup or for picnics, why not try them too?