An omelette is a quick and easy meal, perfect, I find for the kids, or for myself when I walk into the kitchen and think "eek, I need to feed us, but there's not a lot in the fridge or I haven't planned" or as a last minute thing.
I know some people get twitchy about cooking omelettes, but they are actually really easy, and because eggs are a good source of protein and you can pretty much add anything you like, there is no end to what you can create starting with a basic egg mix. I don't use milk, in my omelette mix, I know some people do, but I don't want scrambled eggs, I want a firmer, easy to slide out of the pan texture, so I skip milk. My children like a very basic egg, ham and cheese omelette, with a salad but I also like to add peppers, salami, olives, spinach, basically anything you can find in the fridge, that works. I have also added stronger tasting cheeses to my omelettes. You can experiment with what you have and like. Make sure you have a solid, non stick pan, and a good spatula, and I promise, you can create a tasty and impressive looking omelette in a few minutes….
You need
6 medium eggs, beaten til light and fluffy in a bowl, or jug (I cheat and use a bowl, easier to pour) I base this recipe on 2 eggs per person, this works for the 3 people. 
a tablespoon of oil in a pan, heated to high, (make sure it's non stick, and can handle heat under a grill, melted pan handles do not add a pleasant flavours to egg dishes 😉 ) 
Ham, chopped up approx 100g
200g Grated cheese of your choice (we used a hard, mild goats cheese)
Anything else you want to add, I chopped up some courgette but any veggies will do, you can even use frozen veg
Pre heat your grill, to high

Pour the egg batter into the hot pan, and let it sit for one minute. You will see the egg mixture begin to firm up. Use your spoon, and gently tipping the pan, pull back the edges of the omelette and allow the uncooked mixture to get to the pan surface. Do this all round the edges, so the raw egg is evenly cooking. You can see what I mean, in the pictures.
The omelette starts to look  fluffier.
Add your ingredients, the pop the pan under the grill, for about 2 minutes, just to make sure the egg on top of the omelette is cook, then, bring back to the heat on the stove top
Using a spatula, carefully fold the omelette in half, and slide onto a plate.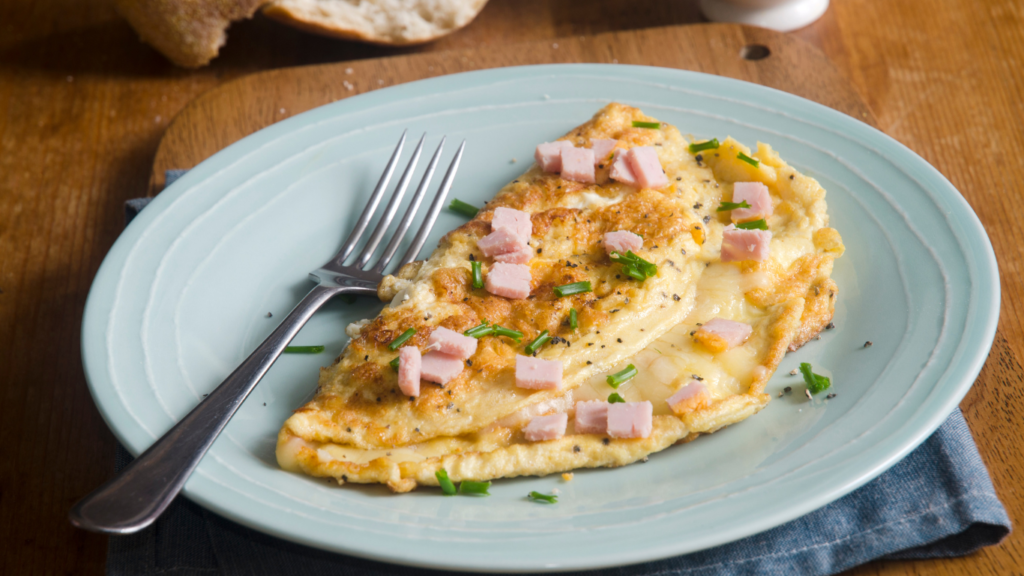 Enjoy with crusty bread and salad. My kids love these and you literally can add any filling you like and use up fridge contents that need to be finished. You can also make these and serve them cold, which makes them handy for lunchboxes or packed lunches, and a good source of protein too…
Sometimes we make omelette and rice, another easy meal that we picked up in Thailand, and also an easy meal for when I don't want to cook or make the effort but need to get the kids fed.