If you have a cat, they no doubt (and if they don't have, why not??) have a glut of cat toys, and if you are like us, they are scattered round the house (I do have cat toy baskets, but Tabitha is like my teenagers and refuses to tidy up after herself in any form) but you always can do with more cat toys and this post is in kind collaboration with Mad Cat Toys and approved by our cats.
This post contains affiliate links. They are clearly marked with * and if you click on them, will take you to a site where if you make a purchase, we earn a small amount of revenue.
We have two cats (you probably know that and are like "doh, why are you telling me this?") but they are different in character and preferences. Our grand old Lady cat Layla, who sadly left us, was neither a cat nip fan or a cat toy fan really, unless it was a ball of foil or a basic little mouse toy* she could find, harass and then present to us, usually in the middle of the night, when she was bored and felt we had slept enough.
Jasper is rather fond of catnip, so any toy filled with that, or a sprinkle of the good stuff, makes him a very happy cat indeed.
Tabitha, who I am convinced is more dog than cat, loves a toy, and has a host of them, in various shapes and forms that she distributes around the house and when she thinks we haven't paid her enough attention, will find one, and noisily (she has a particular yowly miaow when it's playtime) and bring it to us and demand we play with her. She has a couple of cat play tent * areas she loves too, and if we toss a toy in there, she will play happily for hours, duffing up a toy or two and chittering away to herself until she is exhausted and needs a nap.
All of our cats have loved more complex toys which require batteries and I suspect are more set up to entertain their human owners than actual cats.
For us, cat toys have to be tough enough to cope with playtime in whatever form it takes, fun and colourful, occasionally filled with catnip, and most importantly of all, safe for them to play with and designed with cats in mind. We also don't want toys that are super expensive, because as every cat owner knows, just because we think our cat will like something, and just because we might have spent some money on it, doesn't always guarantee that our cat will like it. They are after all, a law unto themselves and like to keep us on our toes, so spending money on expensive cat toys is not something I do.
Mad Cat Toys are a brand that focus on fun, safe and sturdy cat toys for cats, in funky styles and colours. It's hard to choose which ones I like best, but we know that Tabitha likes a toy she can chase, and because she's an indoor cat, we are always keen on toys to add to her enrichment and exercise routine. This one is a particular favourite and tough enough to stand the test of cat claws and playtime.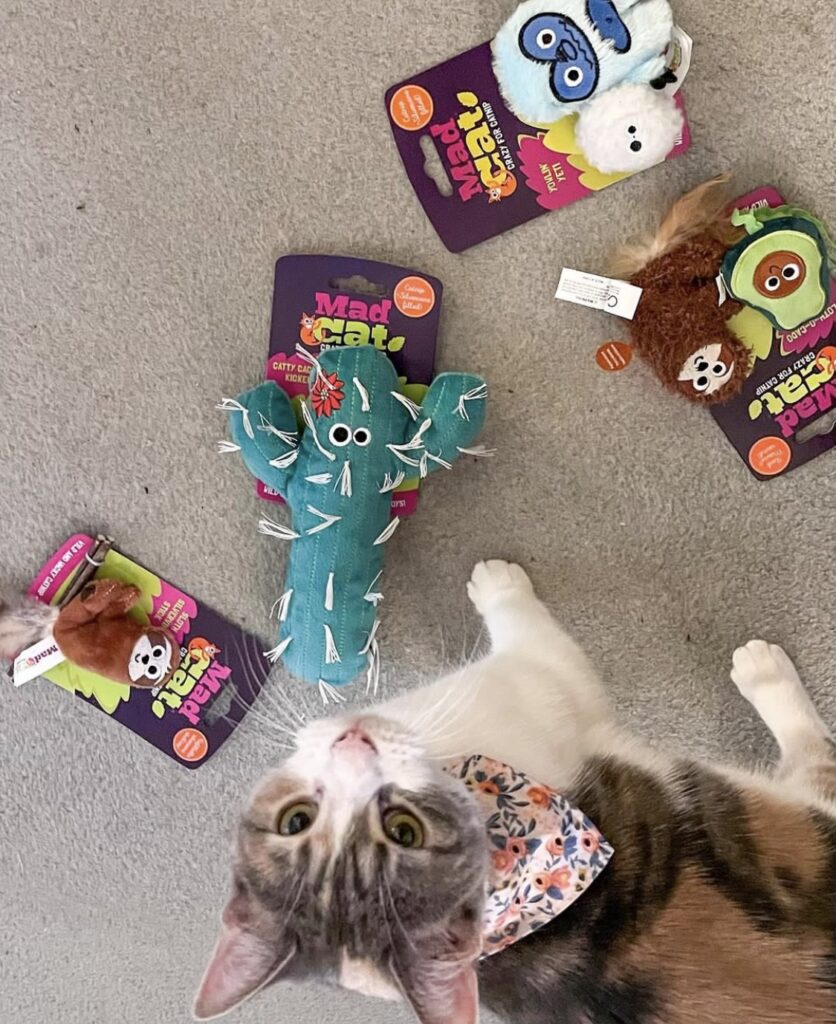 They are sturdy and well made and so far have stood the test of Tabitha, who is a fierce and hard working cat toys tester. It's safe to say she approves of these and thinks they are pawsome, and so far has refused to share them with her brother (it's just like having children) so if she approves of them, then this cat mum does too.
More toys to add to the collection. But a happy cat = a happy human, so who am I to argue with that…?