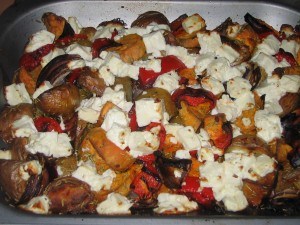 This is one of LSH's favourite meals, and came about as an adaption of a Nigella Lawson recipe. In her recipe you can use either chicken thighs, or haloumi cheese, I have done both of those, and they work well, but we like this version. It is also suitable for vegetarians, and is gluten free, we use sheeps feta which my boys can tolerate. You could use a flavoured tofu or vegan hard cheese if you preferred.
I make this for 4 people, because then it makes enough for lunch the next day or serves 4 as a main course. It could also be a side dish, with steak or chicken, I think, if you wanted to.
You need:
4 large sweet potatoes, chopped into 2 inch chunks
6-8 medium size potatoes (not baking size, although it does work quite well with whole, new Jersey Royals) chopped into 2 inch chunks. No need to peel, the skin adds extra crisp flavour.
2 packets of feta cheese, cut into cm cubes
good olive oil
dried rosemary
rock salt or good quality salt
2 peppers of your choice, cut into chunks
2 large red onions, peeled and cut into 1/4's
A large baking tray, and the oven set to 200
Put the potatoes and onions in the baking tray, sprinkle liberally with the olive oil (probably about 5-6 good sized tablespoons, at least) and two table spoons of rosemary and a sprinkle of salt. Use your hands to mix it all, and make sure all the potatoes are covered with oil and the herbs.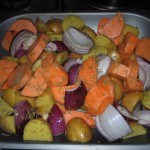 Put in the oven, for 1/2 an hour, at 200.
After 1/2 an hour is up, take it out, give it a good mix, or shake, and add the peppers, you can add more oil, if it looks dry in places, then return to the oven for another 1/2 an hour but turn it down to 180.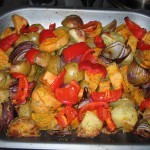 Remove from oven, sprinkle the feta evenly over the veg, then return to oven for 10-15 minutes until the feta is tinged golden brown, but not too cooked.
Serve with cold white wine! It can be eaten cold, or re-heated the next day, whatever you prefer.