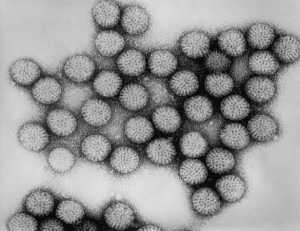 (This is what the virus that causes most stomach bugs looks like. Fairly innocent and innocuous until it hits your system and makes you ill!)
No one likes the stomach bug. No one enjoys when it lurches it's nasty way into your system, and makes you ill, and spreads to your family. It's unpleasant, and inconvenient, and makes you and your family feel unwell. I don't think anyone would say "yay, I love it when my family gets a stomach virus!". If they do, then they are very strange.
One of my anxiety triggers is health related matters, usually those around my family. Being a former nurse, with a fair amount of medical knowledge, does not help. I know too much, and I have seen some things, in my career, that mean my mind can work overtime, when it comes to symptoms. When something simple presents itself, I can let my mind wander into the realms of what dreadful things it could be, in terms of diagnosis. This is an area that I have been aware of for a long while, and I am working though, and I have had CBT Therapy. It's a work in progress. It is not easy to retrain your mind and get control of your thoughts once you start to head down that rabbit hole….
Stomach bugs, are one of my worst anxiety triggers. I have no idea why. They are part of life, rarely fatal, if the person is looked after properly, and to be honest, whilst dealing with the products of stomach bugs isn't my favourite thing, I am not that bothered by it. It's just the whole thing, the prospect of the stomach bug, sick children, diarrhoea, cleaning, trying to stop the bug from spreading, time off school, work, staying home until we are not contagious, (which I am very strict about) that makes me so anxious and I become stressed and unhappy. I know most parents probably aren't leaping about with delight when they are dealing with stomach bugs in their households, or themselves, but I really do react badly.
If I hear mention that someone we know has a stomach bug, I mentally count the days since we last saw them, and will go out of my way to avoid contact with them, until they are well and truly gone. If I happen to hear there is a sick bug going round school, I remind my children to wash their hands, and make sure they don't put things in their mouths, if they can help it. I have actually been known to cancel social arrangements, when a sickness bug is doing the rounds, rather than risk exposure. I have a special "sick clean kit", which is a box of wipes, bleach (which is the only thing that properly kills the viruses and bacteria that spread the stomach bug, in it's many forms) rubber gloves, extra washing powder and other bits and pieces for when a stomach bug invades, so I am prepared. I hate winter time, which is when stomach bugs seem to manifest their ugly presence, and I avoid busy, public, soft play areas like the plague, because I am convinced that's where they spread most. When I was asked if I would like a ball pond in our soft play area at work, I vehemently refused, due what I learned on an infection control day during my nursing days about what germs linger in public ball ponds. I might look calm, when sympathetically nodding at someone telling me they have a stomach lurgy, but inside I am mentally counting the seconds until I can run away, wash my hands and then not go near them again!
Sad, I know. Silly, I know. It bothers me, it's not easy to put it out of my head. Sick bugs make me anxious.
When I came down with a stomach bug, or food poisoning, last week, all the usual feelings and anxieties started to surface. Instead of looking after myself and dragging myself back to bed, I was wielding a cloth and bleach, cleaning surfaces, and our bathroom, determined to stop it spreading. I spend the whole time I was recovering trying to minimise contact with the children, refused to go anywhere near the kitchen or do any food prep, so as to minimise passing on whatever it was that was violently working it's way through my system. Thankfully the husband makes a far better nurse than me, and was sympathetic, and took the reins and looked after the children and the house, and let me be, but itis hard for him, too, because when I am anxious, I get snappy and irritable. My hands are dry and sore, from washing them, so many times, to keep germs at bay.
It's not a fun place to be, dealing with a stomach bug and your mind going haywire. It's hard to explain, and like many aspects of anxiety, doesn't seem logical to someone who hasn't struggled with issues around anxiety. I HATE it. I hate feeling like I HAVE to overreact to protect my family. I hate feeling like a huge crisis is hitting, because we have caught a stomach bug.
Along with a diagnosis of anxiety, I also have emetophobia. The fear of being sick. Probably because I spent two pregnancies being very very sick. I now have an over active gag reflex, and a lot of things trigger feelings of nausea and panic.
As a parent, you have to deal with stomach bugs, as someone who works with children, puking can happen and you can't just run away.
As an ex nurse, who isn't phased by blood, human waste, horrible and gruesome medical conditions, gory surgery, and the general grossness of the human body, when it decides to go wrong, it's hard for me to admit that people being sick, cleaning up sick, the idea of a sickness bug, and it's impact, reduces me to a shaking mess. It has been helpful to know I am not alone though, I know many people who feel the same.
Stomach bugs are horrible. Wouldn't it be nice if we could find a way to stop them happening, I would love to never have to be anxious about them again!