We have reviewed Skinnies Silk clothing, for eczema. My tween has now grown out of her eczema issues, mostly, other than the occasional mild flare. We found Skinnies Silk clothing incredibly helpful for her skin to maximise recovery and healing.
 "Skinnies have developed a range of Therapeutic Clothing Products that help aid recovery from Eczema, Psoriasis and other skin conditions. Our garments are completely seamless, utilising technologically advanced yarns that are designed to be anti-irritant"
The silk clothing range comes in sizes to suit all ages, from infants (they do mittens to stop scratching, through to clothing for adults) and all can be worn under normal clothing. The are designed to be used therapeutically with the creams or lotions prescribed to treat skin conditions as well. They look nice, feel incredibly soft, and are available on the NHS on prescription too.
As someone who has struggled with psoriasis all of my adult life, as well as in my late childhood and teen years, I am aware of how hard it can be when you have a long term skin condition that is difficult to manage, can feel painful and uncomfortable, and also can feel and look horrible. It's not easy living with a skin condition that won't go away. My psoriasis is mainly on my scalp, neck, behind my ears and on my elbows and occasionally my hands. I manage it with creams but environment and diet can also affect my skin. Skinnies are a great option to help with recovery and management too.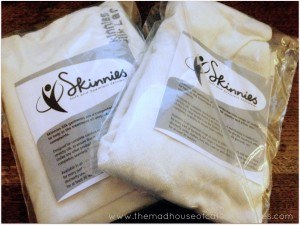 You can find more information about Skinnies Therapeutic clothing, and on skin conditions they help here