I am having a moment, I will probably have another moment or two, tonight, and tomorrow morning. It's a parental anxiety moment, mainly a mix of anxiety and emotion. It's a very silly little wobble, I know, but I can't help it.
My boy, my lovely boy, is going on his first school trip tomorrow, with his class.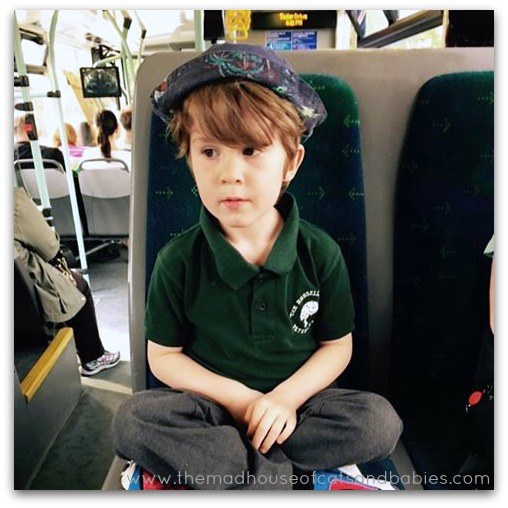 Normally, I would be fine about these trips. I am a seasoned parent, where school trips are concerned with Big Girl. I helped on a few of hers, and I helped with his nursery school trips, last year. However, this is the first time he will go off, without me, on a school trip.
He will be fine, I know he will. I always reckon that school teachers HAVE to take the job of looking after the children in their care on a trip pretty seriously, they don't really want to loose children or have issues on a trip, and they are going somewhere that will be great fun, and he will have a ball. I can't go with them tomorrow, because I have to be at the group I run, for my other job. The guilt is also bothering me. Stupid, I know.
He seems so grown up, he has come so amazingly far, he is probably I would say coping most of the time with what life throws at him, in terms of his sensory issues. The teachers are brilliant and I know the day will be a good experience for him, and I have to learn to let go.
I know, I know, it's daft. I am sharing, because part of my therapy for my anxiety was to share things that were causing me to feel anxious, and to talk them through, to see the logic and talk myself out of what is worrying me, if possible with someone else.
So, I am packing his lunch bag, getting out his school uniform, trying not to cry, as I let my baby go that little bit more. He doesn't know that his mummy is having a little cry, and feeling very silly and sad.
My boy is amazing, and he will have a great day tomorrow. I will be glad to see him at school pick up time, and I will try not to watch my phone anxiously all day, whilst he is away. I am a pro at this, I have done it before, I will be kind to the other parents in the playground who are also feeling a bit wobbly about that first school trip and I won't let anyone see that inside I am a bit emotional myself. This parenting thing is hard sometimes!