I have shared my thoughts and experiences of using Slendertone and how effective I have found it the system for helping to tone and firm up my mummy tummy (thanks to two pregnancies with big babies!) and have been blogging and sharing as I have been using it. This is my final post where I tell you if I would carry on using it or not and if I would recommend it….
During exercise or everyday activities like carrying shopping bags or keeping your back straight while sitting at your desk, the brain sends signals to the muscles via the nerves, making them contract and relax.
Slendertone, instead, utilises clinically-proven electrical muscle stimulation (EMS) technology to emit signals directly from the belt to your abdominal muscles, causing them to contract, work and relax in a similar way.
Combining regular EMS toning sessions with an active lifestyle and clean diet firms and tightens your stomach muscles while increasing abdominal strength and endurance.
As well as the rectus abdominis and internal and external obliques, Slendertone also works the deep and difficult to activate transversus abdominis (Coughlan, 2008).
This muscle is the most effective at flattening the stomach and is extremely tricky to tone with conventional exercise and abs workouts.
Our full range tones muscles with high-tech EMS signals in the same way, targeting the glutes, biceps and triceps and the delicate facial muscles.
I wanted to share a little more about the system, and how well it works and how easy it is to use.
I have been using the Slendertone Abs Connect which is their system that works with your smart phone (currently iOS/iPhone) where you use an app on your phone to control and monitor the belt's actions and functions and it connects via Bluetooth with your phone. The control panel or pack slips into a slot in the belt, and you connect to your phone and use the programmes and let the belt do it's work. It's half an hour in your day to help tighten and tone, and it's fairly simple to combine using it into your daily routine. It's also convenient for travel, it's not bulky or hard to pack and because it charges via a USB cable it can charge wherever you can plug one of those in.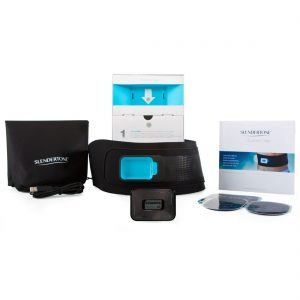 It's really making a difference to both my physical appearance and also my self confidence. I am very happy using it and continue to see the benefits from it. With careful use and following the instructions and regime, you can really see a difference in your abdomen and stomach area. It's worth the cost and a good investment, and I would definitely recommend you try it, if like me, you needed that extra little helping hand in the tummy tightening efforts… 😉