Mother's Day in this house can be a tad confusing because we have to celebrate it twice. My mother in law and The Husband are from South Africa and they celebrate the day at a totally different time of the year (like the rest of the world, it seems) and we of course also have the UK Mother's Day. I don't actually get presents and cards on both days, just the UK one, but we do have to remember to send his mum a card and also ping her messages on the day, so she knows she isn't forgotten, despite us having different days. I usually have to remind the husband to send the card (I know my Mother in Law reads this blog, she will smile at this!) but he's mostly pretty good at getting it signed and sent in time, as long as the international mail to South Africa cooperates (mostly it doesn't that's a rant for another day!
All Mums or the people in our life who play that role, deserve a treat and a little thank you on Mother's Day, which this year in the UK falls on the 26th March. I know a special treat for me, is some really good chocolate, that I don't have to share with anyone, and that I can enjoy all to myself (that doesn't happen unless I hide to eat it, anyone else have this problem?)
I also happen to be rather partial to champagne truffles and Hotel Chocolat happen to have some rather nice ones, perfect as a lovely gift for Mother's Day. (and my kids like those too, I most certainly have to eat them when they are not around, otherwise they will happily "share them" with me!)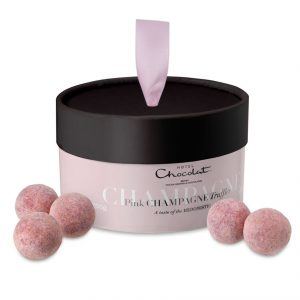 Elegant truffles made with real champagne, cream and just a hint of strawberry for beautifully delicate flavours and a touch of luxurious hedonism.
Whilst I try and eat mine and not share them, I also have a special treat for one winner. A box of these divine chocolates to giveaway. Worth £2o and the perfect gift for yourself, or for someone else.
One person will win this, and it will arrive in time for Mother's Day, and you just have to decide if you are sharing or keeping them for yourself.
To enter, simply tell us in the comments, what you would like for Mother's Day, or what you are treating someone else to, and then click on the Rafflecopter linky to complete your entry.
Good luck and Happy Mother's Day
Terms & Conditions:
Winner will be chosen at random.
All entry requirements need to be completed.
Spam or multiple entrants from the same ISP will be deleted.
UK entrants only
Ends 21th March.
*I was very kindly sent an item to review. All opinions are my own*
The Winner is Joanna Taylor. Congratulations. This giveaway is now closed, thank you to all entrants!