Since I turned 40 (which I am still in a large element of denial about) I have become much more conscious of my skin care, and looking after my skin. I have reached the point where I am sort of willing to admit that time is not as much on my side as it used to be, although I am fortunate that my skin is in reasonable shape and although I sometimes feel pretty ancient and haggard (lack of sleep and parenting have a tendency to do that to you sometimes) I am feeling ok in my skin, but I do know I need to start looking after it properly.
I have a list of requirements when it comes to skincare.
It needs to be gentle. My skin is sensitive and prone to being irritated by harsh products.
It needs to protect and nourish my skin. My skin is actually dry in parts and I need something that will soothe and moisturize it.
It needs to have some anti aging properties.
If possible it must be made from ingredients I can understand and if I can I prefer more natural sources.
I am also now becoming more concerned about sustainability, and products not being tested on animals.
MBotanicals ticks all those boxes with their divine Rejuvinating Facial Elixir
"Our Prickly Pear Elixir is a light weight, easily absorbed oil so wonderful for any skin type. It can be used under your normal moisturiser, used as a night treatment oil or on its own during the day. Essential oil and essential amino acid rich Blackseed oil is activated by anti- inflammatory Prickly pear which nourishes and protect skin from free radicals and city life. This skin perfecting and protecting oil is an instant glow for all skin types."
It smells amazing, and is light and gentle. It is an oil but it's not greasy. I have been using it on my face on days where I am not wearing make up, and also as part of my nightly skincare regime. It's perfect for the cold winter months, to add a layer of comfort to skin in winter, and because Prickly Pear has anti inflammatory properties it helps my skin not to be irritated. It's suitable for vegans and because MBotanicals work hard to research all their ingredients I feel reassured that what I am putting on my skin is the best it can be.
It's nice to feel confident in a skincare product, know it's safe, and backed by science and nature. It really is a lovely skin care oil, that I happily have been using and will continue to use as part of my regular routine. The bottle is small enough to fit in a make up bag but the oil goes a long way, so it's an excellent value product. My feels soothed, and smooth, and protected, but also looks healthier.
I continue to be impressed and if you are looking for a gentle but effective facial oil, then I would highly recommend it. They also make other facial treatments, and soy candles too, so it's worth having a browse. (Christmas is just round the corner, after all… 😉 )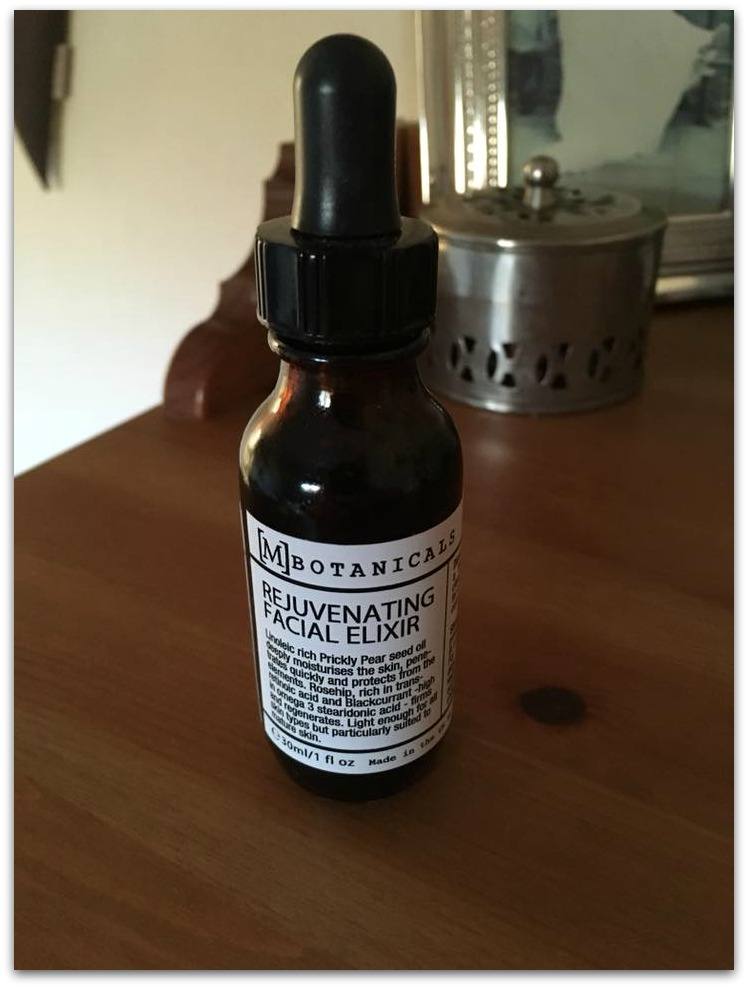 It also looks lovely sitting on your dressing table. I love the simple bottles and design.
*I was very kindly sent some product to try, but all opinions are my own*