We are swimming fans in our house. I have always loved swimming, and the tween swims regularly both for her school team and also as part of a local swim club. My boy took a lot longer to learn to swim, because of his sensory issues, but now loves it as much as we do, and swims at school, and also enjoys family swimming time on holiday.
I recently started getting into the habit of swimming more regularly, after my knee surgery. I am not allowed to run, for exercise at the moment, but swimming is allowed. I pulled out my swimming costume and realised it was looking a bit sad and sorry for itself, and needed replacing.
A little bit of retail therapy for a new swimming costume is most certainly needed.
My children already use a few items from Zoggs as part of their swimming kit. Their goggles are brilliant for kids learning to and practicing their swimming, in fact we rewarded our boy with a pair of really cool Zoggs goggles when he learned to put his face in the water, and blow bubbles (a big deal for a child with sensory issues) and we have used some of their floats as part of helping them to learn to swim.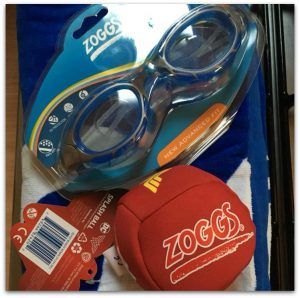 Zoggs have recently launched a brilliant new range of swimwear and kit, and we can't wait to get our hands on it. Their new DC Superhero range is perfect for kids and also adults and with the new Justice League movie out now, it's not surprising that they have chosen to base a rang on amazing superheros.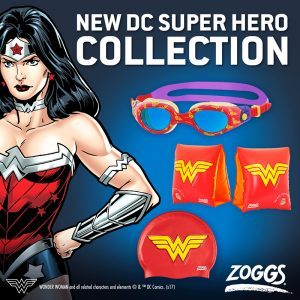 Their new range includes lots of fun as well as practical kit and because Zoggs aim to make the best quality swimwear and equipment that anyone from a beginnner swimmer, to someone who swims for sport, can wear and use, there is something to suit all needs, ages and abilities, from learning to swim to practicing skills or just helping you to feel confident in the swimwear you are wearing, be it on the beach, or by the local pool swimming with your family.
The range out now indludes Batman, Wonder Woman and Superman branded rucksacks, kids printed goggles (for children up to 6 years), silicone caps (for children up to 14 years), armbands (for children aged 2-6 years) plus kickboards, splash balls and dive balls (all ages).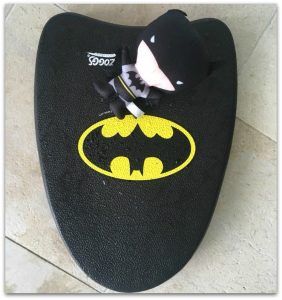 Don't tell the small boy but one of these may be under the Christmas tree this year for him, he is a big fan of all things Batman and will love this for helping him at his swimming lessons, and it looks pretty cool. The husband was a bit sad when I told him he's too big for one!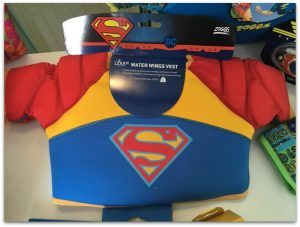 Learning to swim styled as a superhero? I don't think any little one would say no!
But that's not all, Zoggs also have some more fabulous items coming out in 2018 as part of their DC Superheroes Collection, including swimwear for both children and adults and if I told you I may have my eye on a WonderWoman swim suit for myself, I would not be lying 😉 and their collection of swim suits is as my tween would say "pretty cool".
Perfect for making swimming even more fun, or for Christmas gifts, for those in your life who love swimming!
Zoggs DC Superheros Collection is available now from Zoggs.com, Amazon, eBay, Wiggle, Places for People, Parkwood, Everyone Active and other leisure centres.
*this is a collaborative post*