Have you heard about Premier League Primary Stars? I had, because I know some schools local to me have taken part, and that it was about helping kids to read, but that was about as much as I knew. However, I was recently able to attend their One Year On event to celebrate and share what they have been up to and achieved (and it's a lot) and I came away feeling inspired and impressed.
First of all, what is Premier League Primary Stars?
Premier League Primary Stars is the Premier League's most ambitious community programme to date and engages with more than 10,000 primary schools across England and Wales.
It is a national curriculum-linked education programme which uses the appeal of the Premier League and professional football clubs to inspire children to learn, be active and develop important life skills. There are two parts to the programme:
The in-school support provided by Premier League and professional football clubs
Bespoke free-to-download teaching resources created specifically for primary schools
Premier League Primary Stars builds on the existing significant support Clubs provide to primary schools and young people. This includes their coaches delivering PE, education support via Club Foundations and a range of other projects.
This project launched in 2017 and one year on, they are achieving some wonderful results in schools all over the country, including areas where schools are struggling to help pupils engage and enjoy learning. We met and heard from a headteacher from one school like this, from one of the most deprived areas in England, who shared the brilliant and positive results she had seen with this happening in her school. As a parent who is passionate about helping my kids to make the most of their school year and enjoy learning and to get as much out of school as possible, and participate, to hear about how well a project like this is doing, is encouraging.
I work with families, and I know school and learning can be a challenge for many children and their parents and teachers trying to help them, so I am all for anything that encourages a positive learning journey. It was good to hear from the Chairman of the Premier League, Richard Scudamore too, and hear how passionate he is about supporting this project, how far it has come and taking it forward to do even more. Currently they are working in 19,000 schools across the country, which is mind blowing and shows you they really are making an impact.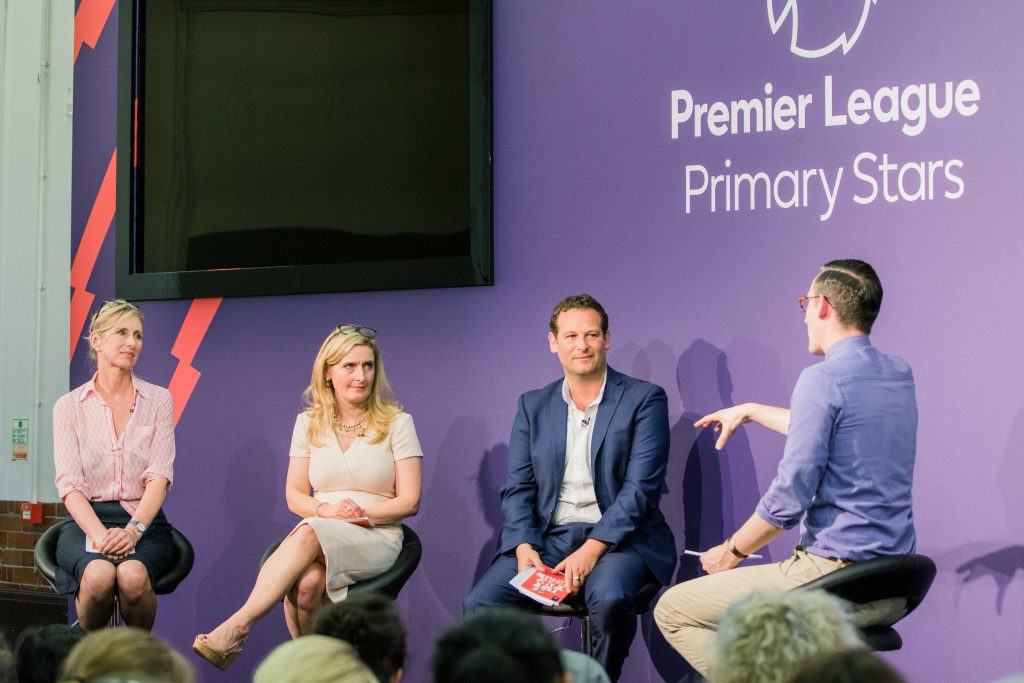 The project is not only supported by some well known footballers, but also some very influential authors and writers too, who are passionate about education and encouraging children to enjoy reading, writing and learning and to go on an use those skills for life. Children's Laureate Lauren Child, authors Cressida Cowell and Dan Freedman were at the evening to talk about Writing Stars, where 25,000 children in England and Wales wrote poems about Resilience, and to announce and introduce the winners of the poetry competition.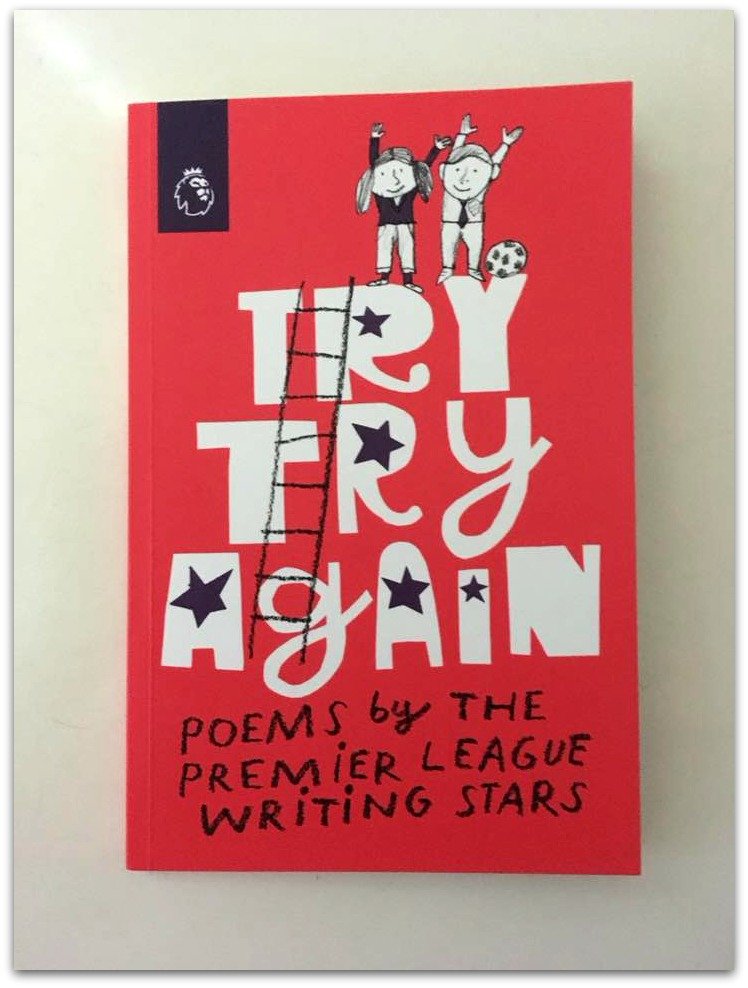 Their poems and many more are now published in a book called Try, Try Again, and they really are amazing to read, and it's heard to believe that some of the authors in the book are as young as six.
We also got to chat to Lauren Child, author Cressida Cowell and Dan Freedman personally (and yes, I was a bit star struck, and yes, I did get their autographs for my own children, of course) about their interest in Premier League Primary Stars and why they personally support it, and hear how passionate they all are about children being encouraged to enjoy learning and thrive at school.
Projects like this are vital, to help children all over the country, and it really is amazing to hear about how many children are achieving and succeeding through Premier League Primary Stars and knowing how effective their work is. It's a very simple concept really. Children are inspired by people they know and admire, that are famous. If those famous people, like footballers we all know and love, can actually make their presence felt and make children feel that they can achieve then it is such a win, for those children, who can feel that maybe school is a place they can enjoy and they can feel motivated to learn and participate, flourish and achieve.
I dare you to watch this video of a class meeting some of their football idols and doing some math, and not at least feel a just a little bit heart-warmed…
It was a privilege to attend the evening and hear all about this amazing project and how well it has done and the difference it is making to many many young lives, I strongly suspect it will carry on going on from strength to strength and it will be interesting to see what impact it has made in a year from now, when you look at what it has achieved so far. After all, who wouldn't want a famous footballer teaching you your times tables? I might have paid better attention in math classes myself too if that were me!
*I attended this event in partnership with Mumsnet, and Premier League Primary Stars. This is a paid article, but all opinions are my own. Images and videos are shared with permission*