We all know it's important to be keeping track of your health, and we see enough news and media information about all the things we should be thinking about, worrying about, working on and taking care of, to keep ourselves healthy and in good shape, to hopefully live long lives. However, sometimes it can be pretty stressful trying to work out what we need to be worrying about and what is going on with our bodies.
Blood pressure is often talked about, and everyone knows they have "blood pressure" but not everyone knows what theirs actually is, or if it's too high, too low, or about right for their age and demographic. Blood pressure problems or issues with high or low blood pressure can be an indicator of certain health issues and mean you are at risk of health problems, but do you know what yours is and if it's healthy, for you?
Did you know that:
The risk of stroke or a heart attack are the biggest fears about high blood pressure
We're more likely to track our daily step count than monitor our heart health
70% of UK adults believe stress and being overweight to be the main causes of hypertension
Almost two-thirds of adults don't consider themselves to have a healthy lifestyle
As an ex-nurse, and someone who has had blood pressure issues in pregnancy (where I had to have my blood pressure checked three times a week, in the last months of my pregnancy, to make sure it wasn't reaching a dangerous level) I am always on the lookout for things that can help me look after myself, and Braun have asked me to try out one of their very clever new blood pressure monitors I was very excited.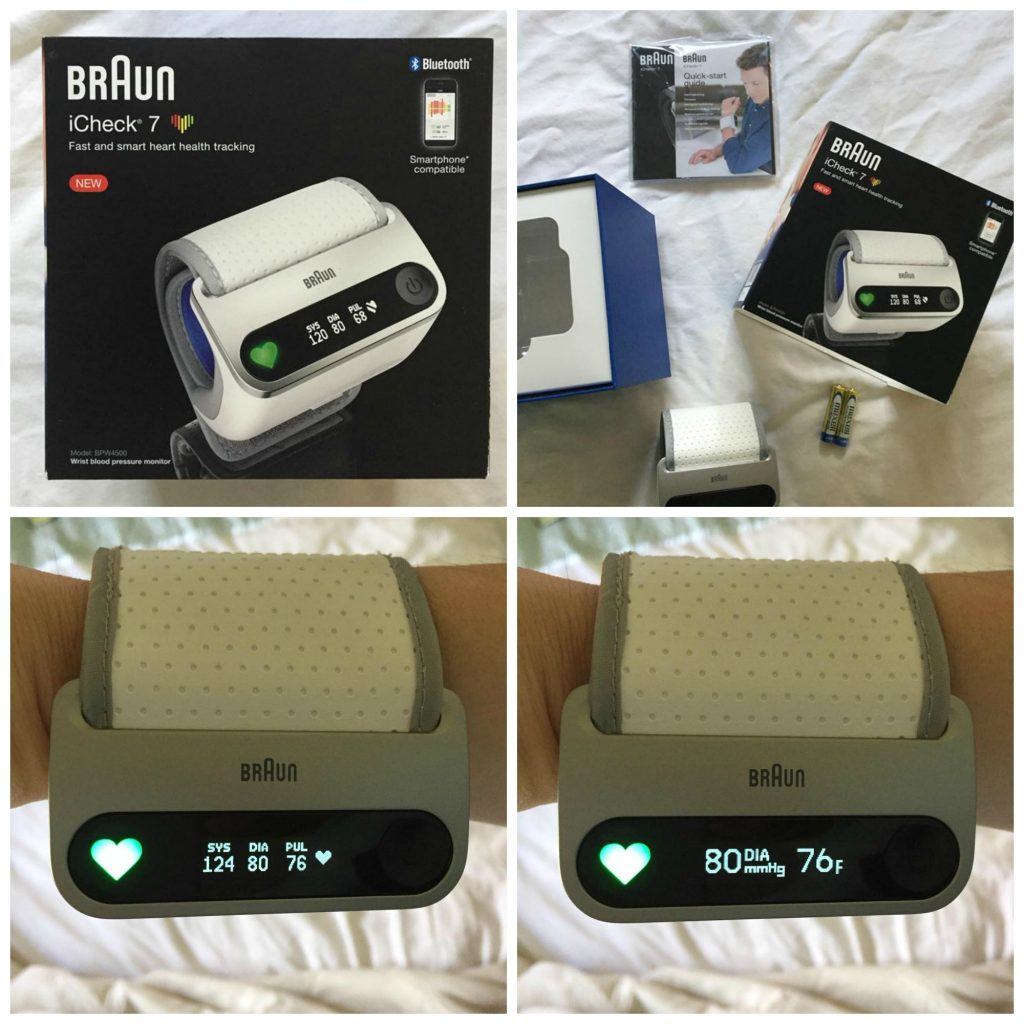 Apart from still having my ex-nurse basic medical knowledge, I also am a bit of a geek, so this Icheck7 is pretty cool. The husband tried it out for me (he's also a geek) and so far, we think he's pretty healthy heart and blood pressure wise!
Braun iCheck® 7 displays your blood pressure reading and syncs effortlessly with the Braun Healthy Heart app to let you track your progress over time. The Braun iCheck® 7 offers smart and fast blood pressure tracking. It is easy to put on your wrist and the smart 'ball in the hole' positioning system helps guide you to the correct posture for taking an accurate reading. You can then see your heart health at a glance thanks to clear colour-coded results.
At the moment I am beginning to train for a 10km run that I would like to do this coming autumn, so being able to use the Icheck to monitor how I am doing and keep an eye on my blood pressure and heart health will be a really helpful tool. I do have normal blood pressure usually, but anxiety and stress can raise it slightly, so it will be useful for me to keep an eye on what's going on. The handy app that I can sync to my phone is going to be very useful too.
That, is when I have managed to pry it off the husband who insisted on trying it out first and is threatening to take it to work with him so he can monitor his health after he's been to the gym and for runs.
I will keep you up to date with how we get on…
*I have kindly been sent a Braun Icheck7 to try out. I will be sharing more on how I get on with using it, soon*