My lovely friend Danielle, who is an amazing cook, baker, creator of beautiful things, who is also a busy wife and mum, kindly shared this recipe with me, and said she was happy for me to share it here. I happened to be looking for a lower sugar, dairy free hot chocolate recipe and she told me how to make this one.
The husband and small boy are allergic to cows milk, and we use alternative plant based milks for them. I tend to find that a lot of commercial ready to make hot chocolates contain milk powder or milk derivatives, which makes them unsafe for my boys to consume. I am also on a quest to use less sugar, as well.
So this recipe is perfect for us. It calls for oat milk, which I personally like, but the husband hasn't been so keen on, until he tried this hot chocolate when I made it.
It's a little bit of pre work to make it but it's worth it and you get a smooth, creamy, rich but not too sweet hot chocolate, that is perfect as a treat or winter warmer.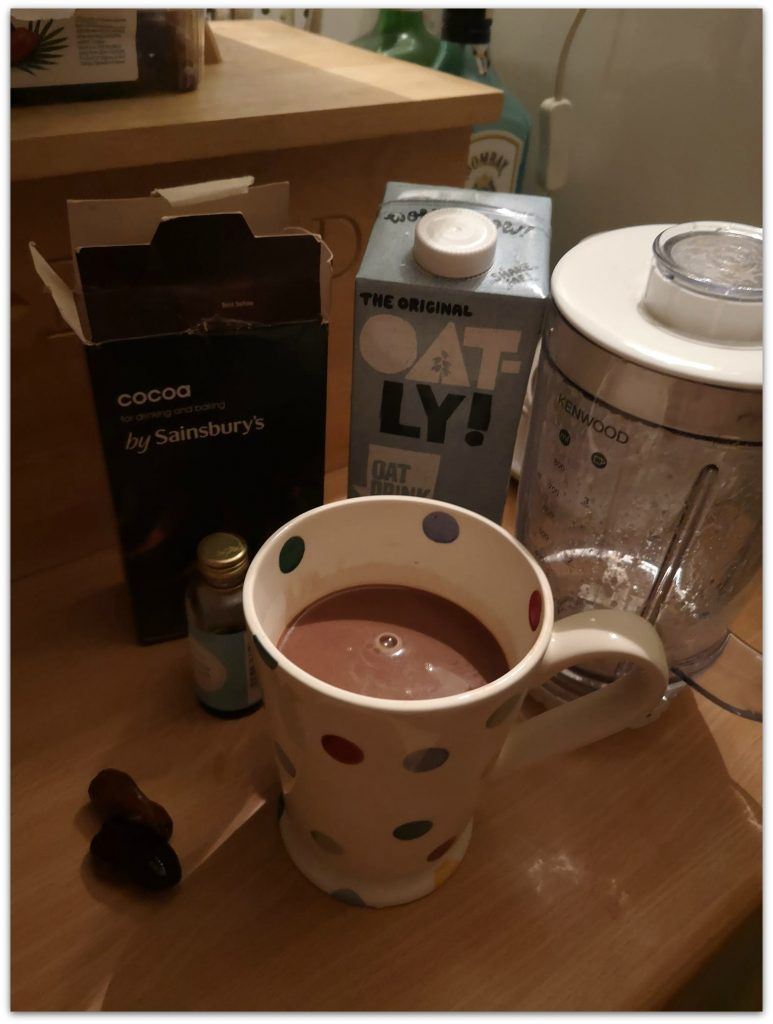 I found this recipe made enough for 3-4 cups of hot chocolate, and the children enjoy it after school, or it's great for a pre bedtime drink too!
You will need:
6 medjool dates
4 cups of oat milk (we use unsweetened Oatly, but you can of course make your own, or use another brand if that's what you prefer)
Vanilla extract – 1 tsp
Coco powder or raw cacao (you can add more or less depending on flavour, I used coco for this, but I am going to experiment with cacao when I pick some up from the health food shop)
Optional – hazelnuts (if allergies aren't an issue, I have made it both with and without, my kids like it nut free, the adults like the nut version)
Method:
Put the dates in a small saucepan covered in oat milk, and bring to the boil. Set them aside and allow them to cool and soften.
When the dates and milk are cool add them to your blender or smoothie maker and blend until the mix is totally smooth. In a blender this takes a little longer, than a smoothie maker. You can then add your hazlenuts if you want to use them and blend again until you have a smooth paste. You can add more milk if needed, if it's too thick and isn't blending well.
Then take the rest of the oat milk to a pan, and heat it gently. Whisk in two tablespoons of coco or cacao powder with a teaspoon of vanilla extract and the date mixture and stir it in, and let it heat through.
Pour into cups and enjoy.
It's well worth making, and a lovely alternative when you want a hot chocolate hit, but less sugar, and it's creamy and rich, no cows milk or cream needed….