I don't know about you, but I find winter can be very harsh and hard on skin and dry skin is often worse in winter.  The damp, cold, wet, windy, icy (I think I have used all the right words to describe a lovely UK winter?) mixed with turning on the heating, and going in and out of warm buildings, and washing hands more because winter germs seem to appear and want to stay for the duration, makes for dryer skin, which can then mean sore skin.
I am always on the look out for things that can help as a general all purpose soothing treatment for sore and dry skin that can be used easily for the whole family. My kids have quite sensitive skin, and I like something that's handy and easy to use as well as easy on our budget.
Eucerin Aquaphore Soothing Skin Balm is handy for us, and is a useful winter tool that I can arm the whole family with to help with dry and sore skin…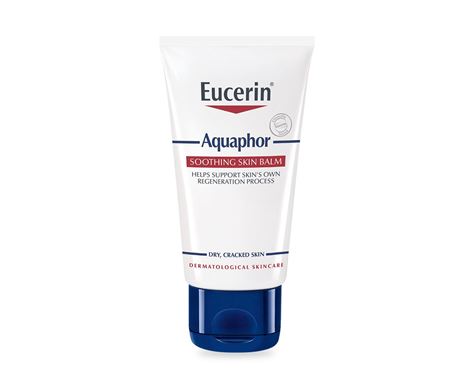 Eucerin Aquaphor Soothing Skin Balm gives dry to very dry, cracked and irritated skin the SOS care it needs

Formulated with only seven ingredients, Aquaphor is gentle enough to be used on highly irritated skin as well as on sensitive baby skin and also in the nappy area

Eucerin Aquaphor Soothing Skin Balm protects the skin by creating a breathable protective barrier, allowing oxygen and water vapor to circulate to and from the skin, allowing skin to 'breathe' and strengthen its natural barrier function

The Eucerin Aquaphor formula was first introduced in the US market in 1925 and has been a household staple ever since – long trusted for its effectiveness in repairing a wide range of skin SOS cases
It's very mild and soothing, and whilst it does feel a little thick and creamy, it absorbs easily, and is incredibly handy for all sorts of dry and sore skin complaints that come my way.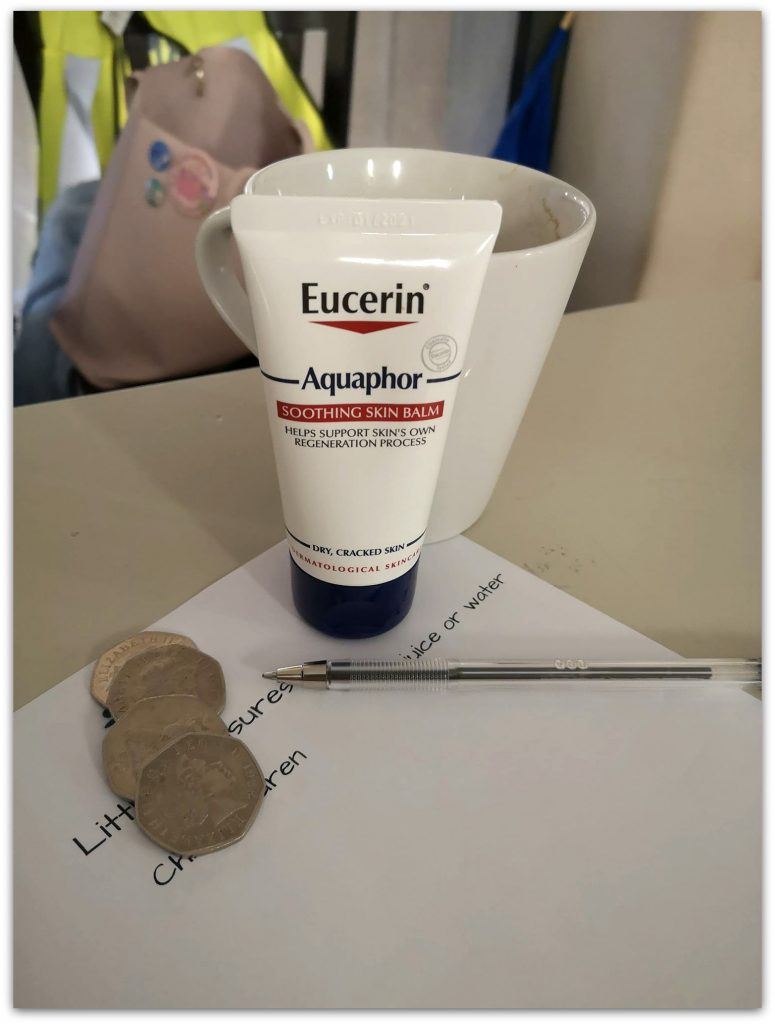 I find it handy, to keep in my bag, for work. I work with children and families and wash my hands a lot each day, as well as doing a fair bit of washing up, and cleaning, so my hands do get very dry and sore, particularly in the winter. A layer of Aquaphor at the start of a work session is helpful, and because it provides a barrier, it does offer a level of protection to my skin.
I keep it on my desk for my work at home days, too, and try to remember to put a layer on, when my hands feel sore.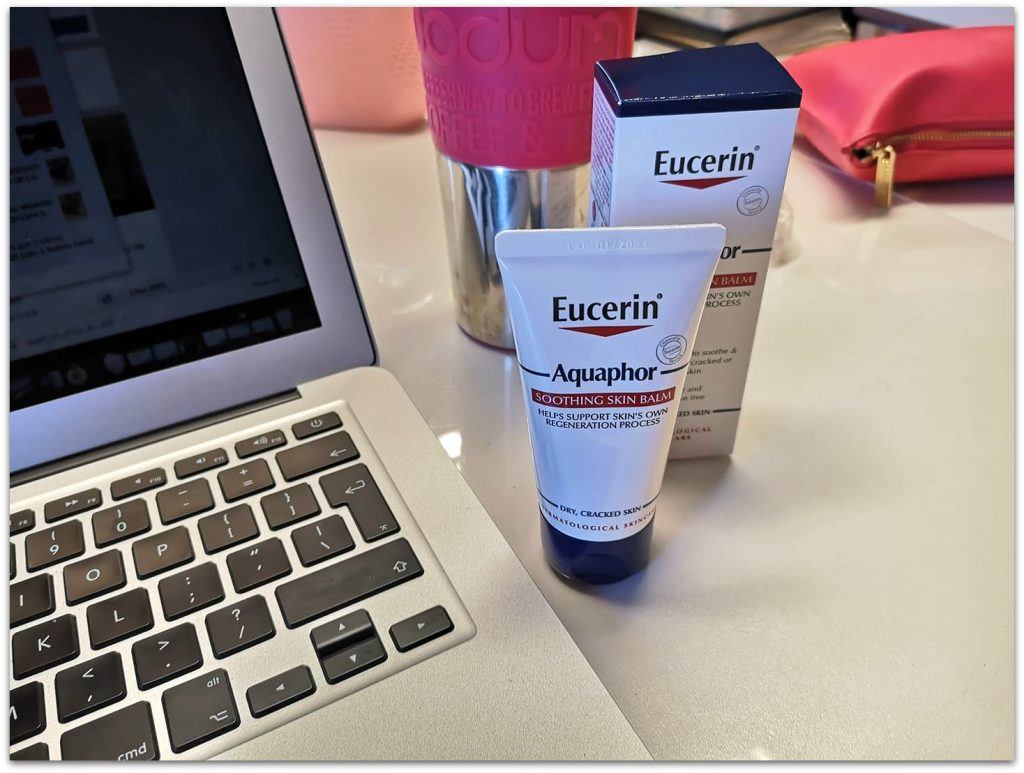 It's also great because it's gentle on irritated skin and doesn't make it worse.
My small son often skins and rubs the skin on his knees, playing football and sports and generally trying to make holes in his trousers (or at least think that is what he does) and then they get dry and itchy when they are healing up. I have found that applying a layer of Aquaphor to his skin helps to reduce the dry itchy feeling until his knees are healed (and then he goes and does it again, just as well a little of the formula goes a long way really and it lasts for ages)
My tween likes it because she also gets very dry hands, but she also does a dance class where she is in bare feet, so her feet can get dry and sore. She also is a swimmer, and gets the odd dry sore patch of skin (because she doesn't listen to her mother and rushes to get dried and dressed) so she finds it very handy to keep a tube in her bag too.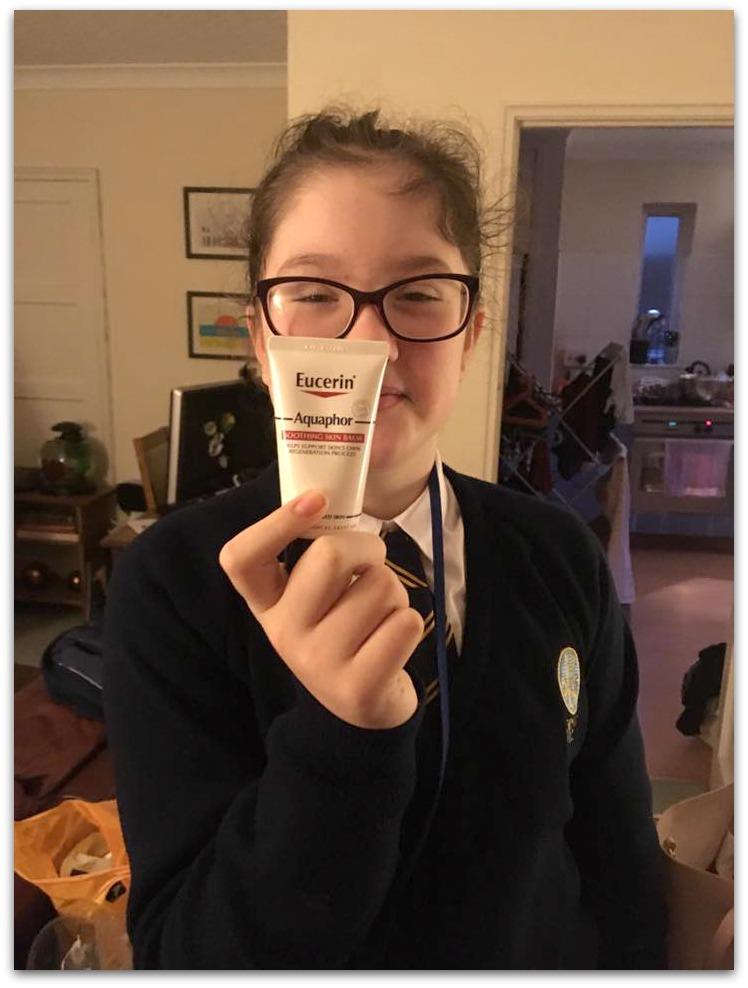 It's basically an essential winter staple, to heal, soothe and protect dry and sore skin in this household. It's budget friendly, so it's well worth keeping a tube handy, in the house, in the car and in your bag. It can also be used for nappy rash, and sore baby skin, so if that's your stage of life, it's definitely worth keeping a tube in your changing bag.
Handy, and does the job. Aquaphor definitely rises to the challenge of looking after skin, and helping with all those dry, sore and irritated skin issues…
"This post is an entry for the BritMums #MyAquaphor Challenge, sponsored by Eucerin. Discover the benefits of Eucerin https://www.eucerin.co.uk/products/aquaphor/soothing-skin-balm-45ml"