It's beginning to look at lot like Christmas. December is here. Our November round up of things we love is brief and late, because we are already a week into December and it's all things Christmassy from now on in…
Sharing a few things we love. There may be some affiliate links within this post which does mean we get a small payment if you click and purchase via our blog but we only recommend stuff we really do like and love…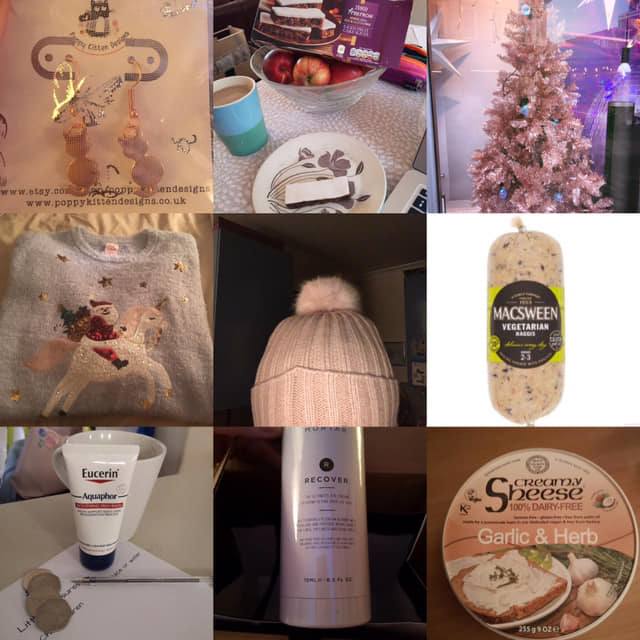 Those stunning earrings are from PoppyKittenDesigns and I bought them for the tween, as a well done for handling secondary school like a pro, present. She loves them. I am probably going to have to get myself a pair for myself.
Tesco have a pretty good free from range, which we have shared about before, these Christmas cake slices went down well with those in my house who love Christmas cake.
I forgot to check which shop this gorgeous pink Christmas tree was being sold in, when I took this photo. I was too busy trying to send the pictures to the husband telling him I had found us the perfect Christmas tree. He has no appreciation for pink and sparkly though and our tree is a traditional green, as usual this year. I did try though!
This Unicorn Santa Jumper is from Asda and my tween admitted that it wasn't too awful and I was allowed to wear it out in public…
I have a thing for bobble hats and this pink one is from a local friend who bought it and decided it didn't fit her so she gave it me! I think she got it from H&M.
We celebrated St Andrew's Day as a family, because I am half Scottish, and because I was totally not organised this year, we ended up being only able to find vegetarian haggis, which actually, was pretty convenient for me, and the rest of the family happily ate it and it tasted pretty good to me, freshly vegetarian, but missing things like haggis.
I also was delighted to review this skin balm from Eucerin, which is great for dry and sore skin this winter, and handy to keep in a bag for when you need it.
This eye cream from Pestle & Mortar was recommended by a friend, and I am so far very impressed with it. My eyes are looking very tired and I wanted something to try and repair some of the damage that a lot of sleep deprivation has produced. I was impressed by their customer service and speed of delivery.
I am planning to go vegan for a month in January, and I am slowly adding to my list of things that I can substitute for cheese and eggs, and I have been trying out some cream cheeses from Bute Island Foods and even the skeptical husband was impressed with it, so it will definitely be on my shopping list in January.
So that's our November round up. Now onto all the fun of Christmas.
We won't be doing a round up for December, the next one will be January 2019.
Scary to think the year has almost ended!