*this is a review post, I was sent some items to try, and share about, but all opinions are my own*
Sous Chef challenged me to do some cooking beyond my comfort zone.
I love to cook, and feed people. Being in the kitchen, making food, baking and also eating, is one of my happy places. I like feeding my family, and other people, be it guests coming to eat in our home, or taking meals to other people. I am not a cook that produces magazine-worthy pretty meals, but like my mother, I can produce good food, that is usually enjoyed, both in the cooking and the eating.
Sometimes I get a bit bored though and whilst I don't enjoy cooking, I get to feeling that I want to spice things up and cook something different.
So when the team at Sous Chef asked me to get a bit adventurous in the kitchen, and try out some new ingredients I wasn't going to say no.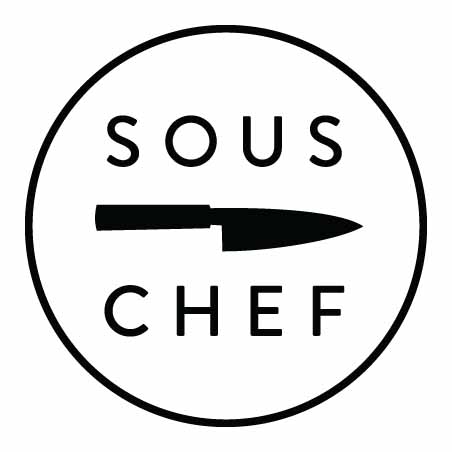 They have an amazing range of everything you need to get into the kitchen and create amazing food, from cookware, to inspriing recipe books, to ingredients that might be a bit trickier to get in the shops and you can create something from almost any cointry, with their wide range of spices, sauces and condiments. They can help you create delicious food from coutnries like Brazil, France, Korea, Mexico, Asia and the USA as well as many others. They also have some fabulous kits with cookbooks and hard to find ingredients, that come as a package, which would make an amazing gift for someone who loves to cook or is adventurous in the kitchen.
I have a bit of a thing for cookbooks and they have some great books available to help you expand your repertoire, or brush up on some old cooking skills and I have had a lot of fun this week browsing and trying to decide what to cook.
Because I am embarking on Veganuary in 2019 I am trying to ease myself into some more plant based foods, and be a bit more adventurous.
I chose some recipes from this book using the ingredients that also come as a kit with the book.
"With the Ottolenghi Simple cookbook and ingredients set you only need to add a few fresh ingredients to start making fuss-free, flavour-packed meals every day.
One of the things that Ottolenghi emphasises in Simple is how the right ingredients make all the difference. A dried herb here, a spice there – you can bring a whole new world of flavour to a dish with just one ingredient. With that in mind, we've paired his cookbook with seven hard-to-find ingredients that are essential for adding that extra something to many of the recipes in Simple."
I opted for a beetroot recipe with tahini, dill, preserved lemon and red onion, slightly adapted to make it dairy free to suit the husband, paired with salmon using some of the spices and herbs in the kit, and we started off with some good bread and some herby olive oil to dip in and enjoy.
The recipes require a little work but are well worth the effort and the kit is amazing, because some of the ingredients are hard to find, but make the meal extra special and because they come together you don't have to hunt them down, which is so handy.
Here's where I let you in on a little secret. I loathed beetroot as a child and into adulthood, but started eating it when I was pregnant, because my doctor told me it would help me get some iron and other vitamins into me, and I realised that I love it. It's a very versatile and healthy vegetable, and good for you too, and if cooked well, it can taste amazing.
Cooking like this to produce beautiful and actually very healthy food is a lot of fun. The beetroot is a little messy but don't le that put you off..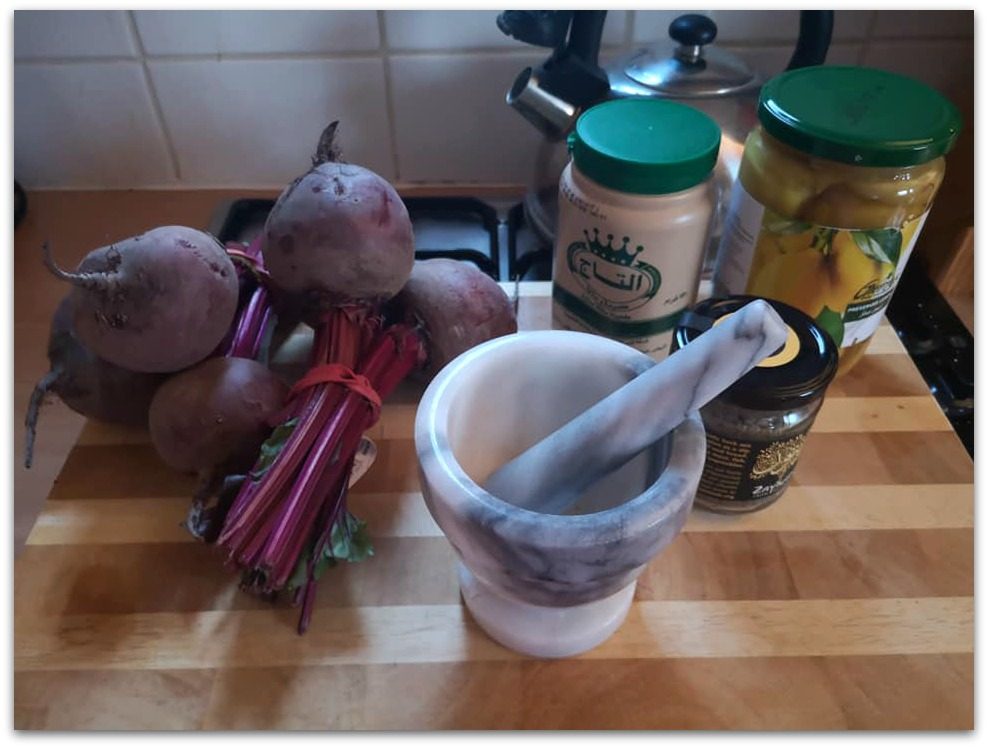 Getting prepped. Some seriously good ingredients ready to go…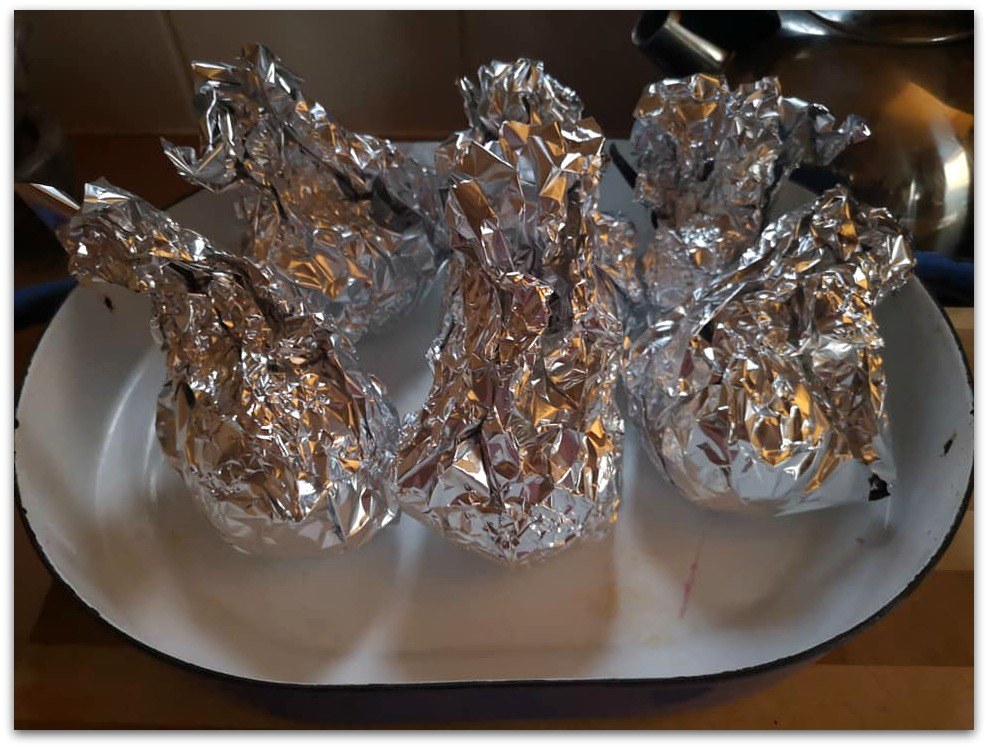 Beets prepped and ready to slow roast in the oven.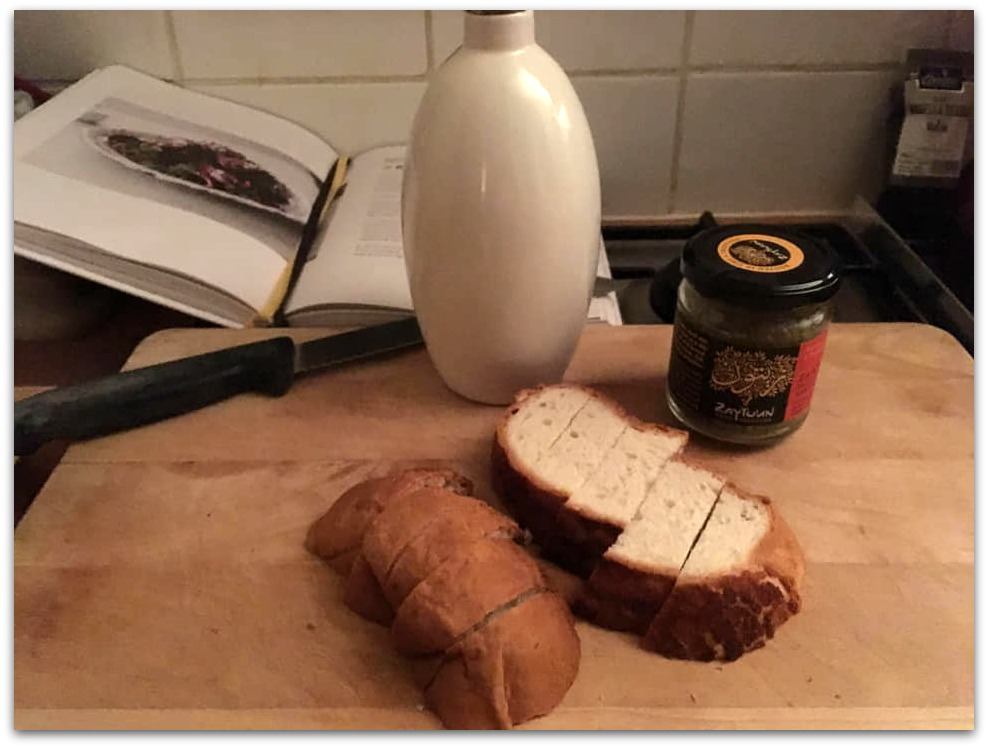 Meanwhile, whilst we wait for dinner, we have some good bread (this is a gluten free bloomer, that works for the husband, and I made an olive oil dip with some herbs.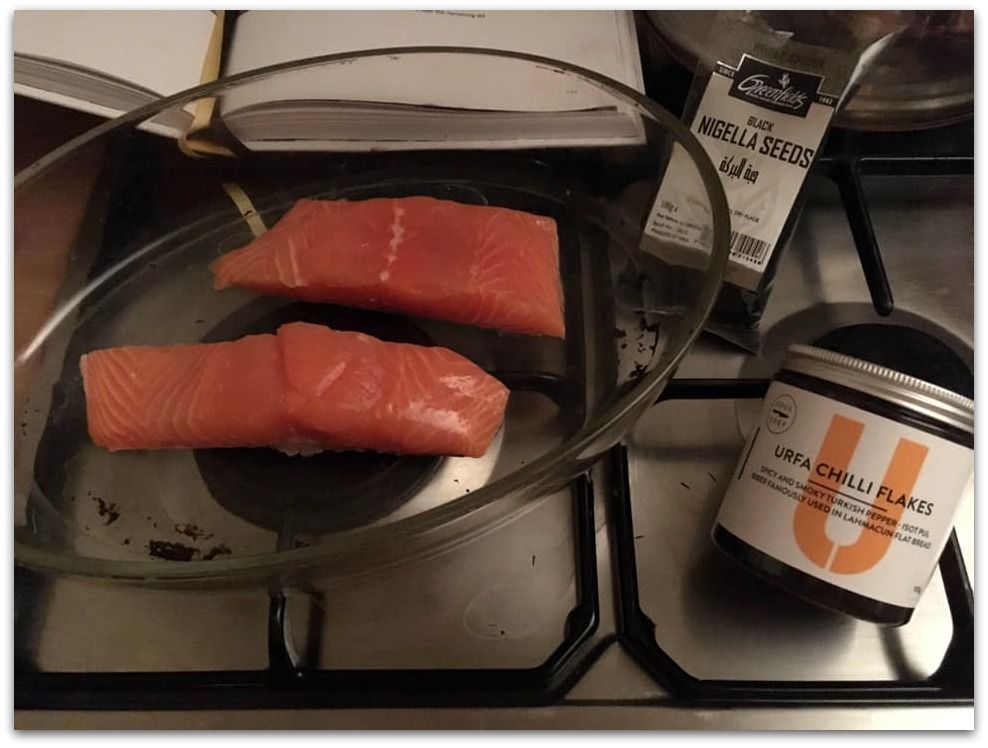 Salmon is prepped. A little chilli and some nigella seeds, to give it flavour and texture, with a squeeze of lemon.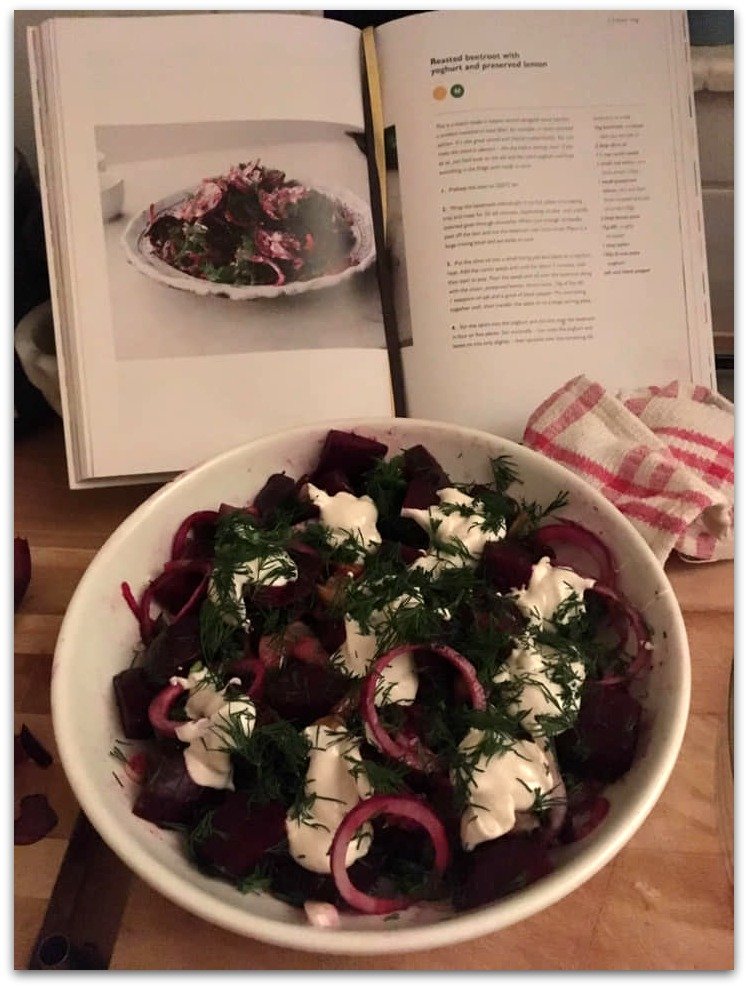 Meanwhile, the beetroot is cooked, cooled, peeled, and chopped and then combined with preserved lemon, dill, cumin seeds, onion, salt, pepper, and tahini mixed with yoghurt (again, I tweaked here and used a sheep milk yoghurt, that is as close to greek in flavour which is what the recipe calls for, but safe for the husband, who can't eat cows milk products)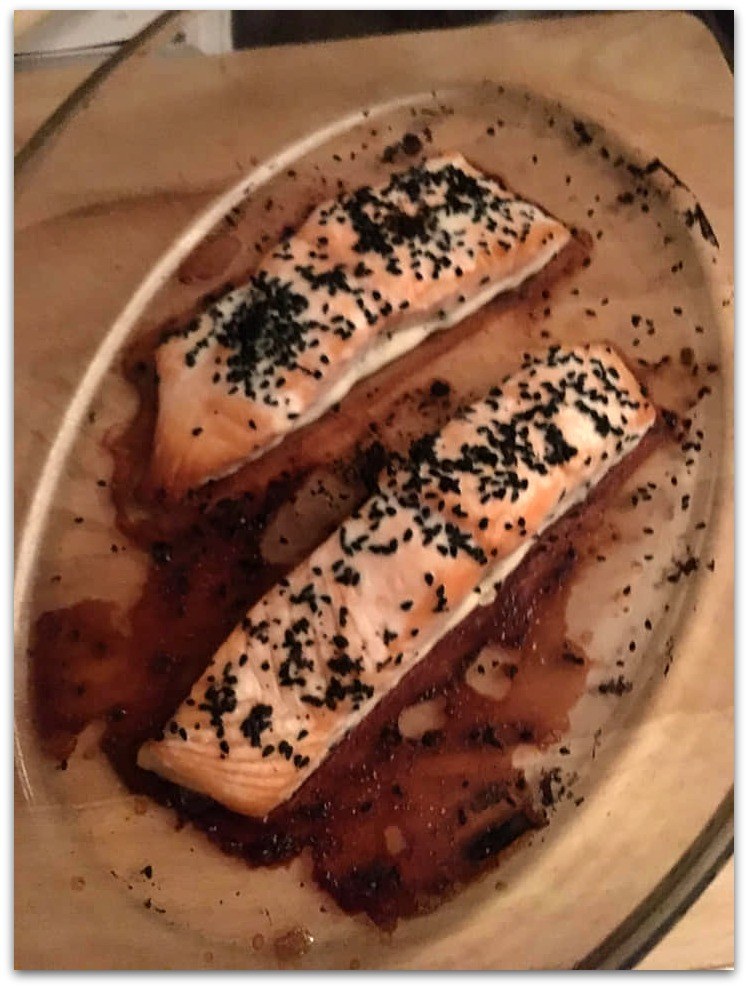 Salmon is ready and we are good to go.
Food made with love and care can take a bit of work, and when you are using ingredients that are a bit out of the ordinary, it makes it more of an effort, but it's a good effort. The salad on it's own was AMAZING. All the flavours mix so well together. This would be a great vegetarian main, served with lentils or rice, or just good bread, but it worked well with the salmon too.
The husband was impressed, so impressed, he even offered to wash up, no mean feat when I had been in the kitchen making a mess with beetroot…
This kit and cook book, for me is a fab idea. The spices and condiments have many uses, and I am looking forward to making another meal next week, which I will also share about, and the book is full of ideas I can use to plan some great vegan meals and tweak to suit food allergies too.