*this is a collaborative post*
While most advice regarding food allergies relates to helping children cope, they can affect anyone at any age. Learning to cope goes far beyond understanding potential symptoms and dangers. We also have to learn to manage food-related fears and anxieties.
 Coping with family food allergies starts with identifying the cause, recognising symptoms and knowing what to do, but it doesn't end there. We also have to dig out information on safe food prep at home, learning how to shop for allergy-safe foods, and recognising potential risks. 
Read Labels
By law, manufacturers must list all ingredients in prepared or processed foods. Problems arise when they're not clear to those of us who're not scientifically trained. Sugar, for instance, can have many different names. And while products may appear to be nut free when you read the ingredients list, added information such as 'may contain' or 'produced using shared equipment' (or words to that effect) can reveal potential allergy threats.
Not all foods are labelled. Cakes from a bakery, for instance, don't come with a full list of ingredients or information about what else they create using the same equipment.
Shops like bakeries and delis, along with restaurants, must provide information on ingredients or preparation, but they're not bound by the same regulations as pre-packaged food manufacturers. They may give the information in written form or verbally. If you can't see the info you need, always ask.
Preparing Food at Home 
If everyone has the same allergy, creating safe food preparation areas or making sure all the food items in the pantry are safe, is relatively easy. But most likely, different family members will have different dietary needs, so whoever is doing the food prep (probably mum) needs to be vigilant to avoid cross contact. 
Basic precautions include:
Having separate prep areas to keep allergy safe foods away from potential dangers.
Keeping allergy safe foods covered.
Cleansing food preparation areas after every meal.
Prepare allergen-free dishes first.
Regular hand washing so you don't accidentally transfer allergens from one food type to another.
Effective Cleaning to Remove Allergens
 A quick wipe round won't be enough to remove food allergens from utensils and surfaces, so here are some quick tips for effective cleaning: 
Have separate food prep tools and keep them in a designated area in the kitchen.
Wash hands with soap and water. Tests have shown that hand sanitizer is often not effective at removing proteins from the skin.
Make a dilute bleach solution for worktop and table cleaning. You only need one tablespoon per gallon of room temperature water to remove peanut protein. Washing up liquid by itself may not remove all traces. Hotter water actually decreases the effectiveness of bleach.
Let surfaces dry in the air.
Choosing Allergy-Safe Foods
Few of us have time to prepare every single food item from scratch, so relying on some prepared or packaged foods is vital. The trick is finding those that are safe as well as being easy to get on the table.
Ready-to-eat vegetables are safe for most people, but still read labels to make sure any sauces included in their preparation are also safe. In supermarkets, look in aisles where they shelve 'health food' or 'natural food'. You can also find allergen free baking mixes, cereals and snacks in many supermarkets. But again, always read the labels.
Here are some food types and products to look out for if you're coping with specific allergies:
Milk allergies – there are loads of alternatives to cows milk. Try soya, almond, coconut and many others. Also look for dairy free cheeses and butters such as those in the Free From range.
Nut allergies – finding confectionery that's nut free can be tough. Nestle products produced in the UK, such as KitKat and Milkybar are nut free. Read the labels as similar Nestle products from outside the UK may have nuts.
Gluten allergies – a plant based diet will help control gluten intake, with products like cauliflower rice from Fullgreen making a quick and safe meal for busy families. Nestle cereals such as Honey Cornflakes are also gluten free.
There are, of course, lots of other allergies and products to help us manage them. Once you find allergy-safe snacks or prepared dishes, add them to a personalised list of safe foods or brands. Over time, it becomes easier to cope with food allergies, and having trusted brands makes shopping less stressful.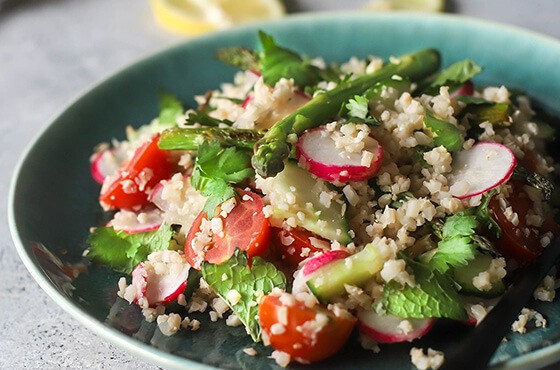 Dealing with food allergies can be challenging but that doesn't mean you can't love and enjoy food…