If you have a tween or teen who likes having their nails look pretty but doesn't have the pocket money budget to be able to afford to go to the salon quite yet, then the Go Glam Nail Stamper Studio might be a fun idea for them.
My daughter loves doing her nails, and doing mine for that matter, she loves pretty nails. Sadly she can't quite afford trips to the nail bar near us that often to get them done, but she does enjoy doing her nails at home.
The Go Glam Nail Stamper Studio is perfect for easy and fun looking nail art that you can do at home.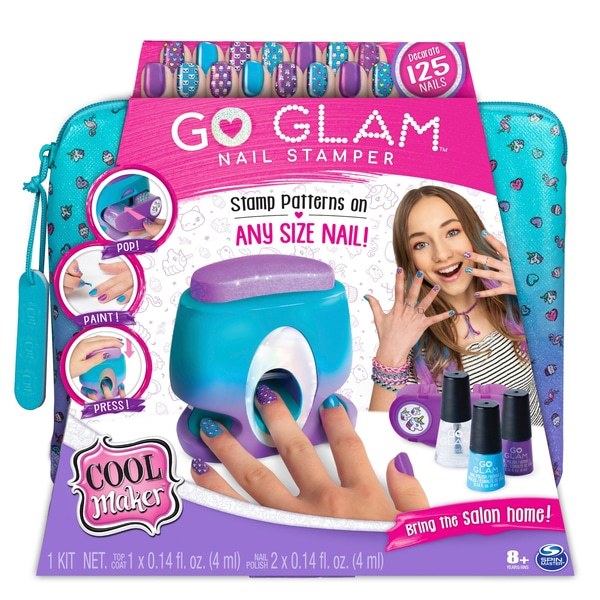 Easily stamp your nails and create custom manicures in minutes with the GO GLAM Nail Stamper! With 5 different patterns and 2 unique nail polish colours included, mix and match to decorate 125 nails of any size. GO GLAM nail polish is completely non-toxic and kid-safe.
Includes: 5 different patterns and 2 unique nail polish colours
Stamp patterns on any size nail!
Pop! Paint! Press!
Bring the salon home!
Important Note: Go Glam stamper will work with Go Glam nail polish only. It will not work with ordinary nail polish.
Refills available 
Batteries not required
This is a fun kit that makes for hours of nail creativity. Handy for sleepovers for nail art with friends, or getting ready for a party or if you just want to liven up your nails.
It is easy to use once you get the hang of it and everything you need is included. You can use your own nail colours too, and get refits of the stamp layer when you run out.
You choose which stamp style you like, slide it into the slot in the stamper. Then paint your nail with a coat of the colour you want, slip your nail in to the space under the stamper, and gently press down. Hold for a minute and voila. A pretty nail.
It is a little fiddly at first, because you can't do the stamp with very wet nail polish, you need to do it when the polish is tacky but not fully dry, we found and you do have to press firmly to get the stamp to stick (it doesn't hurt) but with a bit of practice you can have a set of fancy nails in no time and it's not messy or complicated (mum approves of this)
It comes with a pretty bag to carry it all in, so you can store it neatly and tidily too.
This would make a great Christmas or birthday gift, or if you want something fun for parties. It retails for £19.99 so it is within gift range budget wise.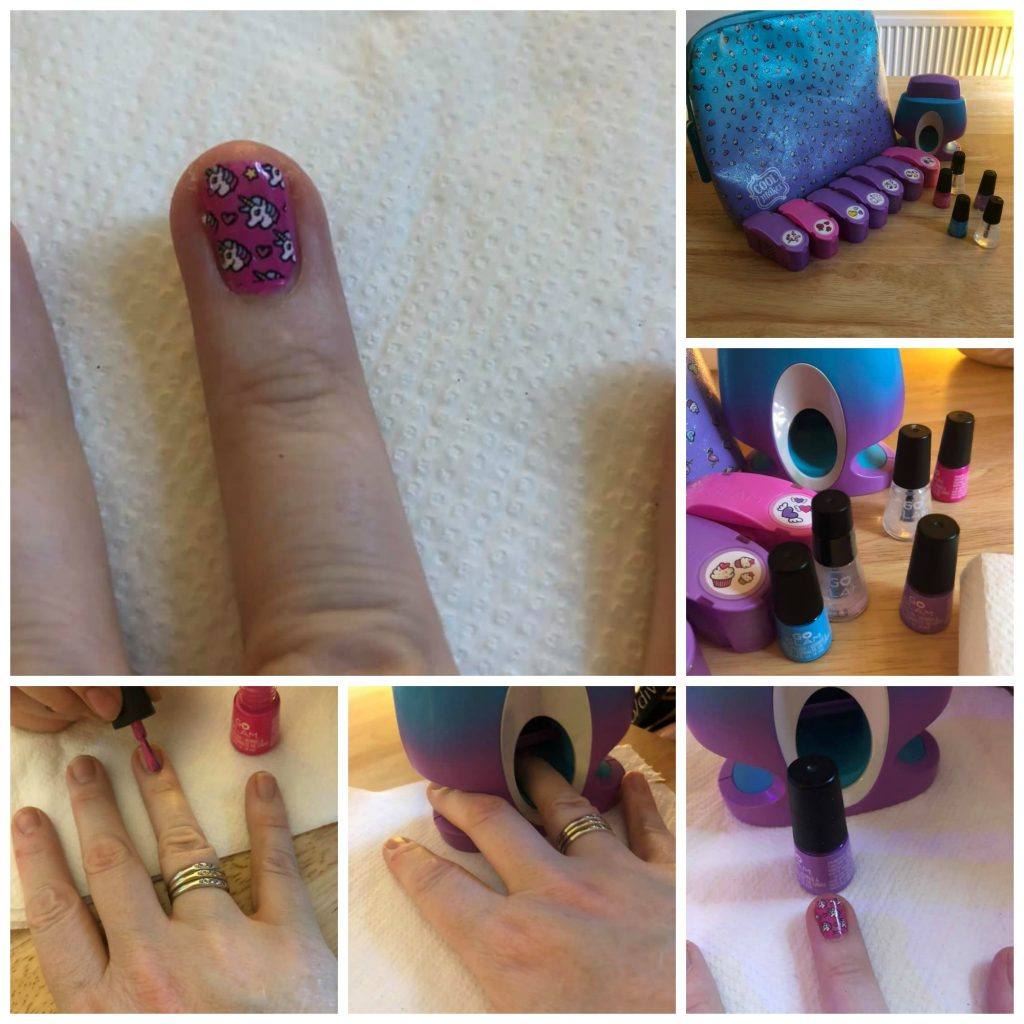 We had a lot of fun making our nails look party ready, and it's something the tween will use again.
So why not get nail glamming?