*This is a book review. We were kindly sent a copy to preview and read*
You know if you are a regular reader of this blog that cats are a thing. We think we own them, but actually they own us and are very much in charge. That's the theme for the book Archie and The Lawlor Cat Hotel.
This hilariously funny book, written by Archie, with a little help from Jane, of course, is a tail (see what I did there) of what cats get up to when their humans aren't around, and is based around the adventures of Archie, his friend and furry guests at the amazing and luxury hotel he helps to run. There are all sorts of characters from posh pussycats to teenage tearaway glam cats, loveable dogs, and eccentric gelding and his Shetland pony companion, naughty kittens who want to be allowed to get up to all sorts of nonsense and of course the humans who have NO idea what the cats get up to.
I read this book hearing Archie's voice as a bit of a lovable Essex rogue type in my head, and as you read and keep up with Archie and his mates, you find yourself realising anew that cats are of course more clever than humans and that they love the good things in life and to have fun and get up to tricks and escapades we just don't realise it.
Matthew loved the book. It's easy to read and he chuckled his way through it. It's filled with cat, dog and horse characters that come to life and keep you "amewsed". Archie is the boss of somewhere I think we would love to visit and if we ever needed to, we would definitely check Jasper and Layla in there for a stay. I think Layla would like it for the pampering and Jasper and Archie would probably get into a lot of trouble together.
It's a fun book for cat lovers and kids and adults.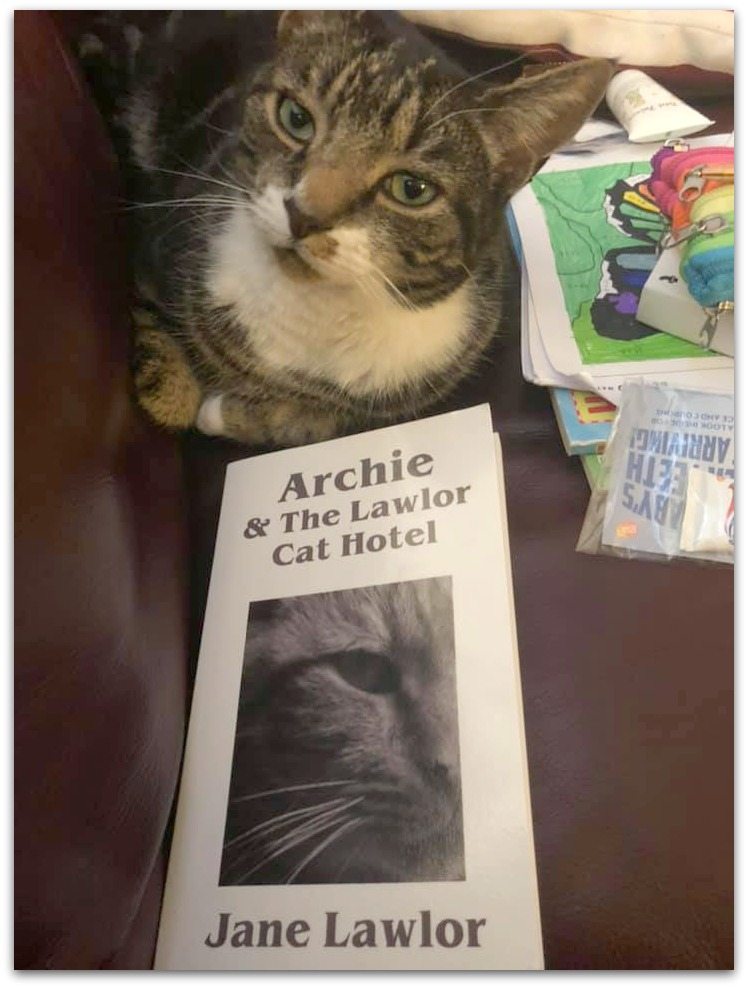 Jasper of course thinks it's pawsome…
You can get your paws on a copy of the book here and it would make a great gift for a cat lover, for Christmas or a birthday or just because you think they would appreciate a chuckle and to get to know Archie and his antics.
About the human author owned by Archie…
Jane Lawlor was born in Dublin in 1971. At the age of five she moved with her mum and sister to London, then later settling in Potters Bar. Her love affair with animals of all kinds began when she struck up an unlikely friendship with Lady Ann Naylor who lived nearby and allowed a young Jane to ride at her private stables in exchange for mucking out her racehorses. Jane's dream job would have been to become a vet, but unable to afford the university fees she became a trainee accountant; wildly industrious, she went to night school four nights a week after work and qualified in 1995 aged twenty-four. She worked in banking in the city of London until she set up her own property management firm at the age of thirty, and continues to run today. In 2013 Jane and her husband Skipsey bought Great Warley Place in Essex where she opened her cat hotel in 2016; a luxury antidote to cramped catteries, Jane spoils her furry guests like royalty! Jane is the mother of twin boys, Patrick and Rory; parental exhaustion, the need for good bedtime stories and the desire to share her passion for cats with her sons and other children, motivated her to write this book. Archie is Jane's own cat. He replies to all emails at the cattery.
We were delighted to be part of the Archie and the Lawlor Cat Hotel Book tour.