*This is a review post. We were kindly sent some items to try*
I am always on the lookout for craft ideas to keep the kids busy. They love making and creating, and I am not at all creative, so finding things that work for them, makes me happy, especially if it means I don't have to try and come up with ideas.
These are two of our current favourite, minimal mess, no fuss, easy to use craft kits that make for hours of creative fun.
John Adams Colour Amazing
ColourMazing is the new, innovative and exciting way to colour in! Spread the ink, blend the colours seamlessly together and watch as the ink magically stops at the lines to create colourful 3D Jungle Adventures. Make a pop-up monkey scene, create a flying bird with wings that flap, make your own theatre show with the finger puppets, plus a beautiful jungle mobile! ColourMazing is a great way to keep children entertained while travelling or at home as a fun rainy-day activity.  Includes four craft activities to decorate and make, as well as six magic ink pens.
This is fun, easy to use and creates some amazing and beautifully coloured artwork. It is handy for travel too.
You can buy it here and you can get other Colour Amazing kits too.
John Adams Blo Pens
Kids love BLOPENS as they can easily create fantastic pictures with amazing airbrush effects! The unique 3 in 1 pen holder can help you create lovely rainbow effects by mixing and matching the colourful pens inside.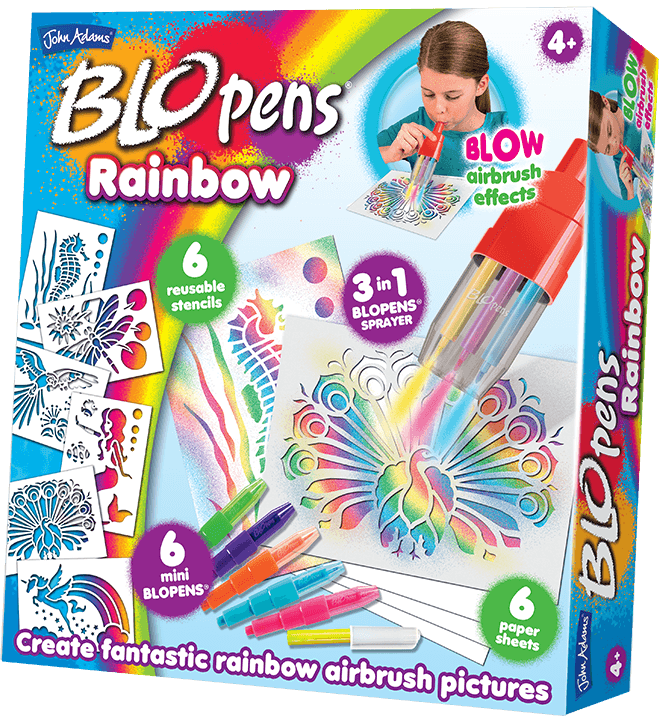 These are a little fiddlier to get set up and do need a little parental help, but once they are ready to go, there are hours of fun to be created and some really colourful artwork to be made. You can choose other versions in the Blopen range and replace the pens when they run out too.
You can buy them here
Both of these sets make great homeschool or art resources as well as being budget friendly gift ideas too.
Mum and kid-approved and mum doesn't have to get her creative thinking cap on. That's a win all round…