I love making a roast dinner, I love feeding people, in general, but cooking a roast lunch or dinner with all the trimmings is a favourite of mine, and when I cook good stuffing is a must. This is a recipe for gluten-free, dairy-free, egg-free stuffing works really well, and it's allergy-friendly too. I don't use nuts either to make sure it's safe for everyone. I don't use meat in this recipe either so it's vegan/vegetarian-friendly as well.
Stuffing traditionally is made with bread crumbs and I use gluten-free white bread and find most brands work. We use Genius bread in our house and for this recipe, I use 3 slices.
Instead of egg, I use flax egg. This is basically a mix of ground flax seeds and water that works just like egg to bind. This is the basic recipe I use and it makes up 1 egg equivalent.
This recipe makes 8 slightly bigger than golf ball sized stuffing balls or enough for four people. I simply double it or triple it if I am cooking for more people depending on numbers.
You will need:
1 onion, peeled and finely chopped
1 clove of garlic chopped finely
1 tbsp vegetable oil
1 tbsp fresh sage, finely chopped
120g of fresh white breadcrumbs (I use a blade in my blender to crumb three slices of gluten-free bread)
salt and pepper
1 portion of flax egg mix
Gently cook the onion and garlic until soft but not browned. Allow them to cool. In a mixing bowl, add the onion, sage, and breadcrumbs and mix through well. Leave to sit for a few minutes and then add your flax egg and mix in well. You can then either roll your stuffing into balls or spoon it into a baking dish. I find it works either way by my family prefer stuffing balls.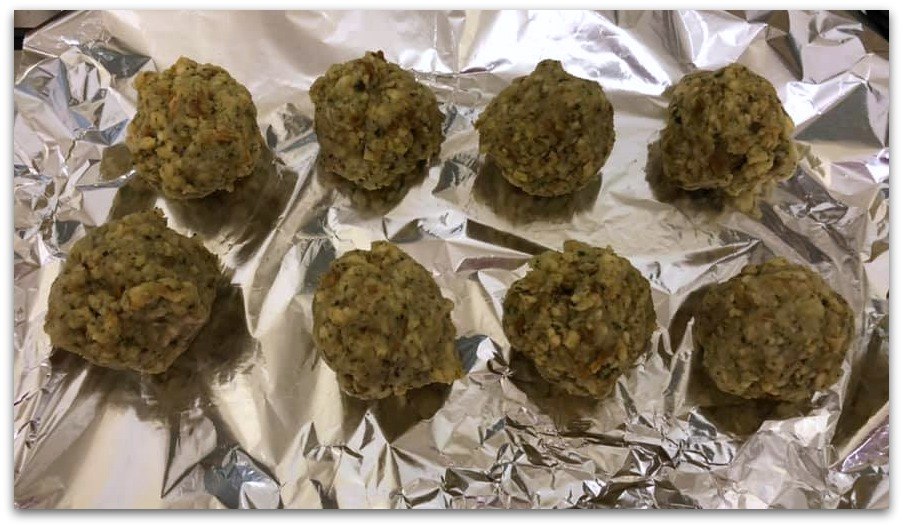 If you are baking it as stuffing balls you can bake them on a baking tray for 25 minutes at 180 degrees and if you are baking it in a dish then it takes about 30 mins at the same temperature.
You can freeze the stuffing before cooking it, and thaw it to cook it if you want to prepare ahead of time and be organized.