*We were kindly sent a book to review. All opinions are our own*
I am always on the lookout for books for the tween to read. She loves reading, and we encourage that because we firmly believe a love of reading is to be encouraged. Undercover Thief is a fast-paced and humorous book that she very much enjoyed.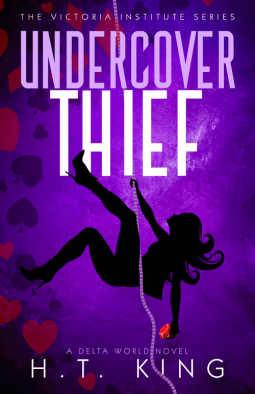 Pamela Torres is an exceptional girl. After her parents disappeared when she was nine, she had to be exceptional just to stay alive. But Pam has come a long way from huddling beneath shop windows for shelter and stealing food from supermarkets. Now, at age fourteen, she has a home, a steady cash-flow and a loving family – who just happen to be one of the most notorious bands of young thieves in the London Underground.
When her parents suddenly return, Pam's comfortable world of crime is turned upside down. They steal her away from her home and chosen family to enroll her into the Victoria Institute: an American boarding school for spies in training.
Desperate to get back to the world she knows and loves, Pam does not take to The Victoria Institute – or to her parents, government spies themselves. Everyone seems determined to uncover the secrets of her past. But what would they do with the truth of her unlawful identity? With everything on the line that just leaves one burning question.
How do you keep a secret in a school full of spies?
The tween says:
This book is about the life of a girl who is abandoned by her parents to be looked after by her grandmother. When her grandmother dies suddenly, she is left to her own devices to figure out the ins and outs of how to live life, on the streets. It gives you an image of all the risks you have to take, the faith you have to have in people and the independence you have to gain to be able to survive homelessness. 
I love the fact that this book is not a complete fictional story. It has elements of fiction but is based on true life and the world we live in today. It is very honest and describes the brutal truth about living on the streets as well as the things you have to do to survive. This book will make you laugh, it will definitely make you cry, it will leave you quite shocked and it will give you another perspective on life. This book teaches you that if you want something you have to fight for it. If you put in enough effort and fight hard, you can achieve absolutely anything. It also teaches you that anyone can live a happy, healthy life – no matter where you live or who you are.
Mum says:
This is a great book. The reading language is good, and challenging and the plot and storyline and themes are appealing and I think work well to hold the mind of a teen/tween reader. It's very real-life and touches on topics that kids face today. Sometimes it's hard to find books that will appeal but this one ticks all the boxes. We look forward to reading more from HT King.
Undercover Thief is available here and is a great book to add to your tween or teen's book collection.