*I was kindly sent some Super DC drinks to review, all opinions are my own*
Winter is always a time when I think about looking after our immune systems that bit more. Winter germs, less being outside in the sunshine, and being cooped up inside during the winter months, is always a bit more of a struggle for me, and keeping both my mind and my immune system feeling as well as possible is key for me.
Super DC have some immune boosting, delicious drinks that are helpful as part of an immune boosting regime to help you get through your day and keep on top of life.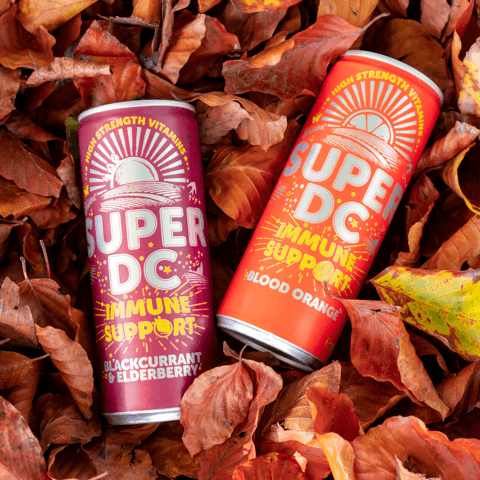 Packed to the brim with high strength vitamins D and C, together with vitamins A, K, Zinc and Folic Acid, Super DC is designed to deliver a daily vitamin boost and keep your immune system intact all year round! High in antioxidants, Super DC contains a mega-dose of Vitamin D (200% RI) and Vitamin C (2500% RI) known for their immune-boosting properties, hence the Super DC name. These delicious plant-based drinks contain a high percentage of real fruit juice, are low in calorie at less than 60 calories a can and created with the finest botanical ingredients such as Elderberry, White Mulberry, Blackcurrant and Acerola Cherry. This immune-boosting formula is high in anthocyanins that fight free radicals and bring a wonderfully diverse flavour.
I like the name, it sort of reminds me of a superhero name and because it's loaded with all sorts of immune boosting ingredients it is kind of a superhero in itself really.
I do want to look after myself but I also want to have less fuss and faff around that, because I am a busy working mum and whilst self care and keeping myself well is a priority, I don't want to have to remember to take lots of tablets or potions to help my immune system, so this little can of magic is super handy to help me. I like convenient, easy AND good for me.
It tastes delicious. I prefer to drink it cold, chilled from the fridge, as a mid afternoon boost and pick me up, but my husband likes his with his breakfast or as a mid morning drink, in the morning.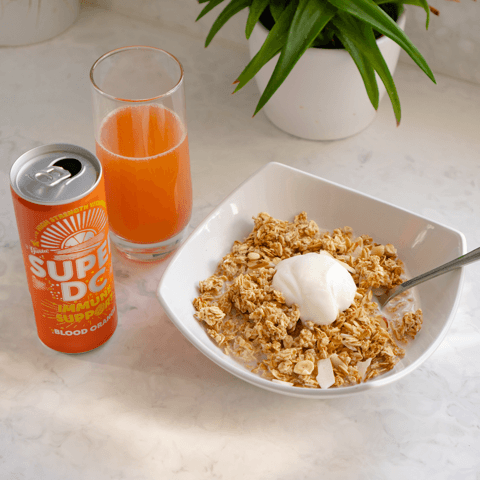 He likes the blood orange flavour and I love the blackcurrant one, but both are refreshing and delicious and you don't think you are drinking something that is "good for you".
They are handy to pop into a bag or take with you, as well, in can form, and you can drink them chilled or room temperature, depending on your preference. Elderberry has long been known for it's immune boosting properties and for helping the body and vitamin C is essential and if you don't eat a diet where you are getting enough of your C vitamins, you might need to boost that intake with supplements or a drink like Super DC.
This is a very well thought out concept by Gusto, and definately handy as part of my arsenal to keep me well and feeling good and on top of the busy life I lead and because they taste tropical and fresh, it's a nice addition to my daily selfcare regime, whether I am drinking a can at work, or sneaking in five minutes of self care, hiding from my kids and giving my immune systme the boost it needs.
Well worth trying. Something I will be relying on to get me through.
We are delighted to offer 5 people the chance to try Super DC for themselves. Simply comment on this post and tell us one thing you do, to help beat winter blues and keep healthy in winter and then click on the link below to enter our giveaway with Gusto.
Super DC Vitamin Drinks Giveaway
5 winners will be chosen on the 11th March and contacted to arrange to get their prize. Please see our T&C within the competition entry link.